The founder of University Loft Co., one of the nation's biggest suppliers of college dorm room and military base furniture, is now venturing into the world of alternative transportation.

Entrepreneur James Jannetides this year revved up Loft Motors, maker of electric cars and a solar/wind-powered charging station he says could revolutionize the industry.

Loft Motors is assembling 11 models of vehicles—which range in price from about $10,000 to $15,000—in the same plant near Greenfield where Jannetides earned a fortune making furniture.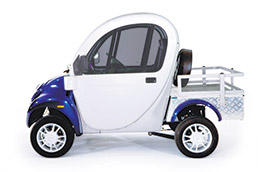 Loft Motors vehicles are powered by a 72-volt A/C battery, and are street-legal under 25 miles per hour. (Photo courtesy of Loft Motors)
Loft Motors now has 20,000 square feet dedicated to car making, but Jannetides said that will likely grow.

"This is crazy," admitted Jannetides, who also has a residence and business interests in Florida. "Especially for a furniture guy."

Jannetides, the CEO of University Loft, said Loft Motors was born out of his desire to explore something new.

"There's not a lot new in furniture," he said. "The ancient Egyptians were making furniture."

While visiting his fiberglass-making factory in China, Jannetides happened on a factory making automotive parts. His conversation with those factory operators turned to the potential of electric vehicles.

Jannetides recalled seeing electric vehicles on college campuses where University Loft did much of its business. In 2009, he decided to have electric vehicles made and give them to clients who made large furniture purchases.

He then began attending auto shows and making connections with suppliers and manufacturers. Meanwhile, his giveaways became so popular, he decided Loft Motors could be a stand-alone business.

This year, he opened three dealerships in Florida, and he's aiming to have 42 open by year's end. Jannetides projects his startup's revenue at $2.1 million this year, $5 million next year, and $6.1 million in 2016. Those figures count vehicle sales only, not the charging stations.

"Those are pretty conservative numbers," he said.

This month, he said he got financing for his business with GE Capital, which will not only allow him to expand but will help Loft Motors dealers finance their operations and will provide loans to qualified buyers of Loft vehicles.

Until now, Jannetides was the sole investor; he has poured $150,000 into the venture. He refuses to seek any sort of government aid.

"I'm a Libertarian, and I believe you should be able to make it on your own," Jannetides said. "I don't want a business based on subsidies. I want a business based on demand."

Not a golf cart

There are two basic types of electric vehicles making inroads in the United States. The first are street-legal vehicles such as the Nissan Leaf, which can travel as fast as a combustion-engine vehicle and can travel on any roadway, including interstate highways. Those vehicles also must pass the same U.S. Department of Transportation safety codes as any car or truck.

Loft Motors makes what are commonly referred to as low-speed electric vehicles. They are street-legal and are required to be licensed, but have less stringent safety standards than other passenger cars, can't exceed 25 miles an hour, and are not permitted on interstate highways.

"But don't get this confused with a golf cart," Jannetides said.

Loft Motors makes models ranging from a two-seater to a 15-passenger mini-bus. All Loft models have lights, rearview mirrors, bumpers, speedometers, seat belts and other features gasoline-powered vehicles have. Loft also makes a truck with a dumping flatbed. Many of the models can push a snow plow.

"These [vehicles] can carry a number of full-sized adults and other loads, and they don't bog down at all," Jannetides said.

If Loft vehicles are not run on municipal roads and streets, he said, they are capable of going a lot faster than 25 miles an hour.

Jannetides powers his vehicle with a 72-volt A/C battery, unlike many golf carts and other electric vehicles, which are powered by a 48-volt D/C battery. Loft's vehicles are advertised to travel about 70 miles on a single charge, and Jannetides estimates they cost a penny a mile to power.

Loft Motors' target market includes college campuses, resort hotels, municipalities, and gated and golf communities.

Against the grain

Jannetides might be swimming up-current on this venture, warned Jeff Richardson, a clinical professor at Purdue University's College of Technology.

"Consumers are creatures of habit," said Richardson, who supervises Purdue students who build electric vehicles and work with Detroit automakers. "They're used to roaming at will and our gasoline vehicles allow us to do that."

Recent improvements in gasoline engines' fuel efficiencies and reduced emissions, Richardson said, also have hampered growth in the electric vehicle market.

Electric vehicles won't make up 1 percent of all the vehicles on U.S. roads until 2018, projected LMC Automotive, a Troy, Mich.-based research firm. But that doesn't mean eventually electric vehicles won't someday be widespread.

"It took eight years for hybrids to hit 2 percent of the U.S. market, but the second 2 percent only took a year," said Mike Tinskey, Ford's director of global vehicle electrification and infrastructure.

While electric vehicles are touted for lessening U.S. reliance on foreign oil and helping rid the environment of harmful emissions, many environmentalists still complain they rely on electricity, which requires burning coal.

"The coal-burning issue is a serious one," said Peter Schubert, professor of electrical and computer engineering at IUPUI and director of the Richard G. Lugar Center for Renewable Energy. "It has the attention of a lot of people."

Tilting at windmills?

Jannetides thinks he has an answer for that. In addition to electric vehicles, Loft Motors makes and sells a 40-foot charging station that draws power through a solar panel and a windmill with 6-foot blades.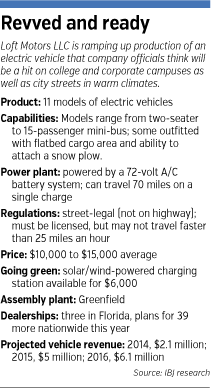 "This allows you to be completely off the grid," Jannetides said. "It would be ideal for a college campus or a municipality with multiple vehicles."

But at a cost of $6,000, Jannetides also thinks the charging station is affordable for just about anyone who buys one of his vehicles.

"It's not difficult to put up," he said. "All you need is a pad of concrete and you bolt it down. We think the [charging station] could be as big [a revenue generator] as the vehicles themselves."

Loft's vehicles also can be hooked up to a regular wall outlet and take four to six hours to fully charge.

While electric vehicles are a long way from ubiquitous in the United States, there are signs the market is poised for growth. Some Western states, led by California, are passing increasingly stringent emissions laws for vehicles, which is spurring interest in alternative transportation..

And in Indianapolis, starting later this year, residents will start seeing a lot more of electric passenger cars.

Bollore Group, a French company that already runs a successful car-share program in Paris, will install 1,200 charging stations at about 200 locations in Indianapolis this summer to support 500 electric vehicles. The $35 million local car-sharing project is Bollore's first outside France.

Experienced business builder

Some of the primary competitors in the sector Loft Motors is entering are Yamaha, Club Car and Gem, a division of Polaris Industries Inc.

"There's a niche for the market they're entering, but the brands they'll face are established in this sector," said Purdue's Richardson.

Jannetides is undaunted. He thinks he'll be able to sell his vehicles at a lower price and that his vehicle will be proven more versatile and reliable. He also thinks his solar windmill charging station sets Loft Motors apart.

Jannetides, 48, is no stranger to building a business. In 1980, he launched his first business—operating downtown Indianapolis parking lots—at age 15.

In 1986—while still in college—Jannetides started University Loft. By 2006, University Loft had a staff of 400 and annual revenue of $100 million. The following year, it moved to a sprawling, $22 million facility in Greenfield.

The lofty ascent came to an abrupt halt in 2008 when Regions Bank canceled the company's line of credit, creating a cash-flow crunch that forced it to change course. University Loft pulled out of retail stores, abandoned the hemorrhaging hotel-furniture business, and cut its staff by half.

In 2010, the company took another hit when federal agents raided its headquarters, spending hours at the contract-furniture-maker seizing records. Jannetides said he still doesn't know why his company was targeted and emphasized that no charges were ever filed nor any other action taken.

Jannetides was able to build back the company with military contracts and other new business. In 2011, University Loft reported its revenue had rebounded to $75 million, but Jannetides declined to confirm that amount or provide any more financial details.•