Butler Auto Group has been selling Toyotas in Indianapolis since 1966.
Ed Martin Auto Group has been selling Toyotas in Anderson since the 1980s.
So when Toyota Motor Sales USA recently gave the green light for Ed Martin to move its dealership 20 miles west, to Noblesville, Rob Butler started seeing red.
Butler's newly expanded complex at 96th Street and Keystone Avenue is just seven miles southwest of Ed Martin's proposed store on the northwest corner of State Road 37 and 141st Street. It's a lucrative location—a stone's throw from Fishers and its household income averaging more than $86,000.
"The Noblesville/Fishers area has never been represented by any other Toyota dealership than us," Butler wrote to Kevin Fletcher, general manager of Toyota's Chicago regional office, last October.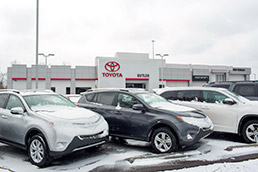 Butler Toyota in recent years expanded its service department and remodeled its showroom at 96th Street and Keystone Avenue, spending millions of dollars. (IBJ photo/Aaron P. Bernstein)
He implored Toyota to reconsider.
"Kevin, for over 40 years we have tried to be a Toyota team player. We want to be a Toyota team player now, but we cannot stand idly by and have such an extensive and clearly defined threat to the existence of our business take place," Butler concluded.
Butler has the unlikely support of competing Toyota dealers Tom Wood and Andy Mohr. All three are fighting Toyota and ultimately Ed Martin to prevent what they say would be an oversaturation of the brand in the metro market.
Late last year, they asked the Indiana Secretary of State's Auto Dealer Service Division to halt the newcomer. But the division ruled Feb. 25 that Ed Martin meets the letter of a state law that declares a relocating dealer in a big market must be no closer than six miles from an existing dealer of the same brand.
Letter of the law or not, Butler contends the newcomer seven miles away could spell big trouble for his Toyota operation in northeastern Marion County. He estimates that about one-third of its business comes from the Fishers area.
As for his next move, Butler isn't returning phone calls. The attorney who brought his case to the state, Ronald C. Smith of Bose McKinney Evans, said he had to withdraw recently to avoid a conflict of interest after learning the law firm has represented Ed Martin over the years.
But sources in the new-car-dealer universe said the Toyota Car War isn't over, and that billable hours await once new lawyers are brought onboard.
Such dealer disharmony rarely makes it into public view around here, especially involving Japanese brands that tend to have fewer dealers and thus fewer opportunities for proximity disputes.
"This is a battle we haven't seen for a while," said John Pearson, principal of Pearson Ford, in Zionsville.
Pearson years ago fought a successful battle to stop a competing Ford dealer from moving to Westfield, eating into his turf. In recent years, the Great Recession and moves by manufacturers to reduce their numbers of dealers helped put an end to border skirmishes, Pearson said. But such disputes are likely to come up again as the auto industry makes a rebound, he added.
"It's tough. A dealer invests millions of dollars [in a facility] and things like this occur," he said.
The biggest potential loser is Butler Toyota. In recent years, it spent millions of dollars remodeling its showroom to comply with the latest Toyota retail design scheme.
The Indianapolis dealership said it also was required to build a 43-bay service facility to keep up with the automaker's standards (Toyota responded that Butler wasn't required to add so many bays and exceeded the minimum standards during the 2006 project).
In the complaint against Toyota filed with the Secretary of State's Office, Butler estimated Toyota's newly redrawn territory map to accommodate Martin's relocation to Noblesville would step on 37 percent of its sales and almost 50 percent of its parts and service business.
Toyota, in correspondence with Butler, disagreed.
"Only 19 percent of Butler's Toyota sales customers and 20 percent of its service customers reside in the entire Fishers [market area]," Fletcher told Rob Butler, in a letter.
Indeed, a market study shows Butler in 2012 sold 332 vehicles to people in Fishers out of total sales that year of 1,739.
"There is no reason you cannot continue to provide service to these customers," Fletcher said, appealing to Butler's sense of competitiveness.
"In addition, the number of Toyota owners will likely continue to increase with the additional exposure and stimulation of the brand resulting from the relocation."
Like a congressional district
Butler, Wood and Mohr dealerships complain Toyota is "gerrymandering" the local market to accommodate Ed Martin to include Fishers and Noblesville. Those Hamilton County 'burbs are a lot more lucrative than the recovering former General Motors factory town of Anderson, in both personal income and population growth.
Fishers/Noblesville has been on Toyota's map for a possible store since 2004, according to documents the three dealers submitted to the state.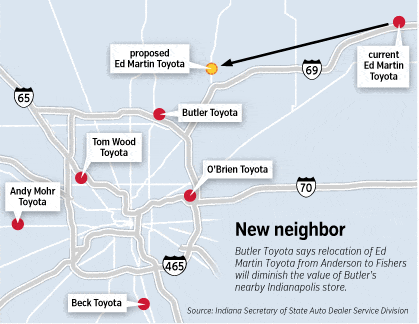 As the population grew in Hamilton County, other dealers moved in, particularly in Fishers, where Don Hinds Ford had been pretty much it for years.
More recent arrivals include Butler's Kia store, and more recently its Nissan dealership.
Then, last year, Honda West shuttered its Indianapolis store and built one just north of Butler Kia, in Fishers.
Toyota's Fletcher reminded Rob Butler of the growing competition for Toyota—some of it caused by Butler himself—up and down State Road 37.
"Toyota continues to be outsold in the Fishers area by several other brands, and the existing Toyota dealer network has been unable to penetrate the area in a significant fashion," Fletcher wrote to Butler.
Indeed, Toyota "is the last major marquee that's missing in that corridor," said Mark Harrison, president of Ed Martin Auto Group.
That's once you count Avon Honda dealer Terry Lee's plans for a Hyundai store a few miles up the road, closer to Noblesville proper.
Toyota made it clear that moving Ed Martin's store to Noblesville was preferable to adding another dealer to its network. Automakers, particular the domestics, had in recent years slashed their numbers of dealers to reduce their own costs of servicing them.
Of course, Butler could have argued for moving his Indianapolis Toyota store to Fishers. On the other hand, finding another car line to fill the space would have been difficult, given most every marquee is already represented on Car Dealer Row, also known as East 96th Street.
Watered-down market?
If Martin moves its Toyota store to Fishers, Butler's Indianapolis store faces "a significant diminution of value," Butler argues in his complaint, not to mention "significant decreases in operating revenues and profits … in the near- and long-term."
Curiously, it appears Butler might not be the only dealer with something to lose.
Part of a central Indiana marketing plan filed as part of the complaint with the state gives a time line of Toyota's development efforts in the region. It states that, in 2012, consideration was given to moving Tom Wood Toyota to Zionsville or Noblesville.
Other options, including sites on West 86th Street, have also been kicked around.
Tom Wood's current Toyota store at 4202 Lafayette Road is smaller and older and is not configured to the automaker's latest design theme. The location arguably also has its better days behind it. It's not among the fastest-growing areas for household income.
Household income in Wood's Toyota territory is projected to rise only 2.5 percent from 2012 to 2017, Toyota marketing documents appear to suggest.
Meanwhile, household income is projected to rise 5 percent in Butler's territory and 5.5 percent in Fishers.
Anderson's projected household income is expected to fall 1.1 percent over the five-year period.
Ed Martin's Harrison said he's moving full steam ahead with hopes of opening his new facility at the southern end of Noblesville in 2015. It could eventually employ over 100 people, Harrison said. As for the existing Toyota space in Anderson, where the dealer has several other new-car franchises, "we'll put something else in there."
It might not be so easy to restore good will among some of Martin's fellow Toyota dealers, although Harrison said, "I consider all of them friends."
Marty Murphy, executive vice president of the Automobile Dealers Association of Indiana, declined to comment.
If all else fails, someone might want to call the perky "Jan the receptionist," of Toyota TV commercial fame, to solve this problem.•
 
Please enable JavaScript to view this content.