As competition kicks off at Westfield's sprawling Grand Park Sports Campus, city leaders are working to recruit corporate partners willing to support their field of dreams.
Deals so far have focused on the basics: PepsiCo signed on last year to be the exclusive beverage provider at the youth-sports megaplex, and Carmel-based Urick Concessions this month agreed to run its seven refreshment stands.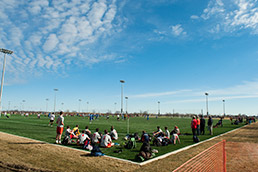 Grand Park's opening weekend March 14-16 drew 4,500 visitors. (IBJ photo/Eric Learned)
The city expects to collect about $275,000 a year from the two contracts, plus another $90,000 from its share of any Grand Park souvenirs sold at the park. But officials also are looking to sell advertising, sponsorship and naming rights, which they hope will produce another $625,000 a year. Field-use fees should cover the rest of the $1.8 million opening-year operating budget.
"This is a huge undertaking in a very competitive space," said local sports marketing consultant David Morton. "It's an aggressive proposition."
Grand Park is an economic-development play for Westfield, but the city is aiming only to break even on operations. The potential big score: a bevy of businesses expected to be drawn to the park's million-plus annual visitors.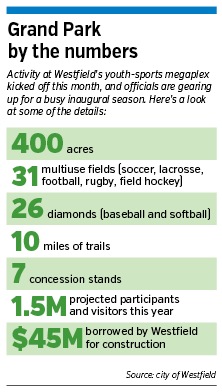 In the long term, new commercial development would diversify the city's largely residential tax base, lowering the burden on residents. In the short term, the extra taxes it generates will be used to repay $45 million in construction-related debt.
"That strategy is already being realized," city Chief of Staff Todd Burtron said, pointing to Union Street Flats at Grand Junction, a 238-unit apartment community Carmel-based J.C. Hart Co. built in downtown Westfield at a cost of $21 million. "That's a pretty significant chunk of assessed value."
Construction is expected to begin this spring on the first retail building in Grand Park Village, a 220-acre commercial project planned for just south of the sports facility. And additional development is in the works along State Road 32 at Wheeler Road, where McDonald's and Dairy Queen are slated to join Taco Bell on Tournament Trail.
To maintain that momentum, the city has to make sure the crowds keep coming back. So officials have enlisted experts to manage park operations.
The Lids Indiana Bulls baseball club is coordinating diamond-based sports, scheduling baseball and softball tournaments, and maintaining the 26 playing fields. It also keeps the bulk of field-use fees; Westfield gets a small percentage, plus as much as $10 per hotel room booked through a city-sanctioned reservations agent.
Indiana Soccer Association is handling programming on the multiuse side of the park, but the city agreed to maintain those fields along with common areas, parking lots and 10 miles of recreational trails. Westfield will collect up to 85 percent of soccer tournament revenue to cover its expenses.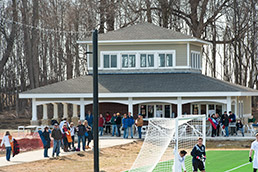 Urick Concessions operates this stand and six others at Grand Park. Its contract gives the city of Westfield 32 percent of gross sales. (IBJ photo/Eric Learned)
Burtron expects Grand Park operations to break even this year despite construction delays resulting from the harsh winter. Work is expected to be complete in June.
Demand already is strong, he and others said, touting the estimated 4,500 visitors who turned out for a 90-team college soccer showcase held March 14-16 on the park's synthetic fields. Organizers turned another 75 teams away.
"That kind of usage is a strong indication of what kind of summer we're going to have," Burtron said.
Westfield hired consulting firm Sports Management Inc. to oversee day-to-day operations and help line up additional business partners. Still on the table: naming rights for everything from ATMs to the complex itself; advertising space on dugouts, fences and scoreboards; and contracts to be the "official" provider of services ranging from photography to health care.

Burtron
"We have to make good business decisions," said Burtron, who is tracking details for the city. "We don't want a free-for-all, flea-market atmosphere out there."
Urick Concessions won the food-service deal in a competitive bidding process, offering Westfield 32 percent of gross sales. The Carmel firm—which also runs stands at Indianapolis Motor Speedway, the Indiana State Fair and Indianapolis Boat, Sport and Travel Show—expects to hire about 70 part-time employees to operate seven permanent concession stands and some portable units hawking items like snow cones, owner Monica Urick said.
Concessions will be particularly important this season, since there aren't many nearby dining alternatives.
"The interest [in Grand Park] is very high," said Mike Mundy, executive director of Lids Indiana Bulls, which has more than 5,000 games scheduled through October—including a 100-team national tournament scheduled for Fourth of July weekend. "We're getting calls from all over the country."
The park itself is enough of a draw this year, he said, but the hotels, restaurants and entertainment options planned for Grand Park Village will be a welcome addition when it comes to attracting repeat visitors from outside Indiana.
The market certainly is robust. More than one-third of all tourism spending is tied to youth sports, according to the Michigan-based Travel and Tourism Research Association. Parents were expected to spend $8.1 billion last year on travel alone.
But the "build it and they will come" guarantee only works in the movies, said Morton, president of Sunrise Sports Group. Competition for a slice of the youth-sports pie is fierce, he said, and running a successful venue is not easy.
"The first 12 to 18 months is critical," he said. "We'll have to wait and see if they hit their numbers."
Burtron is optimistic given Grand Park's early deals—and others still in the works. Expenses should be relatively stable once construction is done and any opening-year surprises are addressed, he said, but revenue opportunities abound.
"There are limitations, but we haven't realized them yet," he said. "There's a huge demand out there for facilities such as this. We don't know what all the possibilities are, but we believe revenue will far exceed expenses."
Although it could take a couple of years for Grand Park to reach its potential, Burtron said any income not earmarked for expenses will be used for ongoing park improvements. The championship fields still need spectator seating, for example, and the city wants to add playgrounds among other amenities.
"The onus is upon us to keep this as a destination, to continue to improve the experience within the park," he said. "Grand Park is the heartbeat of our economic growth and development."•
Please enable JavaScript to view this content.