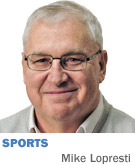 It is a quiet morning in Hinkle Fieldhouse, and two old friends sit in the stands, sharing memories and sensing the shadows of the past. This is March 20, 2014, but it does not take much for them to close their eyes and see another March 20, when the house was full, and the roar was loud enough to echo through time.

They were so young that day. Teenagers from a small town called Milan. How could they have ever dreamed what one game could mean to their lives? Or how 60 years later, on the exact day, they would sit in the same fieldhouse, and gaze upon the same floor, and relive the moment that will never, ever die?

In one seat is Bobby Plump.

Ray Craft, left, and Bobby Plump revisit Hinkle. (IBJ Photo/ Aaron P. Bernstein)
"One, it doesn't seem like it's been 60 years. We've talked about this daily, weekly, monthly, for the last 60 years, and they've passed so quickly. The significant thing is, we're still alive."

Next to him is Ray Craft.

"It's amazing that people are still interested. It's been so pleasant remembering it. Now, it might not have been as pleasant if he hadn't hit that last shot. Maybe it might have gone much slower."

The Milan crowd sat in the southwest corner of the fieldhouse that day, Craft says.

"You sure it wasn't down there? That's the end where I hit the shot," Plump says, pointing to the north end. "I thought I could look over at the left and see our fans."

Answers Craft, "I think you were looking over at the Muncie fans."



Six decades can dull the details. They agree on one memory: the thunder of the crowd.

Craft: "I remember there were a thousand people yelling for Muncie, and 14,000 yelling for Milan."

Plump: "It would be hard not to remember the noise. Just walking in here, I get chills. I get goose bumps. I remember it like it was yesterday."

What was going on March 20, 1954? In New York, "The King and I" closed on Broadway after 1,246 performances. La Salle would beat Bradley 92-76 in Kansas City for the national basketball championship before a crowd of 10,500—or 4,000 fewer than would watch Milan beat Muncie Central 32-30.

The free-spending New York Yankees were buying talent, as usual. They announced they had lured pitcher Johnny Sain out of retirement with a big contract worth $30,000 a year.

A health insurance company—White Cross—was promising $15 a night for a hospital stay.

In Indiana, it turned colder that day, slipping below freezing by evening. The Indians had arrived in Indianapolis the night before in three Cadillacs loaned by a Milan car dealer. They stayed at a hotel at the corner of 10th and Pennsylvania streets, because coach Marvin Wood had wanted to keep his players from any downtown distraction.

They had come on Friday night the year before, too, and the coaches had left them alone while attending the annual Final Four banquet. The players got in water fights, a pitcher was broken, and one player cut his foot. So in 1954, the assistants had not gone to the banquet.

"There wasn't going to be any horseplay the next year," Craft said. "I can guarantee you that."
__________

Milan lost in the afternoon in 1953 to South Bend Central 56-37, and one thing the players remembered: The state champions got gold rings, the runner-ups got silver rings, the afternoon losers got nothing.

"So one of the guys said before the morning game," Plump said, "'We've got to get to the final game so we can at least get a memento.'"

Plump also remembered a man named Pat Stark giving them a police escort to the fieldhouse. "I grew up in Pierceville, and Ray grew up on a farm. Milan didn't have any stoplights and Pierceville sure in the world didn't. He turned on the siren and we ran all the lights on the way. That was a big deal to us."

Milan defeated Terre Haute Gerstmeyer 60-48 in the second afternoon game, as Plump scored 26 points. To save more time for rest, Wood decided the team would stay at a Butler fraternity house between games, rather than return to the hotel.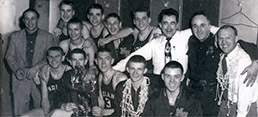 In uniforms purchased for the tournament, Milan celebrated its victory. (Courtesy of Bobby Plump)
A few hours later, they were back, putting on the black uniforms with red trim that Wood had purchased for the tournament, even though Milan's colors were black and gold.

"I remember doing what I did before most of the tournament games," Plump said. "You talk about nerves. I took Pepto-Bismol."

The first time Plump touched the ball in the most famous game of his life, he lost it. The first time Craft tried to make a move, he traveled. Two Milan possessions, two turnovers.

But the Indians had not come so far to crash. Milan edged into a 23-17 halftime lead, and then came the last act for the ages, with all the now-famous twists and turns.

Plump standing motionless and holding the ball for more than four minutes at Wood's instructions, even though Muncie Central led 28-26. Craft tying the game with Milan's first field goal of the half with 2:14 left. Plump's free throws to put Milan ahead at 1:42. Craft driving for a layup—perhaps questionable strategy with Milan clinging to a lead— and having it roll in and out at 1:03. A Muncie basket evening it at 30-30.

Sixty years later, Craft can gaze at the hoop where his layup would not fall, and talk about the maybes if he had made it.

"Basically," Plump gently interrupted, "he's saying he shouldn't have shot it."

"As a coach, I would have said, 'Don't shoot it,'" Craft said.

But what would history be had he not taken it, leaving no need for Plump's Last Shot?

"I've thanked him ever since," Plump said.

Millions know what happened next. Plump was 2-for-10 for the night when he made his immortal fake left, then move right, then took the jump shot over Jimmy Barnes to make Milan the state champion.

"The worst game I ever played in the tournament," he said on this March 20, as he said on that March 20.

"I remember when Bobby hit the last shot and we were on the court, how relieved I was it was over and we had won," said Craft, who led Milan with 14 points that night. "I realized then we had been under a lot of pressure."

Someone put a microphone in front of Plump. Anyone he wanted to say hello to? No, Plump said, everyone he knew was in the fieldhouse.

"My middle sister was home pregnant and her husband wouldn't let her go," Plump said now. "She has never let me forget that I forgot her."

In a way, the celebration that erupted has never stopped for the men of Milan. It has rolled on through six decades, through "Hoosiers," through all the reunions and interviews. The "thousands of times," Plump has been asked to relive one night in his life.

Sixty years out from May 20, 1954, Craft can look back at a career in coaching, education, administration and the IHSAA. Plump at having an insurance company, owning a restaurant and—so many times—just being Bobby Plump.

They understand what that night came to mean to their lives and appreciate the doors it opened, the state treasure they became, and perhaps the example of achievement it became in Milan. The stat Plump mentions is how 17 members of their senior class and nine of the 10 varsity players went to college.

Plump and Craft are in generally good health. And this day meant something, all right. It was yesterday once more, and they were out there against Muncie Central, to finish a story that so many would come to cherish.

On this March 20, they were pushing 80. But their epitaphs were assured at the age of 18.•

__________

Lopresti is a lifelong resident of Richmond and a graduate of Ball State University. He was a columnist for USA Today and Gannett newspapers for 31 years; he covered 34 Final Fours, 30 Super Bowls, 32 World Series and 16 Olympics. His column appears weekly. He can be reached at mlopresti@ibj.com.