A local construction company that bought a large apartment portfolio six years ago is expanding into the office business by spending $4.2 million to renovate a south-side property near Interstate 465.
Ardizzone Enterprises Inc. in Beech Grove is preparing to open ZZONE 31 (pronounced "Zone," using part of the Ardizzone name) at 5251 S. East St., or U.S. 31, south of East Thompson Road.
The two buildings making up ZZONE contain a total of 63 office suites ranging from just 400 square feet to 1,800 square feet. Tenants will have access to such amenities as conference rooms and copy machines, with the convenience of having utility charges included in their rents.
Average rates will run about $23.50 per square foot, or $783 a month, for the one- to five-year leases.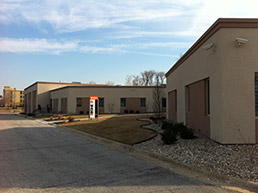 Ardizzone Enterprises Inc.'s new office complex contains 63 suites. (IBJ Photo/Scott Olson)
The smaller spaces may appeal to startups or companies searching for a second location, said Tony Ardizzone, president of Ardizzone Enterprises and The Ardizzone Group, the entity formed to oversee the company's office operations.
"It was neglected," Ardizzone said of the two-building office complex. "We probably should have torn it down and started over, but we didn't and it turned out great."
Ardizzone, founded in 1959 by Ardizzone's father, Harry, for years had focused on construction, renovation and repair of apartment buildings.
In 2008, Ardizzone paid $82 million to buy 1,885 apartment units from Denver-based Apartment Investment & Management Co., or AIMCO. The sale included the 404-unit Brookwood Apartments at U.S. 31 and Thompson Road and the two-building office complex that fronts the apartments.
George Tikijian of Tikijian Associates brokered the sale and has seen the improvements to the property.
"It is a drastic, drastic change," he said. "They've done a very nice job there. It will make it pretty easy for small, startup-type companies to be able to move in and be ready to go."
Initially unsure what to do with the buildings, Ardizzone let them sit for a few years. Built in the early 1970s, they total 53,000 square feet and had just a handful of tenants upon Ardizzone's purchase.
At one time, the former Marion County Sheriff's Department leased about half the space, said Ardizzone, who served as a captain in the department for about 10 years before rejoining the family business in 1996.
The company has spent $4.9 million to rehab Brookwood Apartments, which now is nearly fully occupied, Ardizzone said, on top of its investment in the office complex.
That work on the office buildings started about three years ago with a complete gutting of the interior. The exterior, which used to be brick, has been replaced by a synthetic stucco material.
The refurbishment should be finished next month, with a grand opening set for June 12. Indianapolis Colts kicker Adam Vinatieri has committed to appear at the event, Ardizzone said.
Ardizzone has received interest from a handful of companies wanting to locate to the complex and so far has signed one to a lease—A&A Top Quality Cleaning Inc.
Ardizzone is partnering with the Greenwood Chamber of Commerce to help market the property to south-side businesses.
 
"I don't know anyone in the area that provides something like this," Ardizzone said. "I think we've gotten into a niche."
If the project is successful, Ardizzone said he may try something similar in other parts of Indianapolis.
 
Please enable JavaScript to view this content.