An increasingly popular philanthropic tool is driving growth at locally based Renaissance Administration LLC, almost tripling its business over the last five years.
Renaissance's 70 employees handled back-office support services for more than $4 billion in charitable assets last year, including $2.3 billion in donor-advised funds—a giving mechanism that allows contributors to establish accounts within existing organizations and decide later how to allocate the proceeds.
Think private foundations without the overhead—or oversight.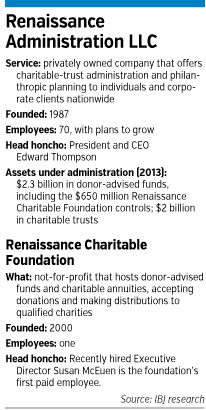 Renaissance clients nationwide nearly doubled their donor-advised fund activity last year, giving a boost to not-for-profit sibling Renaissance Charitable Foundation. It held $650 million of the accounts, up 38 percent for the year despite paying out $63.3 million in grants.
And company leaders expect those numbers to keep going up as baby boomers start to transfer $34 trillion in wealth to subsequent generations. Renaissance has applied to the Indiana Economic Development Corp. for tax credits and training grants to support its expected growth, promising to add 20 employees over two years.
"We're seeing a renaissance in philanthropy," said Renaissance Administration CEO Edward Thompson. "People want to give to charity, and donor-advised funds make it much easier."
Unlike private foundations, once a status symbol of sorts for the wealthy, donor-advised funds have no employees, no annual payout requirements and aren't required to file federal tax returns.
Donors get a tax break when the initial contribution is made and retain influence over how the money is spent. They can make grant recommendations to the sponsoring charity—Renaissance Charitable Foundation, for example—then sit back and wait for quarterly reports.
Renaissance staff takes care of vetting the recipients, writing checks, producing receipts and navigating the ever-changing regulatory environment.
Lowering the barriers to entry has opened the floodgates to such giving.
Nationally, assets held in donor-advised funds topped $45 billion in 2012, an increase of almost 20 percent from the previous year, according to research from the National Philanthropic Trust released in November.
Among the largest gifts to charity last year: 18 million shares of Facebook—valued at $992 million—that social media maverick Mark Zuckerberg and his wife, Priscilla Chan, gave to their donor-advised fund at the Silicon Valley Community Foundation.
"Donor-advised funds outnumber private foundations 2-to-1 now," said Kevin Laskowski, senior research and policy associate at the National Committee for Responsive Philanthropy in Washington, D.C.
But their proliferation has raised concerns about the potential for abuse. Although industry leaders like Renaissance have a solid reputation in the philanthropic community, Laskowski said unscrupulous providers could tie up fund assets indefinitely.
He also questions the wisdom of awarding immediate tax deductions for donations that might not find their way to charities for years.
"In some sense, the gifts are incomplete because the money hasn't gone on to do the work other charitable gifts would do," Laskowski said, raising the possibility of so-called "warehousing" of funds.
Although the national donor-advised fund payout rate averages 16 percent, he suspects the "best and brightest" active funds are disguising the performance of others.

Baker
Renaissance Charitable Foundation leaders say that's not the case with its donors, who have averaged a 21-percent payout rate over the last decade. Foundation President Greg Baker expects to pay $100 million in grants for the first time this year.
The foundation reached another milestone recently when it hired its first employee: Executive Director Susan McEuen. She'll be looking to develop relationships with organizations—banks, insurance companies, universities—interested in offering donor-advised funds.
Renaissance offers a range of retail and wholesale services, including "private label" programs for institutional clients like Franklin Templeton Investments. The foundation has been home to the Franklin Templeton Charitable Giving Fund for more than a decade, for example, and Renaissance Administration handles all the behind-the-scenes details.
"They are well-recognized within the industry for the quality of service they provide," said Dan Reinhold, a senior vice president at Franklin Templeton. And interest in donor-advised funds remains strong. "It's a simplified approach to giving that I think people appreciate."
The administration arm also provides consulting and back-office support to charitable groups that house their own donor-advised funds, selling the efficiency that comes with its 27 years of expertise.
"We have a single-minded focus on charitable giving," Baker said. "It's 100 percent of what we do."
Founded in 1987, Renaissance started out with an emphasis on charitable-trust administration. Since then, it has trained financial advisers, insurance agents, attorneys, accountants and donors alike on the benefits of charitable planning.
The state training grant would help the company formalize its in-house "Renaissance University" training program, adding classes and classrooms in its offices at West 96th Street and Zionsville Road.
Renaissance already handles some charitable-trust and gift-annuity administration for the Central Indiana Community Foundation, which offers donor-advised funds with a more local flavor as part of its philanthropic advisory services.
About 350 families have established such funds at CICF, said Vice President for Development Rob MacPherson, representing about half of its $694 million in assets. CICF applies its long history of grantmaking and community leadership to its work with donors, helping them research grants and make charitable choices, he said.
Renaissance has a more national scope. Indeed, the $1.6 million contributed by Indiana donors in 2013 paled in comparison to the $36.4 million from California donors. The $1.4 million in grants paid to Indiana charities likewise trailed the $11.1 million handed out in list-leading California.
Last year, more than a dozen Renaissance employees also got into the act, seeding their own donor-advised fund with voluntary payroll deductions and then voting on a handful of organizations to receive $1,000 grants. Almost twice as many staff members are participating this year.
"We are leather-lunged advocates for charitable gift services," said Thompson, the company CEO. "We're trying to integrate charitable living into everyday life."•
 
Please enable JavaScript to view this content.