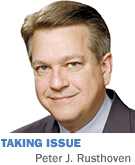 In sports, I typically root for my team to win, not for another team to lose. Exceptions are the New England Patriots (Colts loyalists need no explanation) and the New York Yankees, justly despised by all us Boston Red Sox fans and other real Americans.
A more serious exception is the University of Kentucky men's basketball team, which I was glad lost to UConn in the NCAA championship.
Unlike some Hoosiers, for me this has nothing to do with the state (or "commonwealth," as our neighbors to the south insist) or the school. It has everything to do with the coach.
Basketball fans know the John Calipari saga. In 1995-1996, he coached the University of Massachusetts to 35 wins and a trip to the Final Four. A few years later, the victories and Final Four appearance were vacated for NCAA violations that included UMass star Marcus Camby's receiving some $28,000 in agent gifts.
Calipari claimed to have no inkling. And by then he had skedaddled, first to the NBA New Jersey Nets and then to the University of Memphis, where history would mysteriously repeat.
In 2007-2008, Calipari coached Memphis to a then-NCAA record 38 wins and a trip to the NCAA championship game. A few years later, the victories and Final Four appearance were vacated for NCAA violations that included Tigers star Derrick Rose's ("allegedly," of course) having had someone else take his SATs.
Calipari was again Sergeant Schultz: He "knew nothing." And he had again departed the scene, this time bound for UK with an eight-year contract for over $31 million.
There, Calipari has achieved his greatest success, matching the 38-win record and winning the national championship in 2011-2012, and reaching the Final Four twice more in just four years.
That success has less to do with coaching per se (though Calipari's not without skill) than with a recruiting focus relentlessly geared to current NBA rules allowing players to be drafted after one year in college. "Coach Cal," as his website calls him, is unchallenged master of "one and done" teams, featuring successive groups of freshmen who spend a single season at Kentucky auditioning for the next NBA draft.
How Calipari persuades talented youngsters to drop by Lexington en route to the pros also bears noting. Sit-downs with parents about getting a good education and college degree are not the theme.
No, Coach Cal knows what impresses his targets. He's tight with rappers Jay Z and Drake, unofficial recruiting assistants. Jay Z ballads include "F***WithMeYouKnowIGotIt." Drake—welcome Wildcat locker-room guest on Final Four weekend—offers poems like"B**** Is Crazy" and, appropriately for his UK freshman audience, "Draft Day" (featuring obligatory N-words and "F*** that other side b**** we stay winnin'"). Just what a high-caliber collegiate sports program wants to identify with.
Yes, Calipari is not the only coach with an unsavory reputation, and big-time college basketball and football often bear scant resemblance to any "student athlete" ideal. But that others are also guilty is no excuse, particularly for the guy who's the prime example.
Count me in Bob Knight's camp on this: "We've gotten into this situation where integrity is really lacking. You see we've got a coach at Kentucky who put two schools on probation and he's still coaching. I really don't understand that."
Me neither. I'm glad Calipari's team lost.•
__________
Rusthoven, an Indianapolis attorney and graduate of Harvard College and Harvard Law School, was associate counsel to President Reagan. Send comments on this column to ibjedit@ibj.com.
Please enable JavaScript to view this content.