The Indiana Economic Development Corp. is encouraging local governments to help finance speculative industrial buildings, which could land new businesses but could put at risk hundreds of thousands in taxpayer dollars.

The state has 15 industrial spec buildings constructed and ready for occupancy, and eight more are under development, according to IEDC, which doesn't distinguish between those that are privately financed and those that benefit from public support. IEDC officials won't say how many more they think the state needs, but they plan to hold a workshop later this year on how to finance the buildings through partnerships of local communities, developers and banks.

Tim Monger says Hamilton County will likely steer clear of spec buildings.
Although there are massive industrial spaces available in the Indianapolis area, some smaller communities participate in their own spec projects so they'll be on the list of places a new or expanding business would consider. According to IEDC, 62 percent of businesses considering a move to the state request a site with a building on it. And the most common specifications are 75,000 square feet to 100,000 square feet with ceilings at 25 to 30 feet.

"It's not different from communities having a publicly financed industrial park, which has happened over the years," said Tim Monger, president of the Hamilton County Alliance and a former site-selection consultant at Cassidy Turley. "This is taking another step."

Several communities around the state already have backed spec buildings, with varying degrees of success, and several more are in the works. In the Indianapolis area, the Johnson County Development Corp. is marketing a 51,000-square-foot building in Franklin that went up last fall with the city's help. The Boone County Economic Development Corp. hopes Lebanon officials will sign on for their own project.

Hamilton County probably will not get involved in spec buildings because developers are readily meeting the local market demand, Monger said. But other communities want to give potential new businesses another reason to look their way.

The Muncie-Delaware County Economic Development Alliance attributes 1,200 jobs to six of the eight spec buildings that have been constructed in the past two decades. Six of the buildings are fully occupied and have even doubled in size, Vice President Terry Murphy said. Two more companies, Keihin and Diamond Plastics Corp., were lured to the area after looking at one of the buildings, he said.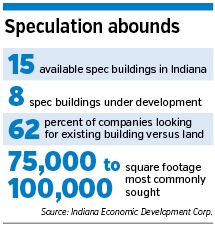 Although two spec buildings in the county are still vacant, the Delaware County Redevelopment Commission recently broke ground on its ninth and its largest to-date, at 200,000 square feet, Murphy said. Garmong Construction, based in Terre Haute, is designing, building and arranging upfront financing, while the redevelopment commission will pay the interest on the construction loan for the $7.5 million project, he said.

The interest payments, about $400,000 a year, will come from the county's tax-increment finance district, Murphy said. (TIF districts capture property-tax revenue from new construction so it can be spent on economic development, rather than being used by schools and other government operations.)

Delaware County officials hope Garmong will repay the interest when the building is sold, but there's a chance it could linger on the market, or that the sale price won't be enough to cover the interest costs.

"It is a risk, there's no doubt," Murphy said. "Some can take that risk, some can't. You have to have a way to pay for it."

Marketing tool

Factory-building specialists, Garmong and Shelbyville-based Runnebohm Construction have participated in several of the spec projects.

Garmong Vice President Dan Zuerner said getting local officials' buy-in can be an arduous process, but it's worthwhile to the firm because it could mean more business in the future. The company that buys the building is likely to hire Garmong to finish it off, and in a best-case scenario, to expand it later.

"It's really a marketing tool for us," Zuerner said.

The spec buildings are typically exterior shells with stubbed-in utilities but no offices or floors. That allows companies to finish them to suit their needs while shaving months off their set-up time.

The public-backed buildings are much smaller than the giant warehouse spaces available in Plainfield and other Indianapolis suburbs, usually around 50,000 square feet with room to expand to 150,000 square feet.

That size is more attractive to manufacturers than warehouse distributors, which is one reason Lebanon officials are considering a project, said Bryan Brackemyre, executive director of the Boone County EDC. Lebanon wants manufacturers because they pay higher wages than distributors, he said.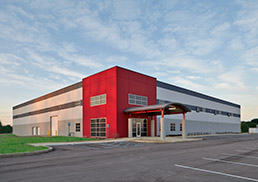 The Muncie Redevelopment Commission and Garmong Construction Services partnered on this speculative building at the Muncie Air Park. (Photo courtesy of Garmong Construction Services)
Boone County has seen its share of speculation by developers like Browning Investments and Duke Realty, but Brackemyre thinks they are unlikely to take on the type of smaller, single-user building that Lebanon is considering because it doesn't offer the same economies of scale and profit margin as the massive warehousing facilities.

Runnebohm finished a 51,360-square-foot shell building in the Franklin Business Park with city support last fall, and now Franklin is on several companies' short lists, said Cheryl Morphew, CEO of the Johnson County Development Corp.

"We hadn't even broken ground in March, and we had a number of people interested," Morphew said. "Of all the properties in Johnson County, this property had the most activity last year."

Franklin is guaranteeing the land costs for the 12-acre site. The business park owner will defer taking payment for three years, giving Franklin time to see it sold and possibly avoid using $480,000 in TIF revenue to cover the cost, Morphew said. The building is owned by Runnebohm.

Based on leads that Johnson County Development has tracked, Morphew is optimistic that the building will have a buyer soon. Buildings of the same size were in high demand when she approached local officials in the summer of 2012 about a spec project, Morphew said.

"Two years later, it is still the sweet spot," she said.

Officials in Greencastle believed they had the right product when they worked with Garmong on a spec building that was completed in September 2007. The city redevelopment commission spent TIF revenue to cover interest payments on the building until it was finally leased in January 2012, said William Dory, executive director of the Greencastle/Putnam County Development Center.

Dory would not say how much TIF revenue has been spent because he said he doesn't want the community to be at a disadvantage in future sale negotiations. In the event of a sale, Garmong could reimburse Greencastle on the interest payments.

Despite the nail-biting experience of watching the building sit vacant during the recession, Dory said he wishes there were another spec building available in the small city.

"I'd love to do it again," he said.

A suitable building can be the deciding factor in a company's move, Monger said. When he worked as a site-selection consultant, he witnessed Caterpillar move an entire operation from Decatur, Ill., to North Little Rock, Ark., because of a 700,000-square-foot building that became available.

Working with Sara Lee, Monger saw the company abandon a list of three finalist cities and its plans to build on open land when a competitor's former facility became available.

"All [of a] sudden, our focus shifted to Kansas City, Kan., because of a building," he said. "They're producing deli meat in Kansas City, Kan., as we speak."•