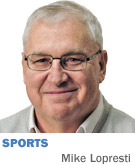 Here's my birthday card to you, Wrigley Field. This coming Wednesday is your 100th. And you don't look a day over 80, except maybe for some of your rest rooms.
I'm from Richmond, Ind., and the guy who built you, Charles Weeghman, was born and is buried in my town. He started out earning $10 a week as a coffee boy, eventually made a fortune owning lunch counters in Chicago, then lost it as a baseball-team owner. Weeghman built you in 1914 for $250,000. Think of that. Nowadays, that'd pay a Yankee for three days.
"He just came from nothing, from a blacksmith's son in Richmond, Indiana, to a millionaire," Sue Quigg said.
Who's Sue Quigg? We'll get to her in a minute.
It took only two months for the workers to tear down the remnants of an old seminary and build you. Gee, the Cubs are seldom in pennant contention that long. But the world was a little different back then. The day you opened, gas was 12 cents a gallon. You were born the same year someone put up the nation's first traffic light.
Anyway, I stopped by the cemetery the other day and found Charles Weeghman's gravestone. It's about the size of a granite picnic basket. Nothing big or fancy, just his name and the bookend dates of his life, 1874-1938. You'd never know he was the man who decided the corner of Clark and Addison would be a fine spot for a ballpark, mostly because it was close to the "L" station.
Wonder if he said to himself, "This is where Chicago baseball fans are going to suffer unending disappointment for the next hundred years."?
He put an ad in the papers the day before you opened, inviting all Chicago to a Federal League game between the Chi-Feds and the Kansas City Packers the next day at 3 p.m. It included a personal message to fans.
"This great park, dedicated to clean sport and the furtherance of our national game, is yours, not ours. Its destiny is in your hands."
The man was a savvy marketer. One of his ideas was to let fans keep foul balls hit into the stands. Nobody had done that before. He realized from his lunch counters that people like to eat, so he had food vendors in the aisles.
You might not remember your first day as 14,000-seat Weeghman Park. The Federals won 9-1. After nine home runs in three games—unimaginable back then, with Babe Ruth only a rookie—Weeghman had the left-field wall moved back as much as 50 feet. Your scoreboard was transferred to center to make room. One hundred years later, it's still there.
The Federal League folded in two years, but Weeghman bought the Cubs to keep you occupied, though he soon sold the club to a chewing gum guru named Wrigley. Hence, your new name, which stuck.
You're going to have a big day April 23, when the Cubs play the Arizona Diamondbacks. Arizona had been a state barely two years the day you opened. The Cubs will wear Federals uniforms, and Sue Quigg is throwing out the ceremonial first pitch.
She is Charles Weeghman's great-niece. She's also an Indiana girl, and one of four Weeghman survivors from her generation. Overall, more than 40 family members will be there, including her husband, Bill, and all 10 of their grandkids.
She said over the phone the other day from her home in Phoenix that she has been practicing, but not from the mound.
"They don't expect a 77-year-old to throw 60 feet, and a great-grandmother besides," she said. "I'm really going to throw about 30 feet. I've only been throwing a tennis ball, but I'm going to start using a hard ball. I'm going to be ready.
"It's one of those wow moments in life."
Quigg was once an Indiana University cheerleader, so appearing in front of a crowd won't make her nervous.
"Now, if I had to speak, it might be a different thing," she said.
She wants everyone to know the Cubs could not have been more gracious to the family, and she is privileged to represent all the fans who have revered her great-uncle's creation, no matter the team ERA.
"Those fans, what they've gone through," she said.
One other thing. The ball she'll be using has been around since you were a baby. It was handed down from her grandmother, who threw it out at a Chi-Feds game a century ago. It was then handed down to Quigg's mother and to Quigg. It has the faded autograph of Joe Tinker, who managed the Federals and played shortstop. 
Fenway Park had its 100th a couple of years ago. I know it really gets under your ivy, all those Red Sox championship banners, and all your last-place finishes. You'd like to tell Fenway what it can do with its Green Monster.
But now it's your party. Try not to be your usual windy, cold April self, OK?
One last thing. What would you like for your 100th birthday?
A World Series contender? Sorry, that's asking a bit too much.•
__________
Lopresti is a lifelong resident of Richmond and a graduate of Ball State University. He was a columnist for USA Today and Gannett newspapers for 31 years; he covered 34 Final Fours, 30 Super Bowls, 32 World Series and 16 Olympics. His column appears weekly. He can be reached at mlopresti@ibj.com.
 
Please enable JavaScript to view this content.