Lawrence and Francis Beck were just hoping for better yields when they planted six acres of hybrid corn on their Hamilton County farm almost eight decades ago. Instead, the father and son sowed the seeds of a family business that's still growing despite widespread industry consolidation.
Atlanta-based Beck's Hybrids this month unveiled plans for a $60 million expansion that will add research labs, greenhouses, seed-processing facilities and about 100 jobs over the next four years. It has 400 employees now, 283 in Indiana.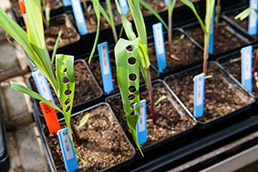 Beck's corn breeders work to incorporate advantageous traits into hybrids they develop for Midwestern farmers. (IBJ photo/Eric Learned)
Third-generation leader Sonny Beck said seed sales have increased at least 20 percent every year for more than two decades—a pace necessary to earn the company "a seat at the table" with industry giants like Monsanto and DuPont.
"We needed to grow so we'd be noticed," said Sonny Beck, 73.
Multinational corporations dominate the $12 billion U.S. seed market, with about 70 percent of sales, according to a 2013 Farm Journal report. They also have led the race to genetically modify crops, developing desired traits such as pesticide resistance.
Such advances in biotechnology require a lot of money and time, Beck said, and he isn't interested in trying to beat the big boys at their own game.
"That's not what we do," he said of genetic engineering. "We don't build railroads, and we're not going to do that."
Instead, Beck's accesses other companies' discoveries through licensing and distribution agreements, and its corn breeders work to incorporate the traits into hybrids they're developing for Midwestern farmers. All its seeds—mostly corn, soybeans and wheat—are coated with a proprietary "yield-enhancement" treatment.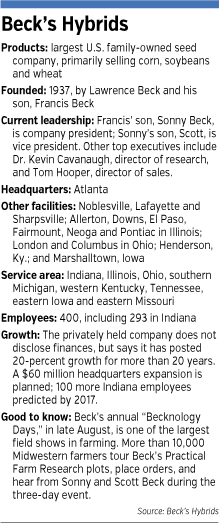 Beck's does business only in portions of eight states, but it is the country's sixth-largest retail seed supplier as measured by bags sold. The closely held company does not disclose financial details.
Among those ranking higher: Indianapolis-based Dow AgroSciences and Westfield-based AgReliant Genetics.
"To have three of the top 10 seed companies within 30 miles of each other is pretty incredible," said Craig Newman, CEO of AgReliant Genetics and chairman of the American Seed Trade Association. "Seed is an exciting area in agriculture."
Founded in 2000, AgReliant has grown to become the third-largest North American seed corn supplier, with 7 percent of the market. The company has 900 employees in 13 states, including about 100 in Indiana.
Although he wasn't comfortable commenting on a competitor's growth, Newman said the industry rewards "high-performing products, exceptional service and extensive agricultural knowledge."
Smaller companies have their work cut out for them thanks to widespread consolidation that started in the mid-1980s, said Phil Howard, an associate professor at Michigan State University's Department of Community Sustainability. Monsanto alone has acquired more than 70 competitors over the years, he said.
"The industry has changed so much in such a short time, it's quite a challenge," Howard said. Still, he said some small firms have thrived by identifying a niche market—organic or non-modified seeds, for example, or "locally adapted varieties."
That is Beck's sweet spot.
In 1901, Lawrence Beck and his wife, Anna, settled on an 80-acre farm a couple of miles southwest of Atlanta, where they raised a family along with corn, hogs, chicken and cattle.
As a young adult, son Francis helped on the farm while holding down a day job. The Becks planted hybrid samples from Purdue University in 1937, hoping the innovation would increase corn yields that had been stagnant more than 70 years.
They had been growing seed corn for their own use, saving some of the best ears to sell to friends and neighbors. Corn production increased with the promise new varieties delivered. And Beck's Superior Hybrids took root.
Francis oversaw operations following his father's death in late 1938. His son, Sonny, joined the family business in 1964 after earning a bachelor's degree in agronomy and master's in agricultural economics at Purdue University.
"The first 30 years, we had steady growth pretty much by happenstance," said Sonny Beck, whose son Scott was employee No. 12 when he signed on in 1987. "We just tried to do the best job we could for customers."

Sonny Beck
He remembers being an ambitious young man, eager to hit the road in pursuit of new sales. When he told his father of his plans, Francis redirected him with a question: Did his existing clients have everything they needed?
When Sonny could say yes, he could start prospecting.
Now dubbed the "Beck's Experience," that farmer-first philosophy remains in place. Beck's offers a 100-percent replant guarantee, for example—a policy Francis came up with when an early customer had disappointing results because of a planting mishap.
The company also brings farmers in for winter briefings and tours of its sprawling 276th Street campus—Beck's two airplanes facilitate travel—and its three-day "Becknology Days" field show draws more than 10,000 visitors each August.
Beck's also has dedicated hundreds of acres in Hamilton County and other strategic locations in the region to its Practical Farm Research program, developed to help customers maximize their results.
Company researchers conduct hundreds of data-driven studies of various farming practices each year, and publish their findings in a book (2013's weighs in at 288 pages) and on the company's website. For free.
IBJ.COM EXTRA
Click here
to see more of Beck's Atlanta operations.
"If you help others attain their goals, more than likely that is going to help you," Sonny Beck said.
Expansion became a priority in 1992, when it became clear to Sonny—who by that time was running the company—that smaller seed companies had to embrace innovation to survive an upcoming wave of consolidation.
Beck's chose to grow to land biotech deals, focusing the company's research on breeding hybrids that perform well in the conditions where the crops will be grown. Its narrow geographical reach has been an advantage, Sonny Beck said.
"We want to be a big fish in a little pond," he said.
Leaders have been careful not to plow ahead too quickly. Beck's expands its service territory 60 to 90 miles at a time, he said, but only after establishing itself as one of the top three seed suppliers in an area. Measured growth is key to maintaining the company's customer-service standards, Beck said.
"It's tempting" to push the limits, he said. "We got calls from [potential customers in] Iowa for five years before we started selling there, wanting to know why they couldn't buy seed. … We told them we would be driving by too many farms that didn't use Beck's yet."•
Please enable JavaScript to view this content.