Even before the city's Capital Improvement Board approved a subsidy deal that will pay the Indiana Pacers $11 million annually over the next decade and throw in another $33.5 million to improve Bankers Life Fieldhouse, the team's fortunes were looking immensely brighter than five years ago.

Add in the city subsidy, and the franchise's revenue stream this season has increased about $42 million from where it was during the 2008-2009 season. The team's finances could get even brighter as the NBA negotiates a new national television package.
Lathrop
The team's rising revenue stream wasn't a central concern to city officials negotiating with the Pacers on a deal that stretches through at least 2024.

"This wasn't primarily about the Pacers financials," said CIB President Ann Lathrop, who promised no new taxes will be needed to cover the payout. "It was about keeping the Pacers and Fever in the fieldhouse."

Whatever CIB's motivation, the subsidies worth more than $160 million over 10 years should set the Pacers—who have claimed for years they are losing money—on a course of profitability.

"I'd be shocked, flabbergasted, if the Pacers aren't making money now," said Richard Sheehan, a University of Notre Dame economist and author of several sports-business books. "If they're losing money now, it's only because they're incompetent. And I don't think they're incompetent."

Happenings in the last four years have pushed the Pacers to almost certain profitability.

CIB—with an endorsement from Mayor Greg Ballard—began paying the team heavy subsidies in 2010. CIB approved a three-year deal to pay the Pacers $10 million annually to operate Bankers Life Fieldhouse, plus another $3.5 million for fieldhouse improvements. That deal was extended for one year in 2012.

On April 14, CIB approved the operating subsidies for another 10 years, with options for three one-year extensions. Lathrop pointed out that this deal was for only $1 million more a year than the first four years of subsidization and emphasized that the Pacers didn't get everything they wanted.

In 2009, the Pacers asked for $15 million a year, saying it cost $18 million a year to operate the fieldhouse.

Winning war on two fronts

In addition to the CIB aid, the Pacers won two other important financial battles.

In 2011, NBA team owners signed a 10-year collective bargaining agreement with the players' association, which assured owners get a bigger cut of basketball revenue—from 43 percent under the former agreement to 50 percent. Each percentage point, league sources said, is worth $40 million. The 50/50 revenue split between players and owners represents a collective $280 million in annual savings for the 30 NBA team owners—$2.8 billion over the life of the deal.

At the same time, owners were working out a new revenue-sharing plan that is much more favorable to small-market teams.

That deal was phased in and is in full force for the first time this season—raising the amount of league-wide annual shared revenue from $60 million under the old formula to $200 million.

Though Pacers officials declined to comment on the new revenue-sharing deal, league sources said the Pacers' cut increased from $5 million to at least $16 million. Some sources said the Pacers' take could top out at $20 million annually.

Revenue-sharing distributions will be tabulated in September and distributed to teams next February.

The revenue-sharing plan was a major tug-of-war between small- and large-market teams and is a shift from relying on luxury tax revenue to fund limited revenue sharing. The new plan was developed by the NBA's 13-member planning committee, chaired by Boston Celtics owner Wyc Grousbeck.

It requires locally generated dollars from big-market—and big-money-making—teams to be spread among small-market teams. Under the old deal, much of that locally generated money, including radio and TV deals, was kept by the team that generated it. Teams like the Pacers can generate only a fraction through media deals of what teams in New York, Los Angeles and Chicago can drive.

Pacers pitch in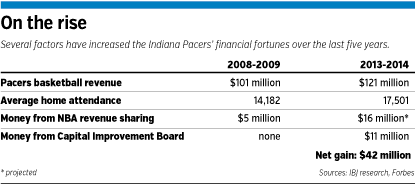 The Pacers, too, have helped themselves. Under sales boss Todd Taylor—who left the Texas Rangers two years ago to join the Pacers—the team has seen major attendance and ticket revenue growth. Of course, the team's improved on-court performance under the guidance of player personnel chief Larry Bird hasn't hurt.

Average attendance climbed from 14,182 during the 2008-2009 season to 17,501 this season. The team had 28 sellouts this season, 25 more than in 2008-2009.

Though he declined to reveal specifics, Taylor said ticket revenue has seen a double-digit percentage increase in recent years.

According to Forbes, the Pacers' revenue has grown from $101 million in 2008-2009 to $121 million this season. Pacers owner Herb Simon was unavailable for an interview before IBJ's deadline, but in the past he has refuted Forbes' numbers.

Annual ticket revenue could fluctuate and requires a continued marketing investment from the Pacers.

While revenue has been on the upswing, one of the franchise's biggest expenses—player payroll—has been stable. The NBA's new collective bargaining agreement has helped. The team's player payroll has remained in the low- to mid-$70 million range over the last five years, with the exception of last year, when it was $48 million.

Of course, as league revenue increases, the players' salary cap is expected to increase as well. The new collective bargaining agreement requires owners spend 90 percent of the salary cap, an increase from 75 percent. By 2020, the Pacers could be facing a player payroll of more than $100 million, according to projections of league-wide revenue.

It's less clear how the Pacers' parent organization—Pacers Sports & Entertainment—is doing. PS&E is responsible for concerts, circuses, ice shows and other entertainment acts to supplement revenue.

To be sure, the Pacers are PS&E's biggest revenue generator. PS&E President Jim Morris recently told CIB that concerts and other events—after the entertainers and promoters are paid—bring in $5 million to $6 million annually.

"With the construction of the Yum Center in Louisville and other venues around the Midwest since [Bankers Life Fieldhouse] was built, that sector has gotten extremely competitive," said Mark Rosentraub, a former IUPUI dean who has done several financial studies on Indianapolis' sports teams and downtown.

Team making money?

Despite challenges on the non-basketball side, sports economists think it would be difficult to argue the franchise isn't making money now.

"The Pacers' revenue right now is very clearly outgrowing its expenses," said Notre Dame's Sheehan.

Morris played down that notion at the April 14 CIB meeting.

Morris
"We've had a tough 10 years," he said. "We're doing better. This [money from the CIB] will help put us on solid footing."

Morris and Simon have previously said the Pacers have lost money in all but one season since the team moved into Bankers Life Fieldhouse (then Conseco Fieldhouse) in 1999. Morris also emphasized at the CIB meeting that any money made from operations goes right back into it.

"Herb and Mel Simon have never, ever taken a penny out of this operation," he said.

Even if that's true, it's difficult to argue the Pacers haven't been a good investment. Herb and Mel Simon bought the team in 1983 for $11 million. Forbes this year placed a $475 million valuation on the Pacers, but that might be low. The Milwaukee Bucks franchise—which was valued by Forbes at $405 million—is being sold for $550 million to hedge-fund billionaires Wesley Edens and Marc Lasry, with the duo promising to keep the team in Milwaukee.

When Mel died in 2009, Herb bought the other half of the team from his brother's estate and is now sole owner.

Marc Ganis, president of Chicago-based SportsCorp Ltd., said it would be a mistake to characterize the Pacers as wildly profitable.

"With the changes in their revenue stream over the last few years, they're definitely doing much better," said Ganis, a sports business consultant who counts several NBA teams as clients. "And the money from the city is a nice boost. But the expenses of running an NBA team and operating a venue are still considerable and growing. I'd say it's closer to break even than a situation where they're bringing in lots of profit."

Morris in 2010 said the Pacers had lost $30 million in each of the last two years. If that was the case, it appears the additional revenue from the NBA and CIB should be more than enough to push the team beyond break-even.

CIB President Lathrop said while the new collective bargaining agreement and revenue-sharing formulas were considered during negotiations with the Pacers, those factors weren't as paramount as retaining the fieldhouse's two biggest tenants.

Why not wait?

Sheehan thinks CIB was foolish for not waiting until later this year to finalize the Pacers deal. The team's old lease wasn't set to expire until 2019.

"It didn't make sense to me that [CIB] finalized this deal before the NBA's new media contract was signed," Sheehan said. "There's an awful lot of money expected to come with that and you'd think they would want to factor that in."

The NBA's national TV deals with ESPN/ABC and Turner Sports' TNT—which pay a combined $930 million per year—expire after the 2015-2016 season. NBA officials have started discussions with TV networks and are expected to make a decision within a couple of months, according to sources familiar with the league.

With new national sports cable networks such as Fox Sports 1 and NBC Sports Network hungry for live programming, the NBA could boost its annual rights fees 50 percent to 100 percent, said Ed Desser, president of California-based Desser Sports Media Inc., which has done work for more than a dozen NBA teams.

The type of increase Desser is projecting would score the Pacers "at least another $3 [million] to $5 million per year," Sheehan said. "It could be a lot more than that over time."•