Daniel Radcliffe could have coasted in. Instead, he's parlayed Harry Potter popularity into a string of challenging roles on stage. Now he's back on Broadway, lending his considerable talents—and his considerable fan base—to Martin McDonagh's tragicomedy "The Cripple of Inishmaan."
And, at least as far as I could tell, even those who bought tickets just to be in the room with their favorite wizard left the theater as breathlessly blissful as I did. And I've never seen an entire Potter film.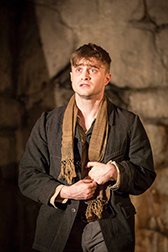 Daniel Radcliffe (Photo/Johan Persson)
Set in 1934, "The Cripple of Inishmaan" concerns a group of Irish locals whose lives are affected by the presence of a film crew nearby. Radcliffe plays Billy, whose disability makes his desire to be a part of the production seem delusional to those around him. These include his not-quite aunties, a gossip-monger who is the village's de facto newsman, a widower with a boat that could take Billy to his dreams, and a lass whose nasty habits include chucking eggs.
To reduce any of them to a few words of description is to trivialize the rich writing of McDonagh and the expert work of the company. (My only quibble is that both Radcliffe and Sarah Greene, as egg-hurler Helen, are a bit pretty for the parts. But that's a beef I won't stew over.)
Colorful, eccentric storytellers are nothing new—what would Irish plays be without them?—but McDonagh does more than keep us guessing about the stories behind the stories. He surprises with who is telling tales. And those revelations pack emotional wallops that are both surprising and, in hindsight, inevitable.
As for Radcliffe, well, this is not a star vehicle. It's an ensemble piece. And it speaks to Radcliffe's talents, his humility and his eye on the big picture that he's allowed himself to be surrounded with such actors. He proves worthy of such good company.
__________
It used to be that Broadway was the launching pad for dozens of new plays a year. Now, only a handful premiere there and it's a small miracle when one arrives as wonderfully loopy as Will Eno's "The Realistic Joneses."
 
Toni Collette (Photo/Joan Marcus)
Of course, small miracles are easier to manifest with familiar faces in the cast. In this case, that means Toni Collette, Michael C. Hall and Marisa Tomei—all armed with high-profile movie and TV credentials but also, I'm thankful, with strong theater chops. The rueful, funny and oddly philosophical play would work without them, but it would be a lot tougher to sell tickets.
"Joneses" opens on a couple (Collette and Tracy Letts) idling an evening away in their back yard. Their nothingness is interrupted by a visit from another pair of Joneses (Tomei and Hall) who recently moved into the neighborhood. How the foursome gets to know one another (how any of us gets to know anyone) and how hard it is to see a breaking point before it breaks seem to be the subjects of the play. Packed with non sequiturs, it earns consistent laughs while displaying a deep, melancholy love for people who have only a few years to spend on this strange planet.
As in life, if you don't look for spectacle, "The Realistic Joneses" is subtly spectacular.
__________
It's an odd year for new musicals on Broadway. After "Big Fish" was thrown back and "Bullets Over Broadway" failed to explode, the field is now open for an underdog to pick up a Tony Award for Best Musical. One contender is "A Gentleman's Guide to Love and Murder."
In it, a down-on-his-luck Edwardian gent, upon realizing that he is in line to be an earl, proceeds to kill off the eight family members in his way (Turner Classic Movies watchers might recall the plot from the Alec Guinness movie "Kind Hearts and Coronets"). The gimmick here is that all eight are played by the same actor, Jefferson Mays, which softens the blow of watching each of his iterations perish.
A diverting show with a pleasant score (hints of Lerner & Lowe and Gilbert & Sullivan can be heard), "Gentleman's Guide" never quite reaches its comic potential. Jefferson Mays is able if not outstanding. But he seems to be working entirely too hard. Never let them see you sweat clearly isn't his creed. Bryce Pinkham as murderous Monty Navarro never loses his charm—but with most of the D'Ysquith clan knocked off in Act 1, I couldn't help but expect an explosion of funny in Act II. Perhaps it's too much to ask for the kind of doubled-over-with-laughter scene that highlighted "One Man, Two Guvnors" but, given the set-up, one should at least expect a rapid-fire series of costume/character changes.
Instead, it was more of the same—fun, pleasant, but never worthy of a Best Musical title.
__________
If only there were a truly new musical as strong as "Violet" to root for this year Alas, even though it marks its Broadway debut this season, "Violet" is likely to be considered a revival rather than a new musical by the Tony Awards committee, given that the piece opened off-Broadway in 1997.
Sutton Foster (Photo/Joan Marcus)
It's 1964 and Violet believes a televangelist can repair the damage done to her face by a loose ax blade. So she's off by bus in search of a miracle.
Journeys of self-discovery are often better served in books than in theater. The anecdotal nature and telegraphed conclusion of such stories are difficult to pull off on stage. "Violet" sometimes has the same problem that multi-stop journeys have—too much time spent in unimportant places (an overly long poker game, for instance) and too little in important ones.
But "Violet" has the benefit of a varied, exciting score by Jeanine Tesori, in which Memphis blues, gospel and gentle folk music provide the fuel. It's also got Sutton Foster, the dynamo who made her name in such tap-tap-tappy musicals as "Thoroughly Modern Millie" and "The Drowsy Chaperone," but who here is revelatory (and relatively dance-free). Through Foster, shades of Violet are revealed scene by scene, always emotionally truthful and consistently surprising.
__________
"Les Miserables" is back on Broadway and while the Thenardiers are as annoying as always (does Madame T really need to show up at the wedding in an outfit more appropriate for "Priscilla, Queen of the Desert"?), you are unlikely to hear a stronger version of "Bring Him Home" than the one delivered by Ramin Karimloo as Jean Valjean.
He's well matched with Will Swenson's Javert, who gives a desperation to the inspector's quest that seems built from his statement that he was "born inside a jail." Does his pursuit of Valjean come from a desire to squelch that part of his own childhood? It's difficult not to wonder when he eyes the fallen urchin Gavroche (Joshua Colley).
The original production of "Les Miserables" was an intimidating creation, one that felt carved in stone. This youthful one makes an effective case for the durability of "Les Miserables." When tomorrow comes … and next year … and the year after that … I expect this production—or a yet-to-be-imagined other—of "Les Miserables" to still be a part of the Broadway landscape.•
__________
This column appears weekly. Send informationon upcoming arts and entertainment events to lharry@ibj.com.
Please enable JavaScript to view this content.