Indianapolis startup Loxa Beauty was barely generating revenue last year when one of the biggest companies in its industry offered to buy it.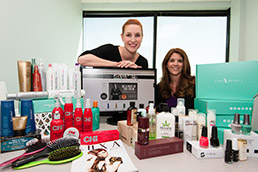 Danielle McDowell, left, and Janell Shaffer started Loxa Beauty as My Best Friend's Hair in 2010. The e-commerce website sold to a major corporation within months of launching. (IBJ photo/Eric Learned)
Founders Janell Shaffer and Danielle McDowell launched the website, originally known as Jada Beauty, in March 2013.

The site sells high-end hair products that are normally available only in brick-and-mortar salons. Companies that manufacture professional-quality shampoo or conditioner and the salons that sell the products have largely held out against online retail.

But Loxa built a network of licensed stylists who can legally sell the merchandise, paying them commissions for online sales.

Within weeks of Loxa's launch, the company received a phone call from Beauty Systems Group, a subsidiary of publicly traded Sally Beauty Holdings, which does more than $3 billion in annual revenue.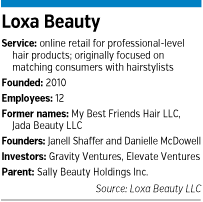 The Sally division—one of two major distributors of salon products alongside Ulta Beauty—had tried and failed to develop an effective online sales model on its own. So it bought Loxa for an undisclosed price in November.

"Part of it came down to being nimble and being able to execute with technology," said Shaffer, Loxa's CEO. "We were the first ones that actually put this into place and with the scale of products that we had."

Shaffer and McDowell said their investors netted a strong return, despite the company's short life as an independent business.

The company has grown to 12 people in the past few months. The founders expect the staff to grow to 30 by the end of 2015.

Loxa sells close to 3,000 products. Stylists set up profiles, through which customers buy hair products and route commissions to their stylists. When a customer doesn't select a stylist, an algorithm automatically chooses someone to receive the commission.

The company also set up a national network of paid bloggers who post on the website as a way to drive up traffic.

Loxa's concept, at times, was a hard sell to investors, Shaffer and McDowell admitted.

Their potential investors were mostly men, whose eyes often glazed over at the mention of hair-care products, they said. Local investors also tend to put their money into business services more than consumer-oriented ones.

Still, they managed to secure $365,000 in seed funding from Gravity Ventures and Elevate Ventures to get the website off the ground.

"Had they built the right product? Maybe. Have they identified the correct market? We hope so," said Kristian Andersen, a co-founder of Gravity. "Literally, the most important thing at this time was … they were not going to quit."

Unusual industry

Loxa has gone through multiple identity changes—including a full revamp of its business model.

Shaffer and McDowell were working together at Carmel Web developer BitWise Solutions Inc. in 2010 when they started what would become Loxa.

Their first idea was My Best Friend's Hair, a website that helped people find stylists, which the owners likened to Match.com, but for hair.

They found a strong consumer demand for buying hair products online, largely because options are limited.

Manufacturers for years have set up contracts that restrict distribution to licensed stylists.

The three biggest producers—Procter & Gamble, L'Oreal and Unilever—overwhelmingly controlled the general hair-care market. So smaller, high-end manufacturers, such as Paul Mitchell, set up exclusive agreements to corner their own markets with stylists, said Larry Gaynor, CEO of TNG Worldwide, a Michigan manufacturer and distributor of beauty products.

The salon business model has changed in recent years.

Instead of individual salons hiring stylists and buying hair products to sell, stylists today frequently operate as their own businesses and rent booths in salons. More stylists sell retail products on their own, but the independence means the stylists don't have as much cash to pay for large inventories, letting them carry only a few product lines.

"We have had some fairly significant experience with e-commerce companies, in general," said Gravity's Andersen. "This industry is weirder. It's stranger than most e-commerce because the channels are so closely protected."

Stylists' touch

Besides offering access to a larger inventory, Loxa can help stylists gain from follow-up sales in between customers' appointments, which can span months, said Will Turpin, owner of Whiskey & Honey Salon in Carmel.

"Over that time, if they run out of product, they won't run by my salon an hour away," Turpin said, noting those sales will usually go to a grocery store or drugstore. "I'm, really, very protective of clients and what they use on their hair."

Losing business to large retailers and other websites has become an especially big concern for stylists as they and manufacturers have warned against "diversion" of high-grade products.

For example, manufacturers say businesses can distribute only directly to consumers, but some distributors and stylists are breaching contracts. They sell the hair products to other companies, which hold onto the merchandise long enough for their barcodes to expire, so the products can't be tracked. Then they sell the merchandise to grocery stores or online retailers, who charge much less.

In a lot of cases, the products expire during the extended process, giving rise to quality concerns as well.

Manufacturers have endorsed Loxa, saying the retail website is a step toward solving diversion because the online sales meet the demand for Internet retail.

"We realize the immediate need to find a solution that offers legitimate, non-diverted products online, while staying true to our commitment to the professional community and allowing salons/stylists to maintain a relationship with their clients," Paul Mitchell wrote in a post about Loxa on its website.

Industry reacts

BSG, the Sally Beauty subsidiary that now owns Loxa, was relatively quiet about its purchase until February. That's when Sally Beauty executives talked about the deal on a quarterly earnings call with investors.

Wall Street analysts rallied around the acquisition.

"We believe this website will cater well to the growing number of booth renters in the industry, and provide BSG a sales vehicle in the rapidly growing online retail business," analysts at Johnson Rice & Co. wrote in a Feb. 7 note to investors.

Sterne Agee wrote: "The manufacturers had resisted allowing BSG to sell directly to consumers due to the relationships with salons, but the revenue-sharing/commission arrangement pleased all parties involved."

Loxa's deal had its critics, too. Gaynor, CEO at Michigan-based beauty products distributor TNG, believes the acquisition didn't make much sense for BSG because Loxa can't compete with giants such as Amazon.com.

"They have every brand BSG has," he said about Amazon.com, adding that the giant online retailer also offers lower prices and free shipping.

Andersen deflected the idea that Loxa needs to worry about Amazon or any other larger retailers because Loxa lets its customers recapture sales they were already losing to chain stores and websites.

"They gave stylists a bigger stick to fight with," he said.

McDowell acknowledged the initial feedback on the website was a mix of positive and negative. But that has since changed in Loxa's favor, she said.

"It's an exciting time," she said about the industry's feedback. "It's also a very disruptive concept."•