The Finish Line Inc.'s 48-store specialty running chain has been stuck in neutral and unable to grind out a profit since its inception three years ago.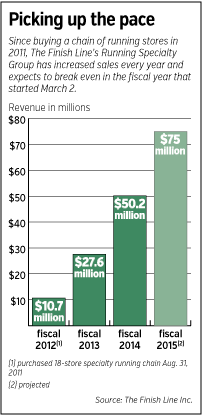 But the Indianapolis-based athletics retailer thinks its Running Specialty Group is poised at least to break even this year after reporting small losses every year since 2011.

For a company to announce that one of its divisions won't lose money might not seem like much of an achievement. But for Finish Line, which swung and missed on past acquisitions, including its $1.5 billion bid in 2008 to acquire Tennessee-based Genesco Inc., the growth of its specialty running segment could represent a milestone.

"It's turning a corner," UBS analyst Steven Strycula said in an interview. "It's not at the point of hitting critical scale, but it's just nice to know that it's no longer a profit drain on the company."

Finish Line jumped into the highly competitive specialty running sector in August 2011 by paying $8.5 million for an 18-store chain founded by competitive runner Gene Mitchell in 1996 in Princeton, N.J., and operated by a group of individual store owners.

The stores then had combined annual revenue of $19 million and still operate under banners including the Greater Boston Running Company, New York Running Company and Texas Running Company and are primarily on the East Coast and in Texas.

Finish Line since has more than doubled its stable of running stores, to 48, including 21 that the company either acquired or opened during its 2014 fiscal year ended March 1.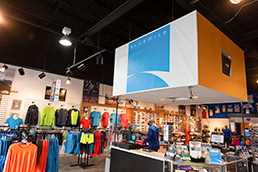 The company's running division has grown to 48 stores in the last three years thanks in part to acquisitions, such as the one of BlueMile in Indianapolis. (IBJ photo/Eric Learned)
The acquisitions enabled Finish Line's Running Specialty Group to expand into Colorado, Kentucky, Ohio and also Indiana, by purchasing the six-store BlueMile chain with stores in Broad Ripple, Fishers, Carmel and Greenwood.

Revenue for the division topped $50 million for the first time and is expected to grow to $75 million in the current fiscal year and to $101 million during the next one, according to Finish Line.

The growth in revenue this year will be driven by Finish Line's plans to add up to 25 more specialty running stores either through acquisitions or new store openings, bringing the total to 73, executives said during a call with analysts March 28.

Finish Line declined to make executives available to IBJ to respond to questions about the running group's losses and what has sparked its turnaround.

Failed acquisition attempts

The Running Specialty Group's ability to turn a profit undoubtedly would ease the pain of past failings.

In 2005, Finish Line paid $12 million to buy hip-hop outfitter Man Alive before unloading the money-loser in 2009. In 2006, Finish Line launched an active women's concept called Paiva and opened 15 stores before closing the concept a year later. That same year, in 2007, Finish Line attempted to acquire Genesco before calling off the deal a year later.

Analysts who follow Finish Line say the Running Specialty Group is much better positioned for success.

"They've learned from that," said Sterne Agee analyst Sam Poser of the string of missteps. "These are existing businesses and they're trying to roll them up; it's a different animal."

Said UBS analyst Strycula: "This is definitely closer to the core [of Finish Line's business]. And it was a different era of the management team [then]."
Lyon
Glenn Lyon joined the company in 2001 and ascended to CEO in 2008, replacing Alan H. Cohen, who co-founded Finish Line in 1981. Upon Cohen's retirement in 2010, Lyon also became chairman.

Ed Wilhelm, the company's chief financial officer, came aboard in 2009.

Finish Line is getting help to grow the running group from Denver-based Gart Capital Partners, a private equity firm that in 2012 agreed to invest $10 million in the chain. Gart oversees the running group's daily operations from its Denver headquarters.

It and the Finish Line hope to build a dominant position in specialty running buttressed by an e-commerce website at Run.com.

No cannibalization

Despite the group's growth in revenue, it still is just a sliver of Finish Line's business—about 3 percent. For the last fiscal year, Finish Line overall earned $76.9 million on revenue of $1.7 billion.

But analysts say the Running Specialty Group helps the company by identifying running trends faster through its target customer—more serious runners—than it could at its 644 mall-based stores.

That should prevent the specialty shops and Finish Line stores from cannibalizing one another, said Poser, the Sterne Agee analyst.

"They sell similar stuff, but the consumer is totally different." he said. "They're not going to trip on each other."

Indianapolis distance runner Bob Kennedy co-founded locally based BlueMile but sold his share before Finish Line's purchase of the chain last year. Meanwhile, he's jumped back into the running business by buying the three-store San Diego chain Movin Shoes Inc. He doesn't feel threatened by Finish Line's entrance in the running segment.

"There's a stronger connection to the community," Kennedy said of the smaller independents. "It's hard to have that when you're employing 12- to 20-hour-a-week sales associates."

Strycula, the UBS analyst, thinks the running sector supports continued growth.

"The running category, the last five years, has been a very, very strong category," he said. "With Nike being the 800-pound gorilla, we needed New Balance and others to step up and support the revenue growth, and they have."

Finish Line also is attempting to broaden its scope by establishing a presence in Macy's department stores. It manages the athletic footwear inventory in 651 Macy's stores, including 210 branded or staffed shops.

Finish Line signed a deal with Macy's in April 2013 calling for it to be the exclusive athletic footwear partner of the national department store chain—a move that executives think could increase annual revenue as much as 30 percent.

Wall Street has reacted favorably to the move, as Finish Line shares have increased 50 percent in the past 12 months to more than $27 each.•