A once-struggling medical office building near the U.S. 31 road construction project in Carmel is undergoing a massive makeover of its own that's helped it become fully occupied.

Indianapolis-based Cornerstone Cos. Inc. bought the 30,000-square-foot Carmel Medical Pavilion at 13431 Old Meridian St. in January from The Spine Institute—the building's only tenant at the time.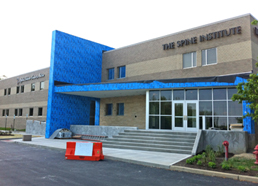 Among the improvements for the Pavilion is a new facade to give the building a more contemporary look. (IBJ Photo/Scott Olson)
Including the purchase price, Cornerstone has invested $4 million into the facility. The upgrades helped retain The Spine Institute and add operations from St. Vincent Health, whose Carmel Hospital sits just west of Cornerstone's building.

Reconstructive Hand Surgeons of Indiana, Applied Behavioral Health Group and a physician who specializes in the treatment of migraine headaches are the other new tenants.

The Spine Institute had owned the building since the group formed in 1987 but decided to sell to focus on its medical practice, said Tag Birge, an executive vice president at Cornerstone.

The location of the building, just south of U.S. 31 where Old Meridian and North Guilford Road connect, along with a high concentration of private-pay patients, makes it an attractive investment, he said.

"The demographics are terrific," Birge said, "and it's along one of the leading medical corridors in the state."

Bruce Gordon, a senior vice president in the Jones Lang LaSalle brokerage's health care division, agreed.

"Health care services are not unlike retail; you follow the growth," he said. What's going on from 96th Street to 146th along the Meridian corridor is just an indication of trying to serve a solid population. Every major system is represented in that corridor."

Cornerstone hired Indianapolis architecture firm Architects Forum to redesign the lobby and exterior façade to give the building a more contemporary look. That work should be finished in the next few weeks.

Cornerstone also replaced aging mechanical and electrical systems and redid the exterior signage, parking lot and landscaping.

The company already knows that part of Carmel well. Cornerstone formerly owned the Carmel Physicians Surgery Center, which sits just south.

Cornerstone sold the 51,000-square-foot physicians surgery center last June as part of a 16-building, $120 million deal with Newport Beach, Calif.-based American Healthcare Investors. Cornerstone still manages the properties for American Healthcare.

The company is working on plans now for an $11 million medical office building near St. Vincent and IU Health hospitals in Fishers.

The developer is targeting a four-acre site on Olivia Way, off Interstate 69's Exit 210. Preliminary plans call for a three-story, 43,000-square-foot facility largely owned by the doctors who practice there.

All told, Cornerstone has developed more than 50 medical facilities occupied by some of the biggest physician groups and hospital networks in the state and manages properties totaling 1.2 million square feet.