Two South College Avenue properties across the street from one another are in various stages of selling, with one slated for a $28 million apartment project.
Herman & Kittle Properties Inc. has the vacant strip of land at the southeast corner of College and Maryland Street under contract and plans to build 211 units on the 2.6-acre parcel.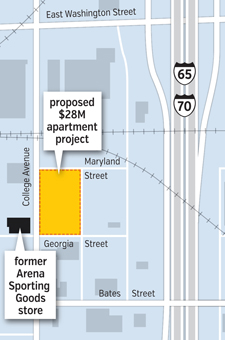 Meanwhile, the owner of a building that's across College and north of Georgia Street is accepting sealed bids on that property. The building last housed Arena Sporting Goods. The site is attracting interest from "multiple parties," said Ray Simons, a broker at Cassidy Turley who is coordinating the sale.
The lot Herman & Kittle is pursuing is owned by sisters Gina and Tina LaGrotte and is listed for $1.85 million. The LaGrottes are well known in the neighborhood as the longtime operators of the landmark Milano Inn at 231 S. College Ave., one of the city's oldest Italian eateries.
They also own an old school building behind the restaurant that they converted to office space, in addition to Angelo's neighborhood grocery, 201 S. College Ave., which is named after their grandfather.
The sisters bought the lot in 2008 from a subsidiary of Eli Lilly and Co., said Gina LaGrotte, with the intention of holding onto it until it attracted interest from a residential developer.
"It just seems like, over in our area of the city, more and more people are moving in this direction," she said, citing the resurgence of Fountain Square.
 
The apartment project, dubbed The Vue, represents Herman & Kittle's first foray into the booming downtown residential market. It's partnered on a few developments on the near-north side, along Meridian Street near 38th Street, but most of its work is in the suburbs.
One of its projects outside Indianapolis is Casey Acres, a 244-unit apartment complex in Spring Mill Trails, a 900-acre mixed-use development north of State Road 32 between Spring Mill Road and Eagletown Road in Westfield.
What attracted Herman & Kittle to the downtown lot is its location within a "quiet neighborhood with great views and close proximity to Circle," Mike Rodriguez, Herman & Kittle's development director, said in an email.
Rents will range from $950 to $1,650 per month for studios to two-bedroom units, Rodriguez said. A pool, dog park, rooftop deck, coffee lounge, fitness center, conference and game rooms, and bicycle storage are among amenities that will be included in the project.
Ross Reller, director of land services for the Indiana region of real estate brokerage Colliers International, is listing the property for the LaGrotte sisters.
"The southeast quadrant is obviously a popular area for a lot of new apartments," he said. "There's just an awful lot of interest from developers for a site like this."
   
The Metropolitan Development Commission's hearing examiner is slated to hear Herman & Kittle's request later this month to rezone the property to allow for multi-family construction.
The building that Simons of Cassidy Turley is listing is owned by Janet Dible. She acquired the property, at 140 S. College Ave., in 2000 and operated Arena Sporting Goods there until it closed in April.
The store, which provided equipment and uniforms to area Little League teams, previously had been on Market Street.
"There's no question in my mind that it will be redeveloped," Simons said of the property. "The question is, how much will they pay for it while they wait for the project to come to fruition?"
The southern portion of the 8,700-square-foot building was constructed in 1940 and the northern was constructed in 1979.
Simons declined to speculate how much the building might fetch. He said it's difficult to put a price on the property.
"On one hand, you could look at it as a small industrial building," he said. "As a redevelopment site, it's got significantly more value. We are looking for something in the middle."
 
Please enable JavaScript to view this content.