Explosive growth gobbling up farmland throughout the southern half of Hamilton County hasn't reached Sheridan, but town leaders are preparing for the inevitable onslaught.
Improving U.S. 31 to interstate standards is expected to improve access to and visibility for the largely agricultural community five miles north of Westfield, which is annexing 750 acres for the planned Chatham Hills golf-course development.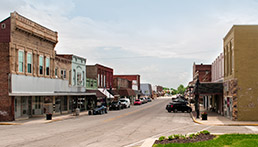 Sheridan's historic Main Street stays busy despite what one business owner calls "old building syndrome." (IBJ Photo/Eric Learned)
Already, officials have noticed more traffic passing through en route to Westfield's new youth-oriented Grand Park Sports Campus. Now they're looking for ways to get families to stop in for a visit to the historic Boxley Cabin, a milkshake at the iconic Twin Kiss, or a stroll on Sheridan's one-mile stretch of the Monon Trail.
"We have to be ready to catch the wind," said Brenda
Bush, a Town Council member who is leading the effort to draw development to the 3,000-resident community. "Right now, we're balanced between survival and renewal."
With state tax caps wiping out a quarter of Sheridan's property-tax levy, already-limited resources are stretched to the breaking point. Its general fund budget, which totaled $2.6 million in 2010, now stands at $1.8 million, Bush said. Police and fire operations consume all but about $400,000.
That doesn't leave much to invest in the town's aging infrastructure—heavy rain can overwhelm its wastewater system, for example, and regularly results in flooding—or add quality-of-life amenities common in other suburban communities, such as a network of multiuse trails. Even sidewalks are a luxury.
Reversing the town's "horrifying" financial condition will require a concerted effort to attract businesses, Bush said, since that's the kind of growth that pays the bills.
It's a lesson Sheridan's neighbors to the south learned the hard way: Rapid residential development isn't sustainable without a diverse tax base backing it up.
Westfield built Grand Park as an economic development play. Fishers assembled downtown land to make private investment more palatable. And Zionsville, which has long eschewed commercial development, last year acquired vacant property it's marketing as Creekside Corporate Park.

Bush
"They're playing catch-up," said Parvin Gillim, a Sheridan resident who owns an architecture firm with offices on Main Street. "Hopefully, Sheridan doesn't have to do that."
Indeed, the town has an advantage over communities that were caught unaware by the suburban boom that began three decades ago: It can prepare for the growth heading its way.
To that end, Sheridan went through a comprehensive planning process last year—the cost of professional consultants covered by grants and private donations—that identified a number of short- and long-term goals, all geared around encouraging growth while staying true to the town's agricultural heritage.
Objectives run the gamut from improving land-use regulations to refreshing existing housing. Economic development is a focus, along with protecting natural resources and making the most of the state highways 38 and 47 that traverse the town.
Now a group of community advocates is working to recruit volunteers to help put the plan into action. About 50 people, a sizable crowd by the standards of a small town, showed up for the first Renew Sheridan meeting last month, encouraging organizers that they're on the right track.
"We can't go out and build roads and sewers," Sheridan Community Schools Superintendent Dave Mundy said of the grass-roots group. "But we don't want the plan to sit on the shelf."
Noblesville-based HAND Inc. (Hamilton County Area Neighborhood Development) is helping carry some of the load, bringing its Neighborhoods NOW revitalization initiative to Fourth Street, an aging downtown residential area in need of TLC.
The not-for-profit launched the program last month at the Sunblest Country View subdivision in Fishers, where more than 70 volunteers tackled resident-requested work orders for help with landscaping, painting and minor repairs. HAND collaborated with the town and Keep Fishers Beautiful on the work day and a community celebration is in the works as part of the neighborhood's annual Halloween party.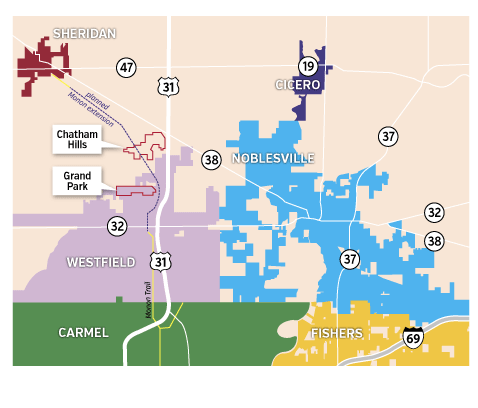 "We're trying to prove a concept and get the local civic base engaged," said Nate Lichti, executive director of the community development corporation, which owns Spicewood Gardens senior apartments in Sheridan. "We make a small investment, but the real capital comes from the volunteers and partners getting involved."
The organization also is seeking funding for Helping HAND, a program that aims to assist low-income homeowners with needed repairs. Lichti hopes HAND can coordinate 10 such projects this year in Sheridan, Cicero, Arcadia and Atlanta.
"I see us hitting some singles, doing some small projects to try to build the base of support," he said. "We need some immediate successes to build on."
HAND also has been tapped to help preserve the town's historic Main Street business district and evaluate possibilities for extending the Monon Trail northwest through Sheridan. The Hamilton County Parks Department plans to connect Sheridan's existing path to Westfield and points south by mid-2016.
The recreational trail has been a popular amenity elsewhere, spurring activity for individuals and businesses alike.
"The Monon has worked as an economic development tool in every community," said county parks Director Al Patterson. "It's definitely an asset."
Volunteers built the current one-mile trail along the southern edge of Biddle Memorial Park.
Other economic building blocks also are in place.
The state's Office of Community and Rural Affairs last year certified Countryside Industrial Park on Sheridan's west side as silver "shovel-ready"—the only such designation in Hamilton County.
Already home to a backup data center for Carmel-based Midwest Independent Transmission System Operator, which manages the electrical grid throughout much of the Midwest and South, the park has about 60 acres available for development. Countryside owner Craig Wallace said a preliminary master plan should be complete by mid-June, making the property more marketable to developers.
Also president of Sheridan-based mainstay Wallace Grain Co., Wallace recently resigned his position on the town's Economic Development Commission to avoid any potential conflict of interest related to the industrial park. But he is pleased with the direction town leaders are heading.
"This council is very open-minded, working to promote the town and bring growth in an organized fashion. We don't want to go into this blindfolded," Wallace said. "We're on the verge [of something big.] We just have to be ready."
The master plan will address outstanding issues like access to the industrial park, said Tim Monger, executive director of the Hamilton County Economic Development Corp., which helped Countryside land the shovel-ready designation and will help market the property. Signing a user of "significant size" (about 100,000 square feet, give or take) should spur interest among smaller tenants, he said.
Sheridan's location—five miles from U.S. 31 and 15 miles from Interstate 65—should be another selling point, he said.
"I think they're in a good position," Monger said. "The challenge is going to be the town's financial situation."
But because the industrial park also is part of a tax-increment financing district, the town can capture any new property taxes from development there to pay for public improvements. Existing TIF debt is expected to be retired next year, financial consultant Ben Roeger said, freeing up another $80,000 a year.
Although that's tiny compared to major expenses like upgrading sanitary sewers or century-old water mains, Bush said town leaders are collaborating with county officials to address one of the biggest issues: drainage.
The most likely solution at this point appears to be constructing a large retention pond—perhaps 10 to 20 acres—in the county's jurisdiction just outside Sheridan to handle storm water, easing the strain on the town system.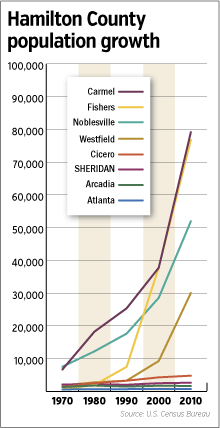 And that has Bush and others talking about the possibility of turning the body of water into a community amenity, potentially spurring waterfront development.
"Our drainage problem may give us a new attraction," she said.
Such partnerships are increasingly important as governments try to make the most of limited resources, Bush said.
Tough economic times also have prompted more permanent arrangements, like annexations and government reorganization. Zionsville merged with Union and Eagle townships in 2010, and voters will weigh in this year on a proposal to bring in Perry Township.
A similar arrangement between Sheridan and surrounding Adams Township is possible, Bush said. At the very least, the town will explore the possibility of extending its planning and zoning duties into the township's territory.
"If a small community wants to grow, it needs to collaborate," she said. "There's nothing like being a change master. We don't want to be in a position where we have no power over that which grows around us."
Inter-community connections also are critical. That's where HAND and the schools and the Sheridan Chamber of Commerce come in. While town leaders are working on big projects that could take years to come to fruition, others will focus on the details.
"We asked ourselves, what pieces can we jump in on while the town figures out wastewater, drainage, roads?" said chamber President Kimberly Coveney, a member of the Renew Sheridan steering committee. "We want to encourage people to pause here, to move here."
So improving the town's gateways is top priority. State roads 47 and 38 bring plenty of traffic to Sheridan, but without a single stoplight it's easy for drivers to miss the heart of downtown.
The first step will be to clean up and dress up the various entry points with landscaping, she said. Signage might take a bit longer, given the Indiana Department of Transportation's oversight of state highways.
"We're not necessarily talking about putting in big, pretty wrought-iron arches," Coveney said, obliquely referring to the gateways to Carmel's Arts & Design District. "We have to get creative. By the end of summer, hopefully people will say, 'Wow, that looks nice.'"
Preserving historic Main Street is another priority. Still home to a hardware store and a grocery—not to mention the headquarters of feed company JBS United Inc.—the business corridor stays busy.
But many property owners just don't have the wherewithal to address what Gillim calls "old building syndrome."
"Old buildings tend to be a money pit," he said, citing the rotted joists he found when replacing the floor in his office. "If repairs aren't made, they continue to deteriorate."
Some have employed stop-gap measures like installing metal siding or spreading concrete over failing brickwork, which Gillim said detract from the turn-of-the-prior-century grandeur.
"We want people to be proud of this downtown," he said.
"We're at a tipping point, and we need to save it now," agreed Bush, who lives at the northern end of Main Street, across from Veterans Park. "It's time to do more penetrating work. A lot of mayors would love to have this downtown."•
 
Please enable JavaScript to view this content.