Scott Dorsey and his partners began their email marketing firm when Microsoft Outlook was a toddler and Gmail was years from existence.

Dorsey
Today, Dorsey leaves a global software company that raked in tens of millions of dollars in venture capital before an initial public offering that led to a $2.5 billion buyout.

It's time for a break, the 46-year-old says, so he can spend time with his four daughters, focus on mentoring young entrepreneurs, and maybe travel a little for leisure.

Dorsey announced May 29 he had resigned as CEO of ExactTarget Inc. He will remain there as an adviser through August.

McCorkle
His successor, longtime executive Scott McCorkle, plans to keep the company focused on email, even as the firm adds a broader suite of digital marketing services.

IBJ recently sat down with both men to hear their thoughts on what lies ahead. The following is an edited transcript.



IBJ: Scott, why are you leaving after 14 years?

DORSEY: It just really feels like the best time to really start a new chapter both for the company and for me personally. I just loved every minute of it.

We're at the one-year anniversary of the acquisition, almost to the day, and I just feel like the company's in incredible hands. So much of that reason's because of Scott.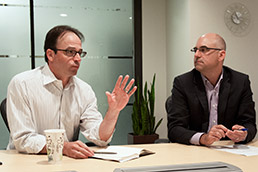 Scott McCorkle, left, discusses his plans for ExactTarget now that he is CEO. He replaced Scott Dorsey, right, who resigned in late May after co-founding the company in 2000. (IBJ photo/Eric Learned)
Scott and I have worked arm in arm together for eight or nine years, Scott's led all product technology and we think about where the business is headed. So much of it is technology product strategy and kind of vision-oriented, I just felt like it was really the right time to pass the baton over to Scott.

IBJ: Have you figured out what's next for you? Are you going to start another company in the near future?

DORSEY: I haven't figured all that out yet. I'm going to stay on board for three months. So my first focus is, just make sure that the leadership transition goes super smooth, which I know it will.

Then, I'm on probably half a dozen boards. I'm chairman of the Indiana Sports Corp., a variety of other boards. I love Indianapolis. I'm going to stay in Indy, super-committed to the community. I look forward to spending more time on those nonprofits that I haven't had much time to spend on.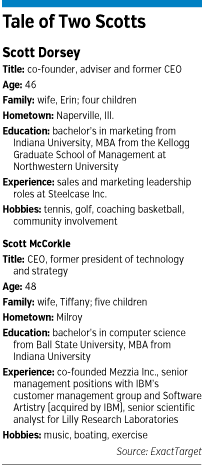 And I also look forward to coaching and mentoring young tech entrepreneurs as well.

IBJ: Mr. McCorkle, have you had much of a chance yet to plan out what you're going to start doing in terms of what's going to be different versus what's going to stay the same now that you are CEO?

McCORKLE: We are a highly innovative company. There's always lots happening. And there's a flow to new software, new geographic regions, just new capabilities that we're always releasing. So there's a natural cadence in the company that's always there. So it's really managing that.

IBJ: You already mentioned the integration, getting ExactTarget synched up with Salesforce as well as the subsidiaries you inherited. What still needs to happen for that to fully be implemented?

McCORKLE: One of the strategies we had as we became part of Salesforce was, we need to stay focused on our plan. We need to deliver the software that was on our road map that our customers are expecting. And then, as we work with the marketplace, work with our customers, they'll help us see where some of the integration points are between us and the other Salesforce products.

IBJ: You guys started with email at the core of what you do, and it's grown above and beyond that. Looking ahead, what role is email going to be playing in ExactTarget's future business?

McCORKLE: Email is the workhorse of digital marketing. It's as relevant as ever. And we see our customers achieving often the greatest return in their marketing investments from email programs, so it's as important as ever.

But we have been a multi-channel platform for over five years. We're market leaders in mobile, in SMS, push notifications that go into applications on mobile devices, the website itself, the social products. And what marketers want is one platform that brings together all those customer touch points, whatever the channel might be. And we built that.

And we, by far, have the leading platform for all digital marketing. Email will always be an important part, but all those channels are really market-leading themselves.

IBJ: In terms of your growth over the past few years, do you have any kind of projections for what's going to be happening locally?

McCORKLE: More. We will be hiring aggressively in the foreseeable future.

IBJ: Has there been any kind of change just in terms of what kind of jobs you are hiring for since you've been acquired by Salesforce? Is it more tech-based now that you've got Salesforce to handle the general-business kind of functions?

McCORKLE: It's still multiple disciplines. Technology, yes. We're a technology company. But account managers, recruiting professionals, HR professionals—it's really across the whole spectrum.

DORSEY: The three biggest areas of hiring are really sales, service and technology.

One thing that's very interesting is, we've tripled the size of our recruiting team, really just to kind of gear up for this big surge of hiring.

IBJ: How about during the negotiations with Salesforce a little over a year ago? It's been pretty clear since then that you've wanted to keep ExactTarget in Indianapolis. Was that part of the negotiations?

DORSEY: It really wasn't an element in the negotiation, but it's always been a big part of the vision and the value proposition, a deep commitment to Indianapolis. Salesforce has shown from the very beginning a great appreciation for our community, our employees and our ability to recruit statewide. So it's almost never been questioned.

And the support Scott and I have had almost every step of the way has been to double down on Indy. Even to the extent to start looking at, "Are there other Salesforce functions not ExactTarget-related that could be based in Indianapolis?"

IBJ: What is the advantage on their side of the equation to keep everybody in Indianapolis?

DORSEY: Lower cost structure than downtown San Francisco. And great access to talent and excellent universities. Salesforce, like ET, hires a lot of young, dynamic technology professionals and really sees this as a great market.

IBJ: To ask a personal question, when you go home at night do you see yourselves as being different men than you were 14 or nine years ago? Are you the same person, do you feel? Or have you changed now that you are a success?

DORSEY: I am absolutely the same person. I credit my family for keeping me very centered and very grounded.

And I think so much of our success at ET has been about humility and about being genuine and about being kind. If you were to interview employees and say, "Tell me about ET culture," I think you would hear words like that: genuine, humble, kind.

I like to think that leaders like Scott and I have brought that to the company and instilled that culturally.

IBJ: To what extent do you see yourself working as an angel investor or working one-on-one with aspiring entrepreneurs in Indianapolis?

DORSEY: I look forward to doing more of that for sure, and I have for a number of years. I've been an angel investor, supporting TechPoint and lots of the startups here for many years, and I look forward to doing more of that for many years. I think I'll have more time for that.

It'll be really nice to be able to, when I get asked for a cup of coffee or some guidance, I'm going to be able to say "yes" more than I have historically. And that's going to feel really good.

IBJ: You've already mentioned Sports Corp. Are there any other not-for-profit groups that you're going to be working with as well?

DORSEY: I'm chairman of the Sports Corp.; I'm on the dean's advisory council at IU down at the School of Informatics and Computer Science. I've been very involved in starting and championing a program called BEST, which is a business competition for graduating seniors. I'm on the board of TechPoint; I'm on the board of CICP and a variety of others, so I'll look forward to continuing with those organizations.

IBJ: Mr. McCorkle, your days are obviously going to be changing quite a bit now that you're stepping up as CEO. To what extent do you see your day-to-day life changing?

McCORKLE: Scott and I have been such great partners over the years. It feels like a natural step into these expanded responsibilities. And I have always been very active with our sales team, our services team—really, all aspects of the company.

DORSEY: Sincerely, we've always viewed ourselves as very interchangeable. Very complementary, but very interchangeable.

IBJ: To what extent are you going to be focusing on your personal life and being able to relax a little after ExactTarget, outside of investing and mentoring and other professional activities?

DORSEY: I have an awesome family. I have a lot of hobbies. So I'm very much looking forward to that aspect.

It's a little hard to envision what that looks like when I've been a part of the workforce for 25 years and building and running ET for 14 years. But I'm excited. No question about that.•