The mystery/thriller used to be a stage staple. Such populist hits as "The Mousetrap" and "Sleuth" stayed put for long runs in New York and London with audiences looking for little more than fun characters and a few clever plot twists to justify an evening of theater.

They've become rare, though, at least in big Broadway houses. Too frivolous to justify the big ticket prices? Best writers migrated to TV and movies? Whatever the case, you don't find Sherlock Holmes or others of his ilk traipsing around Times Square these days.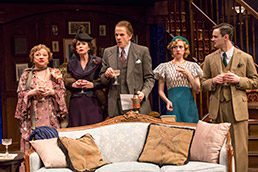 Among the five suspects in "The Game's Afoot" is former IRT mainstay Priscilla Lindsay, left. (Photo/ Zach Rosing)
Yet they remain a key ingredient in the regional theater mix, as evidenced by the Indiana Repertory Theatre's "The Game's Afoot" (through May 18) … and next season's "The Hound of the Baskervilles." There's something comforting about these efforts, where there's a kind of innocence to the murder and mayhem. It's contained (usually in a stately mansion), the characters are well-dressed, and the evil-doers (usually) punished.

Sure-footed and with no real desire to explore new territory, Ken Ludwig's "The Game's Afoot" grafts a fictional mystery onto the real-life character of William Gillette, who played Sherlock Holmes on stage. During the curtain call for one such Holmesian adventure, Gillette (Matthew Brumlow) is shot from the balcony, one in a series of deadly acts that lead to the gathering of suspects at Gillette's estate on Christmas Eve. (The play's subtitle, "Holmes for the Holiday," has been dropped for obvious seasonal reasons.)

Among the suspects/potential victims are his fellow actors, an oddball police detective, a low-life theater critic (aren't they all?), a pair

of newlyweds (including one who's also newly widowed) and Gillette's dotty mother.

Ludwig, best known for the door-slamming farce "Lend Me a Tenor," is as interested in the comedy as he is in the thrills. And IRT has assembled a cast that gamely complies. Real-life couple Rob and Jennifer Johansen prove particularly nimble as Act II opens. I'll refrain from revealing specifics, but suffice it to say a weekend at the Gillette estate isn't far, experientially, from a weekend at Bernie's.

They're all playing types rather than rounded characters. Jennifer Johansen's Daria isn't far removed from the self-centered actress she played earlier in the season in "Vanya and Sonia and Masha and Spike" at the Phoenix Theatre. Matthew Brumlow's Gillette shows echoes of the actor-ly actor he embodied in the IRT's "Who Am I This Time?". Priscilla Lindsay's Martha might have walked in from "Arsenic and Old Lace." But Ludwig and Director Peter Amster keep the characters busy enough that there's little time to notice how paper-thin they've been written.

In stage thrillers, context can be as important as character. Here, key accomplices in the show's success are Scenic Designer Russell Metheny and Costume Designer Tracy Dorman, both of whom anchor the play in rich detail. The revealing of the main set garnered as much clapping as the entrance applause for longtime IRT staple Lindsay, returning to the stage for a visit after four years in academia. Her return is as comforting as this production.
__________

Rarely does a brand-new play—unless penned by playwright-in-residence James Still—find its way to the IRT stage. But thanks to Associate Artistic Director Courtney Sale, the first in what is hoped to be a series of satellite readings of new work took place at Indy Reads Books April 27. The play is Sherry Kramer's "How Water Behaves," which concerns an economically challenged couple who stumble into a moral quandary over a fictional do-gooding charity.

Since this was a script-in-hand, free reading of a still-in-development play, it's not fair to offer a critique of the work. But I will say that the cast—including Josh Coomer, Thomas Cardwell and Lisa Ermel—gamely met the challenge, and the small crowd that gathered seemed fully engaged, although public post-show discussion was not encouraged because the reading pushed against store-closing time.

Sale said she's hoping to schedule two or three of these next season. I'll try to keep you posted as they are announced.•

__________

This column appears weekly. Send information on upcoming arts and entertainment events to lharry@ibj.com.