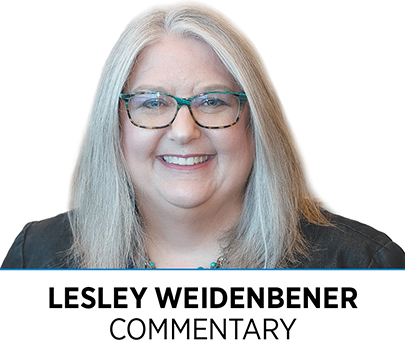 If you're reading this in IBJ's print issue, you can't have missed that today's paper has what we call a "half wrap" advertisement that takes over the front page and page 2.
Last week, IBJ had a "full wrap," which, as the name implies, means an ad wrapped completely around the paper, providing four full pages of advertising content.
There's nothing new about these ads. We've had them on and off for several years—and they are used at business journals across the country. The Los Angeles Business Journal, for example, has a wrap covering its front page nearly every week.
At IBJ, we label these wraps "sponsored content," a phrase that is used in many ways but always means the content was paid for by a customer—and that's key. Our goal is that no reader is misled into thinking something they are reading was created by the news team when it was actually developed by or sponsored by a company, organization or cause.
To that end, our rules prohibit companies from using cover wraps to create what's often called an "advertorial" (yet another industry term), which is essentially content that looks like a story written by the news team. Again, we want advertising on the cover to look like advertising, not like stories.
We also use labels like "custom content" and "sponsored content" on other pages of IBJ as well, always with the same goal of letting readers know the information is being paid for by an outside organization.
These custom-content pieces can come in various forms and are always labeled.
For example, IBJ last year started running a section called "Thought Leadership," which are Q&As with industry experts about specific topics, such as education or technology. The goal is to give those entities an opportunity to weigh in on important issues. But again, those companies and organizations pay to participate—which is disclosed as part of the feature. The newsroom does not have any role in choosing the topics, the experts or the questions and does not edit those Q&As. They are handled by IBJ's sales staff.
Advertisers can also buy space to run their own stories, which they either write themselves or hire someone to write for them. The IBJ sales staff has a writer who can help with those kinds of projects. But again, these are always labeled, with the goal of letting readers know where the information is coming from, and the newsroom is never involved in creating the content.
I bring all of this up because this type of advertising—custom content—is an increasing part of the strategies companies use to deliver their messages. Good custom content tries to provide a reader with information that is useful or entertaining, but through the lens of the organization that is paying for it. Maybe that means the expert in the article works for the company sponsoring it or it makes a case for a product the company is selling.
What's important to those of us in the newsroom is that you, as the reader, can always tell the difference between what's written by a reporter or columnist and what's paid for by an advertiser. Both can be valuable, but there is a difference.
Nothing that our reporters and editors write for IBJ's news pages is done because someone paid for it. Our stories are chosen and created by reporters and editors whose goal is to provide readers with interesting, important and (hopefully) entertaining information to help businesses and community leaders make better decisions. That's our mission.•
__________
Weidenbener is editor of IBJ. You can reach her at lweidenbener@ibj.com.
Please enable JavaScript to view this content.