A growing number of housing developers thinks farms, rather than golf clubs, are the perfect hook to lure residents. The first to experiment with the concept in central Indiana is Mike Higbee of Central Greens LLC.

As master developer of the former Central State Hospital campus, now called Central Greens, Higbee said he needed a unique amenity that would grab the attention of people who might otherwise look to live downtown or in a gentrifying neighborhood on the near-east side.

Higbee's firm hopes to break ground this year on the near-west side's first new market-rate housing in decades. Higbee always planned to capitalize on the 150-acre property's open space and mature trees, but he decided to throw a farm into the mix after hearing success stories from developers of upscale suburban communities, and even one Hawaiian resort builder.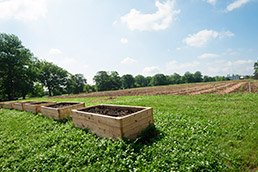 The four-acre Seven Steeples Farm includes both raised beds and open fields. (IBJ photo/Eric Learned)
"We advise a lot of clients around the country on how to make development work," said Higbee, who also is president of the consulting firm Development Concepts Inc. "I think we're convinced that food is an economic driver."

So Central Greens hired a farmer, Justin Berg, who is creating Seven Steeples Farm with the help of Mike Higbee Jr. This spring, they, along with an army of volunteers, planted four acres of vegetables and greens, and they'll soon have 30 egg-laying hens.

Berg and the younger Higbee envision the farm as an enterprise that one day will be self-sustaining while also serving as a social hub. Seven Steeples will sell subscriptions to its produce and eggs, and it will be a place where one could take a cooking class, have a picnic, or volunteer to toil in the dirt in exchange for veggies.

"People will be encouraged to come out here and just hang out if you want to," said the younger Higbee, who is helping Berg execute the business plan. Higbee, 26, is a project specialist with the consulting firm.

While Indianapolis boasts a rich urban-farming scene, none of those farms is at the center of a new housing development.

"I think I'm one of the only farmers in the city to have a back office," said Berg, 34.

A friend of Higbee Jr., he began planning the farm last August, while still working at his former job, and joined Central Greens this spring. He previously worked as a carpenter and mechanic, but is a lifelong gardener. Seven Steeples is his first full-time farm. He hopes to take it over as his own small business in a few years.

The developer provided off-site space to grow about 4,000 seedlings, in addition to tools, building materials and utility connections at the farm.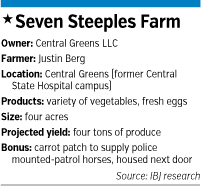 Berg will be responsible for managing labor, for which Seven Steeples is relying on volunteers, and marketing the community-supported agriculture, or CSA, subscriptions.

Growing trend

There are multiple examples of farms as neighborhood amenities around the country, but none exists in an urban setting like the near-west side. Until Higbee starts building market-rate housing at a serious clip, Berg's largest potential customer base is the low-income neighborhoods surrounding Central Greens.

That could present a challenge, since most small-scale farms cannot afford to compete on price. Berg said he recognized the need for Seven Steeples to be affordable. Because of Central Greens' backing, he said, CSA subscriptions will cost about $10 a week—half the price of Green BEAN Delivery and a few dollars cheaper than other farms' CSAs.

Berg said he's partnering with neighborhood organizations to help market the CSA. The concept requires customers to share risk with the farmer. If crops are plentiful, subscribers will see that in their weekly delivery of food. But if the farm runs up against a drought or other problems, CSA members won't get as much for their money.

The consumer movement toward locally grown food isn't contained to wealthy communities, said David Robb, manager of Harvestland Farm in Anderson, which sells CSA shares in the Indianapolis area. Harvestland garners plenty of interest from people in blue-collar Anderson, he said.

"I think people are genuinely worried about where their food comes from," Robb said.

Craig Jensen, Indiana division president for Ryland Homes, said he's hearing about community gardening spots rising in popularity, but he's not sure a working farm would be an instant attraction for Hoosiers, who probably wouldn't view it with the same sense of nostalgia as someone in the Chicago suburbs.

"It's interesting. I'm intrigued by it," Jensen said of the concept.

The Higbees studied two other farm-centric communities: Prairie Crossing in Grayslake, Ill., and Serenbe in the Atlanta area. Both are upscale with a theme around environmental conservation techniques. The 100-acre farm at Prairie Crossing is operated by a not-for-profit foundation. The Serenbe farm serves several farm-to-table restaurants that are also part of the development.

What piqued the elder Higbee's interest was hearing the developer of a Hawaiian resort community talk at an Urban Land Institute conference about the impact of a 10-acre farm. The developer had spent $100 million on the obligatory golf course, clubhouse and spa, but all the residents congregated at the farm, Higbee said.

"The golf course was an afterthought."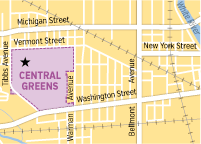 Price is right

The price of Higbee's experiment with Seven Steeples is certainly right. The developer will spend about $70,000 this year on adding a farmer to the payroll and other startup costs.

Central Greens LLC has the land under contract with the city, and so far other builders are bringing it back to life. Pedcor Cos. built The Steeples on Washington, a 144-unit affordable-rate apartment complex, in 2011 and has a senior-housing complex under construction off Warman Avenue.

Christel House Academy West, built on land donated by the city at Tibbs and Washington, will open this August. Reverie Estates is rehabbing four historic buildings for student housing and a variety of commercial uses, including an event hall and a brewery. (The historic buildings were ancillary to the main mental hospital building, known as Seven Steeples, which was demolished decades ago.)

The next step is for Central Greens to embark on market-rate housing. Higbee said he hopes to break ground this year on 150 to 200 apartments, which would be marketed to IUPUI students and professionals. Central Greens also plans to build for-sale housing, townhouses and bungalows, over three to five years.

Higbee, a former director of the Department of Metropolitan Development under Mayor Bill Hudnut, pitches Central Greens as an urban oasis, where you can walk the dog or get into a pickup game while living a bike ride from downtown. He thinks the farm takes that pitch up a notch.

He'd been studying the farm-as-amenity concept for several years, but his son persuaded him to pull the trigger on it this year, after seeing the effect of a community garden at another Higbee development, the 64-unit National Apartments near East 22nd Street and Dr. Andrew J. Brown Avenue.

People who'd been living across the hall from each other finally became acquainted, the younger Higbee said. "It was such a huge hit, and it brought so many people together."•