Mark and Julie Beckner's manicured home in Carmel is about as good as it gets for baby boomers planning to stay in their houses during their golden years.
Unusual for new houses in recent decades, the spacious two-story, built in 1984, has a master bedroom and bath on the first floor. Mark, 65, and Julie, 61, anticipate getting around in aging bodies well enough that they've called off their search for a better upscale retirement home.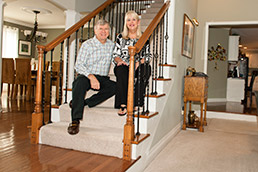 Mark and Julie Beckner have stopped looking in Carmel for upscale universally accessible housing and will instead stay in their existing home, which has a first-floor master suite.(IBJ Photo/Eric Learned)
Still, they're concerned about the single step down into the family room and a different step down into the garage. Absurd as it might sound to others, the Beckners watched Mark's mother struggle to negotiate those steps during visits before she died in 2007, and they fret the steps could make the house unlivable if their health deteriorated.
At least the Beckners have scrutinized the question. Most boomers have not, say the Beckners and experts who study the problem.
"A lot of them are just totally unaware of what is going to happen to them in 15 to 20 years," Mark said. "Where are they going to live?"
"Indiana needs a wakeup call," Julie said.
Indeed, many boomers think they've touched every base in preparation for retirement. Investments, exercise, doctors—even travel destinations.
But experts warn the vast majority are overlooking a crucial reality of aging that threatens to force the generation into expensive decisions it isn't prepared to make.
 
Step-free entrance, $3,000 to $15,000 (Cost estimates courtesy Gettum Associates Inc. and Renovations for Life LLC; photo courtesy American Association of Retired Persons)
Hardly any boomers have tweaked their homes to allow themselves to get around late in life, say people in fields ranging from academics to physical therapy to construction.
Some boomers will stay healthy enough to control how and where they live. But the majority will likely suffer from progressive conditions like arthritis or abrupt interruptions including strokes or broken bones that will leave two basic choices: Shell out thousands of dollars to remodel their cherished homes to accommodate the disabilities, or move to retirement communities or assisted living earlier than they'd planned.
"Everybody is talking about the aging of the baby boomers and what that's going to do to a variety of services, including health care," said Ellen Miller, executive director of the University of Indianapolis Center for Aging and Community. "Unfortunately, nobody has extended that into what it's going to do to our housing.
"The boomers built lots of houses, but those houses aren't going to last them into their old age in their current form."
Aging at home
Boomers, now ages 50-68, rewrote social scripts, from musical tastes to gender roles, and that confidence extends to assuming they will retire on their own terms.
Some of that optimism was dashed by the recession and housing bust. In the coming decade or two, housing again will jar the generation, said Sharon Joines, an associate professor of industrial design at North Carolina State University and a leader in the "universal design" movement to make housing accessible to people of all ages and abilities.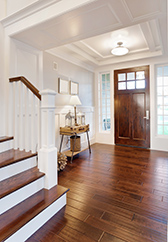 Widen exterior doorway from 36 inches to 42 inches $1,000 to $2,000 (Cost estimates courtesy Gettum Associates Inc. and Renovations for Life LLC.; photo courtesy American Association of Retired Persons)
No organization tracks accessibility in private housing, Joines said, so it's all but impossible to know how many houses have such features as grab bars, or showers, doors and hallways set up for wheelchairs.
Anecdotally, though, she has no reason to believe many houses have the accommodations. And rarely does she hear of homeowners taking action before absolutely necessary.
Senior living facilities are about the only new construction taking the features into account.
"We know people are aging. We know for the most part they want to age in place," Joines said. "We have this crisis coming."
Optimistic outlook
Surveys consistently show people want to live in their homes during retirement. A 2011 report by the American Association of Retired Persons revealed that 90 percent of people over age 65 want to stay at home as long as possible and 80 percent believe they will always live in their current residence.
Much of that optimism won't pan out unless boomers take action while they can, say Joines, Miller and others watching the challenge unfold.
Infirmity has a way of sneaking up on people, said Miller, a physical therapist. Problems like arthritis and cancer can emerge slowly enough to allow people to consider their options and remodel, she said. However, many—perhaps most—ailments strike with less warning. Strokes paralyze. Hips break in falls.
Suddenly, feet won't rise above steps. Walkers won't pass through doorways. Bathtubs become barriers.
Scarce planning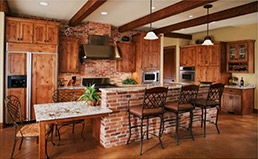 Convert kitchen counter to sitting level, $1,000 to $5,000 (Cost estimates courtesy Gettum Associates Inc. and Renovations for Life LLC; photo courtesy American Association of Retired Persons)
Dave Bertolet, president of Whiteland-based Renovations for Life LLC, which specializes in making existing homes accessible for people with disabilities, said it's rare for customers to tweak houses before they need to. Nearly always, the calls follow a traffic accident or the onset of an illness.
Phil Gettum, who operates a namesake Greenwood-based remodeling firm, said most customers can be persuaded to include larger doors when building a new master suite on the ground floor. The option costs only about $20 a door.
But customers balk at spending several hundred dollars more to upgrade to barrier-free showers, particularly if they're in their 40s or early 50s.
"Hardly anyone does it," Gettum said.
Carmel residents Bob Stevens, 60, and his wife, Debbie, 59, said they think long term. Bob stayed in military reserves long enough to collect insurance benefits that allow the couple to lead an active lifestyle in early retirement.
But asked whether their home, a two-story with the master bedroom and bath upstairs, will be suitable in coming years, Bob, a former consultant, and Debbie, a former nurse, said they hadn't considered it seriously.
Yet, they emphasized, housing doesn't concern them. If climbing steps or getting about becomes problematic, they'll simply move to an accessible community. Renovating in anticipation of health problems wouldn't be worthwhile.
"For me to sit and think about spending $4,000 and maybe never use it—that's not going to happen," Bob said. "How wide my shower is is pretty low on my list."
Some new homes in communities intended for the retirement set or those nearing retirement are built with the features.
Pulte Group, which filed more housing permits in the Indianapolis area—533—in 2012 than any other contractor, does not offer universal design as a regular feature.
However, Pulte incorporates many of the features in its Del Webb brand communities for active people age 55 and up. Pulte is building a Webb development in Fishers called Britton Falls. The houses have raised dishwashers, rollout cabinet shelves and low- or zero-entry thresholds, among other considerations.
Confusing signals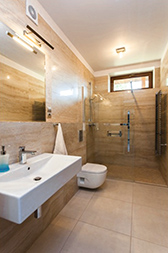 Convert bathroom to universal access, $5,000 to $18,000 (Cost estimates courtesy Gettum Associates Inc. and Renovations for Life LLC; photo courtesy American Association of Retired Persons)
Homebuyers are sending builders confusing signals, said Steve Melman, director of economic services, economics and housing policy at the National Association of Home Builders.
The association's consumer surveys show buyers want houses with step-free entrances, low kitchen cabinets and other universal design points. In 2012, for example, 26 percent of the respondents said doorways at least three feet wide were essential and another 53 percent said they were desirable.
Moreover, the survey reveals increasing interest in recent years in accessibility.
But buyers won't spend the extra money, Melman said.
Like energy-efficiency upgrades, buyers say they will pay several thousand dollars more, but often not at the expense of such frills as granite countertops and recessed lighting. So houses continue to be built for people with normal dexterity.
It isn't as if the upgrades help only older people, he said. Even teenagers can break toes on steps. And parents pushing strollers appreciate entries without steps.
"Cost is what it is for most people," Melman said.
Melman added that the association doesn't know the additional cost of universal design because survey responses tend to be broken into trades such as plumbing rather than accessibility features.
Curtis Rector, founder and president of Indianapolis-based Arbor Homes, another of the area's largest homebuilders, said universal design adds 1 percent to 3 percent to the cost of new construction.
Rector, who sells mostly to younger and first-time buyers, said the majority of Arbor customers plan to move to other houses when they're older. Of the 1,500 houses Arbor has built in the past three years, fewer than 10 were universal design, and those houses were requested by people with disabilities.
The 50-year-old Rector plans to stay in his Geist Reservoir home for at least eight more years. Like most houses occupied by boomers, it has no first-floor bedroom or full bathroom.
Owners who opt to sell rather than remodel will be putting their houses on the market along with lots of other boomers in similar straits—downsizing out of houses they no longer are able to maintain or live in, Rector said.
"I'm like most people," he said with a laugh. "I'm not facing it."
The Beckners shopped around Carmel for three years for an upscale, universally accessible home or community, and concluded that such an environment doesn't exist. Finally, they decided staying in their current home and chancing their ability to navigate steps won't cause a problem.
"The builders in this area are not realizing all the potential for baby boomers who are going to have to be getting out" of their houses, Mark Beckner said.
Many upgrades in new construction cost virtually nothing extra, said Joines of North Carolina State. Adding extra framing to walls where grab bars can be attached later is cheap, for example.
Renovations are a different story. Replacing a bathtub with a shower that allows a wheelchair to roll in and out runs $3,500 to $12,000, said Bertolet, the remodeler.
Other common changes include widening interior doors from the typical 28 inches to 36 inches and adding wheelchair ramps.
Few customers fully remodel to universal design standards, Bertolet said. Rather, they change the houses to accommodate their specific disabilities.
"It does not lend itself to a cookie-cutter approach," he said.
Boomers rarely discuss, let alone prepare, for disabilities because they fear devaluing their houses with the institutional look of hospitals, said Melman of the National Association of Home Builders. The few people who build houses with old age in mind demand they look as normal as possible.
But the University of Indianapolis' Miller and others familiar with the looming problem say the root reason is fear of growing old and dying. Accessible design signals infirmity, she said, and if anything, boomers strive to think of themselves as young—anything but aging.
"We are an age-denying society," Miller said. "Nobody wants to think about a time when they aren't going to be able-bodied."
Most boomers can avoid making the hard decisions later if they act soon, said John Kelly, who consults on behalf of Easter Seals Crossroads on changes to houses to accommodate disabilities. With the oldest boomers nearing 70, many are at the age when disabilities begin to surface, he said.
Coping with the dust and inconvenience of renovations is easier before disabilities set in. And for some, the money for renovations—or building a new home—also is easier to come by.
"The proactive approach is the best way to go," Kelly said. "Nobody as a middle-aged adult says they want to go live in a nursing home. Everyone wants to stay in their home."•
Please enable JavaScript to view this content.