A pending deal between the city of Indianapolis and incinerator operator Covanta would allow the company to boost profitability at its maxed-out, 26-year-old facility on Harding Street.
As IBJ was first to report on June 9, Mayor Greg Ballard is contemplating a new, 10-year contract with Covanta, which already is set to receive the city's waste through 2018. Under the pact, which would run through 2028, the company would build a $45 million automated facility to recover paper, plastic and metal.

Holkeboer
Covanta would see new revenue from selling the recyclable material, but Business Manager Scott Holkeboer said the driving force of the initiative—at least from the company's perspective—is to free up boiler capacity, drive more tons of trash across the docks, and collect more tip fees.
Diverting about 65,000 tons of recyclable material a year from the city's waste stream will free up capacity for other, more profitable customers, Holkeboer said.
"The tonnage is out there," he said. "We only do about 8 percent of the total waste in Indiana. There is plenty of waste to be had."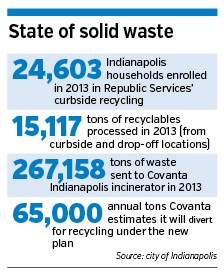 Ballard sees many pluses in the deal, but recycling-driven businesses worry they'll lose out on valuable material, and some city-county councilors think the city is throwing away an opportunity to come up with a comprehensive solid-waste plan.
The Covanta deal will go before the Indianapolis Board of Public Works later this month or in early July, Department of Public Works spokeswoman Stephanie Wilson said. Under the proposal, the city would continue to pay $29 per ton of waste, but it would no longer have to meet an annual minimum, which has resulted in $2.2 million in shortfall payments since 2009. In addition, Covanta would forgive the shortfall payment that likely would be due for 2014, Holkeboer said.
As for recycling, Ballard will no longer have to look for ways to boost the city's low household participation rate. Residents who don't already recycle can continue throwing everything into one bin, and Covanta's automated material recovery facility, or MRF, will sort it out.
Members of the Indiana Recycling Coalition object to that process, which the industry refers to as a "dirty MRF," and which Covanta calls an "advanced recycling center."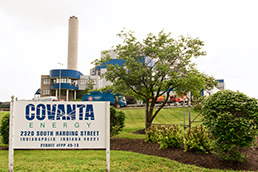 Covanta plans to build a new recycling facility next to its incinerator on Harding Street. (IBJ photo/Eric Learned)
Recycled paper is a $1 billion industry that needs "every scrap" it can find, said Fran McPoland, a Washington, D.C.-based lobbyist for the Recycled Paper Coalition, whose members include Pratt Industries, which is building a plant in Valparaiso.
Covanta's plan to pick out recyclables from the trash stream means a lot of paper would be contaminated before it reaches Harding Street, McPoland said.
"We don't believe we can get a clean source of fiber from a dirty MRF," she said. "It's hard enough getting a clean source of fiber from single-source collection systems."
Covanta would not recycle glass—another shortcoming in the eyes of recycling industries—but says it could add that capability later, if the market for the material changes.
Missed opportunity?
There's more at stake than the business interests of firms that deal in recycled goods, said Carey Hamilton, executive director of the recycling coalition. She believes Indianapolis could recycle even more than Covanta is proposing, and she said that would mean an even greater environmental benefit in the form of energy and raw-resource savings.
"The coalition has known for years that Indianapolis provides the biggest opportunity to increase recycling in one fell swoop," Hamilton said.
Indianapolis' recycling rate is 5.7 percent, mainly because residents have to either pay a separate fee, around $7 a month, for curbside service, or haul the stuff themselves to free drop-off locations.
The coalition recognizes that the city has struggled to find a way to provide free curbside recycling to every household, Hamilton said. Simply providing carts for every household could cost more than $10 million. But conditions are changing in favor of that goal, she said.
The Closed Loop Fund, financed by Wal-Mart and major consumer products companies, has $100 million available for interest-free loans to cities to assist with startup capital costs.
Gov. Mike Pence signed legislation this year that sets a goal of recycling 50 percent of the state's municipal waste.
The recycling coalition believes a free curbside program with 65 percent to 85 percent of households participating would generate 96,000 tons of recyclables, or about 36 percent of the current waste stream.
The coalition has asked Ballard to hold off on the Covanta deal for six months and seek alternatives. City-County Councilors John Barth and Zach Adamson, both Democrats, and Republican Jeff Miller seconded that request.
"I think our city from a leadership perspective hasn't done the job we need to do to explain why recycling matters," Barth said.
'Ground-breaking technology'
Ballard has sought ways to provide free, voluntary recycling. The city issued a request for proposals in 2010, but Wilson, the DPW spokeswoman, said it became clear that it wasn't "fiscally viable."
"Covanta came to the table with the advanced recycling center," Wilson said. "This is ground-breaking technology that promises to change the way people think about recycling, and it poises Indy to become the nation's leader in innovative recycling technology."
Households that are currently paying for a separate curbside service can continue to do so. The city last fall extended the contract for its largest waste-hauler and recycling-service provider, Republic Services, through July 2025, a deal worth up to $326 million.
Meanwhile, the city will continue to pay Covanta tip fees of $29 per ton. Indianapolis sent 267,158 tons to the incinerator last year, costing $7.7 million.
Under the new contract, the city could receive a share of Covanta's recycling revenue, which Wilson didn't specify.
David Davis, president of MSW Consultants in Temecula, Calif., said that if cities choose to use mixed-waste processing, as Covanta has proposed, it's more efficient to stick with that system than to try to also run separate recycling programs.
"There's nothing wrong with dirty MRFing," Davis said. "It's just a different approach."
Most Covanta incinerators handle post-recycling waste, so it's no surprise the recycling industry would object to the company's plans for Indianapolis, said Carter Driscoll, a senior analyst covering clean technology for MLV & Co. in New York.
"It's a classic fight between two interested parties," he said.
The important thing for Covanta is to secure the city of Indianapolis' supply, Driscoll said. Competition with landfills keeps tip fees relatively low, but Covanta also sells the steam the incinerator produces to Citizens Thermal to power nearby industrial users.
Energy contracts tend to be more profitable, Driscoll said, but they aren't possible without a steady supply of trash.
Holkeboer said Covanta is also profitable on the front end through tip fees, and that's why the Morristown, N.J.-based company wants to free up capacity. The incinerator is maxed out at 740,000 tons per year, and it also faces a challenge in the type of stuff people tend to throw away.
The boilers were designed to handle cooler-burning material, such as newspaper, which was more common in the waste stream in 1988. These days, more of the trash is plastic. Removing that high-heat material from the city's waste stream translates to even more capacity than the 65,000 tons that Covanta would recycle, Holkeboer said.
"That is actually one of the secrets as to how we can do this for free," he said of the recycling program. "I get paid for every ton that comes over our scale, so I want to be inefficient and have to process a lot of tons to produce the same amount of steam."•
Please enable JavaScript to view this content.