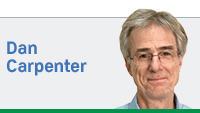 Protesting that you can't meet power-plant-emissions reduction goals because you're too coal-dependent is a bit like saying you can't arrest liver damage because you've got this taste for liquor.

Indiana has had many chances to put the bottle down, and has plenty of models for how diversity and conservation of energy can be accomplished without anything like the "devastation" Gov. Mike Pence instantly declared that President Barack Obama's new pollution directive would wreak upon the state.

As with Obamacare, his administration and his party are presented with an opportunity to raise the level of Hoosier health, which ranks among the worst in the nation, and they proceed to twist it into an opportunity to play politics.

With his "homegrown" alternative to the expansion of Medicaid, "Pence in '16" at least might be coming around to ending the unconscionable wait for health insurance coverage for hundreds of thousands of his neediest citizens.

Health—personal, environmental and ultimately economic—is even more threatened by the toxic gases and atmospheric disruption our overuse of fossil fuels brings on. Even if electricity rates leaped as a result of the proposed reductions—the Environmental Protection Agency estimates they would rise all of three percent by 2030—the true cost of pollution and climate change would drop to a degree far exceeding those bills as lung disease, fetal damage, lost productivity, stressed forests and other consequences abated. Then there's the cost of coal; Indiana might be a coal producer, but it's still a net importer.

Other states, including industrial states like ours, get it. Indiana is more than 80-percent reliant on coal for electricity, twice the national average. Indiana draws three percent of its energy from renewable sources such as wind and solar—one-fourth the national average. Indiana, like about half the states, has an energy conservation program—but the program, funded by a fee on electric bills, will shut down in December after only two years because utilities and manufacturers say it costs too much.

Whatever they say, Indiana's addiction to coal and systematic frustration of the growing wind and solar industries reflects the pervasive influence of Old Energy as expressed in election campaign financing, legislative lobbying and the government regulatory process itself. Under Pence and his predecessor Mitch Daniels, who shamelessly demonized the EPA and environmentalists as a species, filling top jobs in such agencies as the Department of Environmental Management and Utility Regulating Commission with guys from the regulated industries was and is standard operating procedure.

Obama's plan of counterattack might be a bold one, as its supporters and its conservative detractors proclaim; but it's also in flux, subject to lots of input, and strenuously lenient toward states such as Indiana that have dug themselves in deepest. For example, it asks that our state's renewable energy portion be bumped from the current three per cent to seven percent by 2030. That's what devastation looks like? I'd call it mincing steps toward business, as well as environmental, sustainability. Pence, his chief environmental steward, and the Indiana Chamber of Commerce call it war.

Significantly, even the utilities are taking a wait-and-see posture toward what they have often conceded is inevitable change. So the Pence administration not only isn't fighting for us, it's not necessarily even fighting for them. It is a diehard resistance that has no clear cause, only a clear-cut enemy.•

__________

Carpenter is a former Indianapolis Star columnist, a free-lance journalist and an author and writer of fiction and poetry. Send comments to ibjedit@ibj.com.