Over the years, Angie's List has sponsored IndyCar drivers, rewarded employees with race tickets, and orchestrated race-related appearances by namesake Angie Hicks.

So it was no surprise that the Indianapolis Motor Speedway approached the Indianapolis-based consumer-review service about sponsorship of the Grand Prix of Indianapolis before the inaugural event in May.

But the first response from Angie's List CEO Bill Oesterle to Hulman & Co. CEO Mark Miles was no.

Oesterle
"He actually contacted us before the Grand Prix, several months before, asking us if we had any interest," Oesterle said. "We said it was too late in the year for us to do anything. We tend to plan those things out in advance."

But the company did buy a block of Grand Prix tickets for staff and family as a perk through its Employee Happiness program.

"We were impressed with the event," said Oesterle, a race fan himself. "For a first event, we thought it came off very well."

Then Angie's List made a move that surprised some people. The company agreed to a two-year deal for title sponsorship. Angie's List will pay $750,000 per year, according to a source familiar with the deal. Angie's List and IMS declined to discuss terms.

The arrangement builds on the company's long-term interest in IndyCar racing as a vehicle for rewarding employees and marketing to consumers, but the strategy behind attaching the Angie's List name to the race itself is somewhat of a departure. The new target audience: plumbers, electricians, roofers and other service providers that provide the bulk of Angie's List revenue via advertising.

Angie's List is an online service and monthly magazine that provides more than 2.6 million consumers across the country with reviews of service providers in more than 700 categories, from roofing to sewer cleaning. Consumers pay a membership fee to access the site. Service providers can advertise with Angie's List as long as they have an A or B rating.

Racing history

Angie's List has a history of sponsoring individual IndyCar teams, dating back to 2008.

IMS announced the overhaul to the track's road course in October 2013 with the 14-turn, 2.434-mile Grand Prix course, which runs opposite the direction of the Indianapolis 500 and partly on the famous oval.

Miles said in a prepared statement that Grand Prix attendance exceeded expectations. IMS doesn't release figures, but outside estimates ranged from 25,000 to 30,000.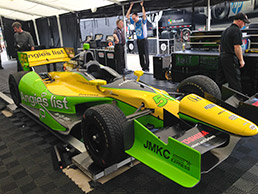 Angie's List has had a longtime interest in sponsoring IndyCar drivers. It's now taken its Speedway involvement a step further, as title sponsor of next year's Grand Prix. (Photo courtesy of Angie's List)
C.J. O'Donnell, chief marketing officer for IndyCar and IMS, said the Angie's List deal signifies a successful inaugural Grand Prix.

Galen Clavio, sports communication and marketing expert at Indiana University, said he wouldn't have expected Angie's List to make such a deal.

"I was surprised because the advertising for Angie's List I have seen in the past had been primarily focused on a middle-aged female demographic," Clavio said. He pointed to demographic statistics published online by IndyCar and Angie's List.

The IndyCar stats show fans to be 67 percent male, with 41 percent age 35 to 54. Angie's List data show members to be 65 percent female, with a median age of about 50.

One motivating factor for the sponsorship deal was the fact that the race-fan demographic overlapped with the company's service-provider demographic, Oesterle said, though he declined to provide details.

"I can definitely see that being a reason as well," Clavio said.

'Meaningful change'

Oesterle said 2011 marked a "meaningful change" for Angie's List.

"All of the Indy sponsorships really had been built around our employees," Oesterle said. "We would use the track as a venue to reward employees. We would hold meetings out there for the top performers."

Angie's List in 2011 hosted a meeting in Las Vegas, where businesses, not employees, were the focus, although the company has not discontinued rewarding staff. Angie's List sponsored driver Tomas Scheckter of Sarah Fisher Hartman Racing for the Las Vegas Izod Championship.

"In Las Vegas, we attempted something else," Oesterele said. "We invited the service providers to come in and participate. And we had a fantastic response to that."

He estimated several hundred service providers attended the meeting where Angie's List promoted its business tools and opportunities to list services on its site.

In Las Vegas, the line to meet Hicks was longer than the line to meet Scheckter, said Cheryl Reed, Angie's List director of communications.

That same year, the company took a few service providers to the Indy 500 qualifications.

"The reactions were the same as when we took our own crew out to the Grand Prix," Reed said.

The next major event Angie's List hosted was at last year's Indy 500, when Angie's List sponsored driver Katherine Legge of Schmidt Peterson Motorsports. Oesterle estimated about 500 service providers attended.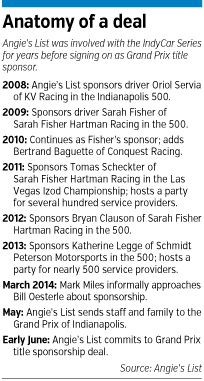 "Once again, it worked very well," he said. "The venue worked well. We had very good attendance."

Angie's List measured the success of those first two business-to-business meetings by calculating how many attendees adopted Angie's List's tools or listed services with the company, Oesterle said.

Service-provider focus

Although it was clear that meeting with service providers was working, and the IMS venue was working, the company still was considering venues outside Indiana for its next service-provider meeting, he said.

Oesterle and Miles go back several years and talk often; it was about this time that Miles offered a Grand Prix sponsorship.

"When Mark contacted us, it happened to be when we were planning our next major gathering of service providers," Oesterle said.

Then, after Angie's List staff raved about the inaugural Grand Prix, the company decided to take service providers next year.

"Nobody's offering to take the plumber on a deep-sea fishing trip or the paint crew to Disneyland," Reed said. "So we see this as a great opportunity to reward some people who, like us, think homeowners shouldn't have to feel like they're at the mercy of an unreliable, uncommunicative service industry."

Angie's List finally committed to the sponsorship on its own Carb Day, a team-building experience where the staff builds soap box derby cars and races them. As part of the sponsorship, Angie's List agreed to host 5,000 service providers at a Festival of Service during Grand Prix race weekend next year, according to an IMS press release.

"We think we can use the Indianapolis Motor Speedway as a natural tie-in event for our Festival of Service," Oesterle said. "So a combination of affordable cost, great venue, good weather, lots of capacity—all those things came together and made sponsorship of the Grand Prix an excellent opportunity for us."•