A property owner's plans to convert the northwest corner of East 10th Street and Emerson Avenue into a convenience store and gas station are causing consternation among neighborhood leaders who hope to stop the project.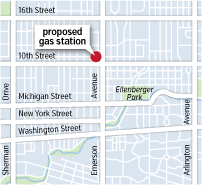 Neighbors first noticed the demolition of a vacant one-story retail building at the busy intersection—across the street from a Village Pantry and near the Steer Inn restaurant—in the past month. All that's left now is the façade.
"There are multiple objections to this," said Tammi Hughes, executive director of the East 10th Street Civic Association. "A gas station and convenience store are not contributing positively to the near-east side."
Among her objections to the project: It does nothing to advance the plan for a pedestrian-friendly business district. On a broader scale, she said the east side already boasts more than enough service stations.
Hughes hopes to recruit neighboring community development corporations in her effort to stop the project, as well as speaking to both city officials and the developer to explore other options for the corner.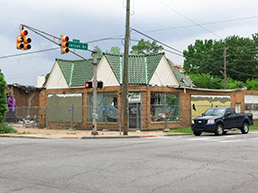 The building being demolished at 10th Street and Emerson Avenue has been vacant at least three years. (IBJ photo/Scott Olson)
The brick building with a clay-tile roof bears no historical significance, but the high-profile corner on which it sits should be able to attract a better use than a gas station, Hughes argues.
The building last housed a used furniture store and a strip club, and has sat vacant for at least three years. Hughes tried working with the former property owner to help sell the building before it was purchased in 2009.
Balwinder Singh, who owns gas stations at East 10th and North Rural streets and at East 21st Street and Arlington Avenue, bought the property for $38,000, according to city records. He said no one has voiced any concerns to him about the project.
"They haven't talked to me about it," he said, "but I don't have a problem discussing it with them."
Singh said he's in talks with a few fuel providers but doesn't have a signed contract with a brand yet.
The site at 1008 N. Emerson Ave. is zoned to allow for a gas station. If a zoning variance is needed, however, that triggers a public-comment period, said Adam Baker, spokesman for the city's Department of Code Enforcement.
Even so, opponents of a project can file an appeal. That's what happened in early May when a city zoning board revoked the sign permit issued by the Metropolitan Development Commission for a billboard in the Geist area.
The city so far has issued a demolition permit to Singh, giving him the go-ahead to tear down much of the 1920s-era building. The permit expires in mid-July, and Singh has yet to apply for a building permit, Baker said.
Records show Singh of Greenwood filed a state construction permit in February for a 2,700-square-foot building. The permit specifies that Balwinder must save the existing south and east walls of the building that front 10th Street and Emerson Avenue, per city requirements.
Hughes has fought similar battles before. She's helped stop the development of two other gas stations, both on separate corners at New York and Rural streets in the adjacent Englewood neighborhood.
A former Village Pantry on the southeast corner of the intersection where a developer proposed one of the gas stations was a magnet for crime and logged numerous police runs, said Joe Bowling, executive director of the Englewood Community Development Corp.
"I've lived in the neighborhood more than 20 years and I've never run out of gas looking for a gas station," he said. •
__________
The Behind The News column will return next week.
Please enable JavaScript to view this content.