Mario Rodriguez has taken the captain's chair at Indianapolis International Airport, which has been recognized as the "best airport" in North America by its peers, but also carries a high debt load and has struggled to add nonstop airline service.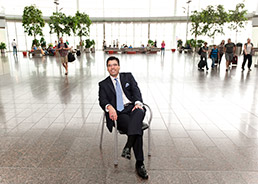 Mario Rodriguez, Indianapolis Airport Authority executive director (IBJ photo/Eric Learned)
Rodriguez, 48, who started in the new role June 4, recently spoke with IBJ about his plans for the facility and his outlook on the air-travel industry.

IBJ: What's your first order of business?

Rodriguez: The first order of business with any organization is to get to know the organization, to get to know the community, to get to know what the community wants of its airport. This place exists in general for the community—big broader sort of metroplex community, but the community at large. So I need to get more sort of settled into the fabric of what makes this place tick, both from the professional side and the community side.

IBJ: How are trends in the airline industry affecting airports?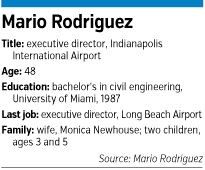 Rodriguez: What we thought aviation was 20 years ago, even 10 years ago, it is not today. Ten, 15 years ago, you could've sat brilliant aviation minds around the table, and I don't think anybody would've predicted the Southwest-AirTran merger. Although they started talking about consolidation, nobody would've seen 20 years ago that four airlines would control 85 percent of the domestic market share. The playing field's constantly changing.

If you look at the amount of seats in the markets, it's dropping. Capacity is dropping. Ticket pricing is going up. Some of the newer business models, you're really looking toward the Jet Blues, the Virgins.

You're also looking at Alaska, which is a very niche airline, a specialty airline, and they provide a very high-end product. I kind of see them as up-and-comers. I see them offering a higher-end product than some of the other airlines. I also see the major carriers surviving and changing. They offer a very stable product.

The changes in air travel are … imminent. The consolidation of larger carriers has led to a slight reduction in some of the [origin and destination] markets. The pendulum in this industry swings, and it changes all the time. With the low-cost carriers becoming larger, they tend to put an equalizing sort of number in there. The ultra-low-cost carriers come into play. When it comes to air travel, pricing is going to swing downward in the near future.

I don't predict the future very well. What I've tried to do is make sure I'm flexible enough to deal with any sort of changing situation.

IBJ: You're currently writing a textbook on airport financial management. The airport has annual debt-service requirements of about $69 million and a 2013 operating loss around $16 million. Do you think IND's balance sheet could withstand any major disruptions in the industry?

Rodriguez: The airport is … financially very well off. The board and the staff have guided this airport very well. It's on very strong financial footing at present time.

If you look at the overall cost structure of the airport, it's very good. It has cash reserves, it has cash investments. Debt exists, and debt service exists. It's just a fact of having a gold-standard facility. [Operating losses are] a fact of life in the aviation industry all around the United States.

IBJ: The airport has put a lot of emphasis on maximizing non-airline revenue, such as parking fees. Is there anything left to do?

Rodriguez: Land development is probably one of the main focuses we want to continue, but it's way too soon in my tenure to have something to say on that subject. We're going to look at every area that produces non-airline revenue.

We're going to be looking at expanding that equation, but at some point, it's passenger-dependent.

IBJ: What have other airports done to attract new air service that IND could copy?

Rodriguez: One thing this airport did that was very, very good, it has a very active air-service marketing group, which is constantly out there knocking on doors. I want to make sure we study the situation to make sure we're focused on underserved markets.

That takes some time to figure out. It's really a long, drawn-out process to extract what underserved markets are. There are wonderful databases. Also surveys, talking to the passengers. It isn't overnight that you come up with which ones you believe are underserved markets, which may not be the same markets airlines are looking in. That's where the finesse and some of the data comes in, to actually prove to them they're going to make money in that market.

We're also going to be looking at the future, and what the future holds for us. It's not just knocking on doors we've knocked on before. This business changes so dramatically from decade to decade, if you're doing the same old thing, you're going to get the same old result.

IBJ: One of your predecessors at IND, John D. Clark III, left after he and key officers spent more than $67,000 on travel that included extended trips to Brazil, Denmark, Greece, Morocco and Switzerland. What makes you the right choice to lead the airport?

Rodriguez: I'm really honored to be selected. I've had quantifiable and verifiable successes. I've been able to bring an airport from trailers to being a world-class facility. [Rodriguez was executive director at Long Beach Airport in southern California before landing the job in Indianapolis.]

The BBC brought it up as one of the 10 most beautiful airports on the face of the planet. Its financial performance was impeccable. And I moved it into that position in a matter of five years.•