Indianapolis is reining in costs and dialing back ambition at the new east-side World Sports Park.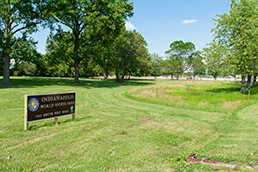 The World Sports Park on South Post Road will accommodate cricket, as well as rugby, Gaelic games and Australian rules football. (IBJ photo/Eric Learned)
The park, which will be home to one of the few premier cricket fields in the United States, is coming in about $1 million under its $6 million budget. That's because it will have fewer features than planned.

"When we got some of the prices, some of the bidding, some of the things that we were looking at trying to install, it was more expensive than we anticipated," city engineer Andy Lutz told the Board of Public Works in June. "I'll be the first to admit that."

When the park is finished, it will have three elite multi-use fields, instead of four, and no concession pavilion or additional parking spaces. The anticipated price tag is $5.1 million, to be paid by the Rebuild Indy fund created from the 2010 sale of the city water utility. Building the park to the original plan would have cost as much as $10 million.

The World Sports Park has been fertile ground for partisan rhetoric since April 2013, when Republican Mayor Greg Ballard revealed during a trip to India that the city would host a U.S. cricket championship game.

Until then, most City-County Council members, including many Republicans, were unaware of plans for the World Sports Park. At the time, the council was reviewing the city's $1 billion budget for further cuts and facing a gap for this year upwards of $40 million.

City officials said the park could be a revenue-generator, as a national cricket tournament was slated for a three-year run starting in August. Then in May, because of organizational dysfunction at the USA Cricket Association, the city canceled plans for the tournament.

The Department of Public Works and Indy Parks are no longer talking about sponsorships or other revenue-generating agreements for the park.

The World Sports Park was not included in a request for proposals last fall that aimed to find private operators for city parks, parks spokeswoman Maureen Faul said. That RFP process is not final, she said. She would not say whether the parks department is still seeking a private operator for the park.

Lutz told the public works board that maintenance would be rolled into the same budget that covers 207 other city parks.

Miser
DPW Director Lori Miser, who sits on the public works board, made a point of countering the comments of two Democratic appointees, Neil Bloede and Greg Garrett, who complained the park wasn't living up to the administration's promise of an economic engine.

"There is no money to be paid back to the taxpayers of Marion County because this is a very well-thought-out use for this park," Miser said in response to Bloede and Garrett during the June 11 meeting.

The works board meetings are open to the public, but they typically receive no press attention, and DPW has not publicized changes to the scope and budget of the World Sports Park.

Cost comparison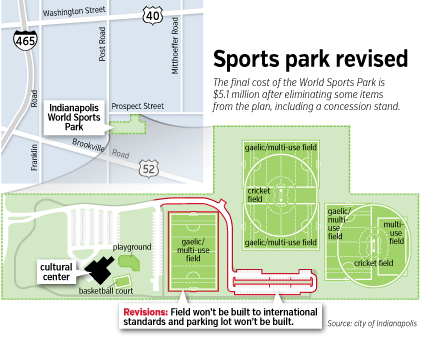 The closest comparable athletic facility to the World Sports Park might be Westfield's Grand Park.

Though it's much more massive in scale, the fields at the suburban youth-sports complex also are built for an elite level of play. Grand Park cost $45 million and includes fields and diamonds, seven concession stands, two administrative buildings, lighting and paving.

At 390 acres, Westfield's costs come to $115,384 per acre.

At 48 acres, the World Sports Park cost $106,250 per acre.

Special soils that were required for the fields, plus a compressed construction time line, drove up World Sports Park costs, Lutz said. If DPW had built the park to the original plan, it would have cost $10 million.

So early this year, Lutz asked the public works board to cancel awarding bids for a concession pavilion and maintenance building. Then he worked with contractor Crider & Crider to scale back the second phase of construction. The final change order, a reduction of about $1.5 million, was approved June 11.

The change order means that one of the multi-use fields won't be built to international standards for professional play, and the city will hold off on paving a second parking lot. The area will be graded for future paving, if the need arises.

The multi-use fields are in demand by local groups organizing Australian-rules football, rugby and Gaelic games, which include hurling. Lutz said none of the changes he made would compromise the ability to hold tournaments.

While there's no concession stand, the city spent $1 million a few years ago on the community building already at the park, and it's in good shape, Lutz said. Major event organizers would probably need to bring portable toilets to the park, and food trucks could fill the concessions void, he said.

DPW hasn't said how much maintenance will cost, but a U.K. turf expert said keeping up the cricket pitches, which are at the heart of the game, will require some special know-how.

"I don't know the climate of Indianapolis, but unless you have regular rainfall, the irrigation needs will be high and maintenance is a daily job," Andy Carmichael, sportsturf tutor at the U.K.-based Institute of Groundsmanship, said via email.

Cricket fields are made up of circles 150 yards in diameter with a playing "square" in the center. (At the World Sports Park, the cricket fields overlay the rectangular multi-use fields.)

A typical cricket square holds several pitches, each one 22 yards long and 10 feet wide, because it takes more than a day to prepare a pitch for play, Carmichael said. The pitch is built from 6 inches of clay soil with grass cut to 3 millimeters, he said. The effect is like a "very fast golf green," he said.

DPW spokeswoman Stephanie Wilson said employees on the city's maintenance crew have been trained in the upkeep of cricket pitches.

Cricket conception

Making Indianapolis a center for cricket was a high priority for Ballard, but Miser said a cricket field was on the drawing board before he took office in 2008.

A 1990s master plan, created after the city acquired the land at 1313 S. Post Road from a Knights of Columbus chapter, called for creating soccer fields, among other facilities. The park was called Post Road Community Park.

In 2003, in response to demand for more playing fields in Warren Township, Wilson said, Indy Parks came up with a design that included a cricket field and football and rugby fields.

During Ballard's first term, he named a supporter and former business associate, David Ladd, as an "ambassador" for cricket in Indianapolis. A cricket field was built at the Post Road park by 2011. The following year, DPW—with the approval of the public works board—tapped the Rebuild Indy fund to study the feasibility of creating a field that would meet international standards.•