David Stippler, whose job is to advocate for utility consumers, thinks Mayor Greg Ballard's quest to have Indianapolis Power & Light customers pay the startup costs for an electric-car-sharing service sets a dangerous precedent.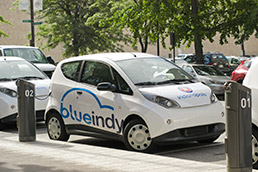 BlueIndy's pilot car-charging station at Meridian and East Washington streets is the first of what the company hopes will be 200 charging sites in Indianapolis. (IBJ photo/Susan Bertocci)
Stippler, the utility consumer counselor appointed by former Gov. Mitch Daniels, opposes an IPL request for a $16 million rate hike to cover the cost of extending service to BlueIndy LLC, a subsidiary of Bollore Group, based in Paris. BlueIndy hopes to install as many as 200 electric-car charging sites around the city to support its car-sharing service, and its agreement with the city is contingent on IPL's being able to cover the cost of the line extensions and charging stations.
In his June 20 testimony to the Indiana Utility Regulatory Commission, Stippler called it a good program, but he said it falls outside the scope of costs that state law allows IPL to charge to ratepayers.
"The IURC is not an appropriate surrogate for the Indianapolis City-County Council in regard to the city seeking financial support for its project," Stippler said. "If this project is approved as proposed, it would tempt any municipality  (or any other local unit of government) to pursue ratepayer financing when it finds itself financially strapped to provide essential services to its citizens/taxpayers."
IPL and the city have until July 11 to file rebuttal testimony. An evidentiary hearing before the IURC is scheduled for July 23.
Please enable JavaScript to view this content.