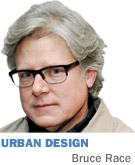 We experience most of Indy at 45 mph. We pride ourselves in our ease of access to shopping, getting out of town, or driving to the office. It is also why too much of our city—even the places we believe are destinations—looks like the dog's dinner of franchise strip malls and parking lots.
I hate it when the city is called "India-no-place." However, the first impression for many visitors is freeway intersections, mini-mart gas stations, and banal strips without trees, sidewalks or anything else recognizable as uniquely Indianapolis. Even in downtown, the freeway ramps extend into the Regional Center as treeless one-way streets. We have traded our identity for traffic flow.
But there is an opportunity to change. The city is preparing a new comprehensive plan that celebrates our 1820 birth. Called "Plan 2020: Bicentennial Plan for Indianapolis," this ambitious effort is to provide a vision and policies for the next generation of investment. It includes land use; transportation; and parks, economic, housing and Regional Center planning. What it does not have, and should, is an urban design framework plan that identifies important gateways, civic corridors, edges, landmarks and centers.
Defining gateways
Gateways are not just signs that say, "Welcome to Indy." Gateways are expressed in land use, building and site design, and streetscape. Gateways are defined by contrasts—taller, wider, narrower, shadier or brighter than their surroundings. They can be experienced at 60 mph (freeway scale), 25 mph (neighborhood scale), or at a walking pace of 250-feet-per-minute (block scale).
A freeway scale example is Speedway's racetrack-themed lighting, signage and landscape along Crawfordsville Road. Crawfordsville Road is still a chaotic strip, but the heroic streetscape helps establish an identity for Speedway.
At a neighborhood scale, Cole-Noble District on East Market Street downtown has new streetscape and nice gateway signage. However, Cole-Noble District's gateway corner at College Avenue has parking lots and buildings with blank walls. It needs development oriented toward the street and intersection to be a successful neighborhood gateway.
Every important portal into our city needs a gateway strategy. Something that says, "here" and "there." Gateways have a name. We have at least two dozen important gateways that require design policies for their transformation.
Civic corridors
Our new plan should treat larger thoroughfares as civic corridors. Urban design concepts for street improvements, landscape and architecture can transform their identity. The "level of service" modeling used by traffic engineers should not be the sole yardstick for a successful corridor travel experience. Streets are more than traffic lanes. They are addresses. Distinctive segments of corridors should be treated as unique places and addresses.
I would like to identify a local example but I cannot think of a single one. Except for parts of Meridian Street and Fall Creek Parkway, we have turned our civic streets into one-way commuter corridors. We have a lot of work to do.
Edges
Urban edges include changes in scenery and pattern, such as how Crown Hill Cemetery or Garfield Park interface with their surrounding neighborhoods; how industrial areas treat the edge of White River; or how residential neighborhoods relate to industrial and shopping centers. Plan 2020 should identify important edges and how we define, enhance and protect them.
Landmarks
Our downtown has world-class landmarks and memorials. Landmarks also come in other forms. This includes churches, intersections, historic apartment buildings, and modern buildings like The Pyramids office complex near 86th Street and Michigan Road by famous architect Kevin Roche. In our city, these landmarks are important reference points in the travel experience at all speeds and scales. We need policies that protect landmarks, not block views of them and/or alter their distinctive context, as we have done with all four of downtown's diagonal avenues by covering them up with buildings and parking structures.
Centers
Unigov gave our city a rich tapestry of rural, suburban and urban patterns. Within Marion County are traditional and newer centers that provide social and economic gravity for our many communities and neighborhoods. Our communities' identities are strongly linked to these places. Plan 2020 should identify central places, define their most important and valued design features, and encourage development that elevates the identity of the community. An evolving center you may not think of is the University of Indianapolis and how it is influencing investment in adjacent areas.
Our Bicentennial Plan asks us to choose, connect, love, serve and work in Indy. I choose Indy, but I want to add a design element to our plan that informs what our city will look like. I want Indy to be distinctive, environmentally friendly and comfortable. The big civic framework we travel through is full of the smaller places we all share. That is Indy to me. Let's do what the plan asks, but let's design Indy, too.•
__________
Bruce Race, FAIA, FAICP, PhD is an award-winning architect and urban planner, owner of RaceStudio, and recipient of the Indiana Sagamore Planning Award. He lives in a historic Indianapolis neighborhood and teaches urban design at Ball State University's Downtown Indianapolis Center. His column appears monthly. He can be reached at br@racestudio.com.
 
Please enable JavaScript to view this content.