There's an exhale that comes when a book series comes to a satisfying conclusion. Such is the case with local author Ben H. Winters' "The Last Policeman" series, which concludes with "World of Trouble" (Quirk Books).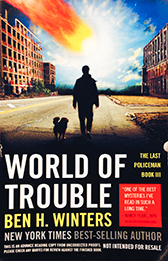 In some sense, the climax of the book was a foregone conclusion from page one of the first book in the trilogy. In "The Last Policeman," we learned that the world is coming to an end thanks to an asteroid on a collision course with Earth and no astronautic heroics or well-placed missile launch is going to stop it. The drama comes from seeing how long detective Hank Palace can continue to solve crimes knowing the end is near, even as society crumbles around him.
As "World of Trouble" opens, the big event is only 14 days away, which gives urgency to nearly every second. To be clear, though, this is not a variation on Cormac McCarthy's grueling (but great) "The Road." Winters, who teaches at Butler University, never forgets that this is a character-driven detective story: There's a shooting or fistfight looming at every turnof the page. And while the second book, "Countdown City," got a little clunky, plot-wise, "World of Trouble" demons
trates a greater confidence in the storytelling, richer supporting characters, and an ending that I wanted to both race toward and hold off as long as possible.
Indy Reads Books hosts a book-release event with Winters on July 12.
__________
The November 2013 release of "Peace at the Last" (Diversion Books), the third book in Walter Wangerin Jr.'s "The Book of the Dun Cow" series, slipped by me completely. Odd, because the first two books in the series by the
Valparaiso professor are among my all-time favorites—epic, deeply moving fantasies that I've read multiple times each.
The first, "The Book of the Dun Cow," which won the National Book Award in 1980, garnered respect and positive reviews around the world. Although its main characters are animals and there's not a human in site, it's neither a fable nor a feel-good fantasy. Marked by its almost medieval use of language, a refusal to shy away from death and suffering, and a bustling population of unique characters, Wangerin's book tells of an epic battle between flawed-but-good beasts and seemingly unstoppable evil.
Its worthy follow-up, "The Book of Sorrows," feels more like a second half than a sequel. Accurately titled, it's a gut-wrencher. But its characters become all the more real for their weaknesses and failures as well as, ultimately, their grace.
Here's where it gets complicated.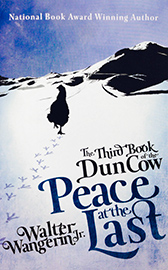 In 2013, Wangerin not only published a third book in the series, but he's also rewritten and severely slenderized "The Book of Sorrows" into a new-ish second volume called "Lam
entations." In the process, he's also altered some plot points that lead into "Peace at Last."
What does this mean for the new reader?
I'm not sure. But I am hoping "Lamentations" doesn't cancel out "Book of Sorrows." In "Lamentations," emotions aren't given time to linger and the rush of plot and characters are likely to cause confusion. It's as if a Cliff's Notes version of a great book has replaced the original. I am baffled why a writer would do such a thing to his own work. For me, it's only use is if you've read "Sorrows" years ago and just want a quick refresher.
As for "Peace at Last," it left me unsatisfied. There are signs of Wangerin's powers here—both the elegance and the quirks—but there are also passages that feel like fan fiction. I was happy to spend more time with Pertole the Hen and John Wesley Weasel, but the wolves tended to blur together and the conclusion landed far less impactfully than that of "The Book of Sorrows." I hate to call it the "Godfather Part III" of fantasy fiction but, well, the analogy is hard to avoid.
Next time I reread "The Book of The Dun Cow" and "The Book of Sorrows" (which I look forward to doing), I might just pretend the third volume didn't happen.•
__________
This column appears weekly. Send information on upcoming arts and entertainment events to lharry@ibj.com.
Please enable JavaScript to view this content.