Ambrose Property Group Inc. is doubling down on the struggling downtown office market by purchasing its second property within six months.
The local real estate firm closed June 27 on the purchase of a five-building office complex at 500 N. Meridian St. that's been mostly vacant since Seattle-based insurance giant Safeco Corp. left in 2009 as part of its acquisition by Boston-based Liberty Mutual.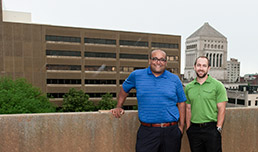 Ambrose owners Aasif Bade, left, and Patrick Chittenden (IBJ photo/Eric Learned)
Ambrose co-owner Aasif Bade declined to divulge how much the company paid for the 436,000-square-foot complex and an adjacent parking garage. But commercial real estate sources pegged the price at $12 million—a steep discount from the $42 million a group of private investors from Michigan forked over for the property in 2006.
The sale of the complex follows Ambrose's purchase in late December of the 12-story, 315,000-square-foot Landmark Center at 1099 N. Meridian St. for $8 million. The firm quickly signed Angie's List and the Christian Church-Disciples of Christ, which will take occupancy from less than half to more than 90 percent.
Between the two properties, Ambrose plans to spend at least $12 million on improvements at a time many downtown landlords are struggling to attract tenants. Downtown's overall office vacancy rate hovers above 20 percent while vacancy in the traditional towers is even higher, at more than 21 percent.
But Jon Owens, a Cassidy Turley office broker who has leased the Safeco property the past two years, thinks Ambrose's latest acquisition ultimately could quiet skeptics of the firm's downtown investments.
"They sure proved everybody wrong with Landmark," he said. "With some TLC and some investment, the [500 N. Meridian] building will be a market-maker because it's not a tower and it has parking."
A 1,000-space parking garage on the west side of Illinois Street that connects to the rear of the property via an elevated walkway is a "huge advantage," Owens said, because onsite parking downtown is so scarce.
The complex could attract upstart companies like StreetLinks and Tinderbox, which are shunning traditional office space for hipper digs that might show more character than the towers.
Bade is confident Ambrose can return 500 N. Meridian to near full occupancy and believes in his firm's strategy to invest in second-tier buildings. Ambrose bought Circle Tower at 55 Monument Circle in September 2012 and moved its headquarters there.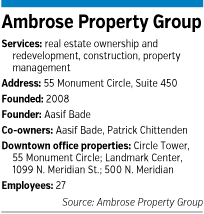 Large floor plates and on-site parking are key advantages for its latest acquisitions, Bade said.
"They want to take that space all day long," he said. "More and more, in order for companies to be competitive, they feel like an urban atmosphere is more attractive."
Ownership limbo
It would seem that Ambrose has its work cut out for it in getting 500 N. Meridian leased. One of only two tenants is Harrison College, whose headquarters occupies a full 35,000-square-foot floor in one of the two seven-story buildings. IU Health also is leasing space but has vacated much of it.
Ambrose already is fielding calls, though, said Bade, who has a slate of candidates who couldn't get into the Landmark Center before it began filling up.
John Vandenbark, an office broker at CBRE who leases the Landmark Center, thinks Ambrose is up to the challenge.
"They're an aggressive group that has had some success, so I think they'll do a nice job with it," he said.
The complex showed its value by drawing interest from large organizations that ultimately gave up pursuing the deal because of drawn-out foreclosure proceedings. Ambrose ultimately bought the property out of receivership.
Real estate sources say Gannett Co. had considered moving the Indianapolis Star's headquarters there before selecting the space formerly occupied by Nordstrom in Circle Center mall. The newspaper is set to vacate its offices at 307 N. Pennsylvania St. in August to make way for TWG Development LLC's mixed-use project dubbed Pulliam Square.
Indiana University also pursued the complex to house administrative offices and its School of Philanthropy.
The property could be a natural fit for ExactTarget, which occupies much of the Gibson Building at the southeast corner of Michigan Street and Capitol Avenue and near 500 N. Meridian's parking garage.
"It's a great property at a great location," said John Robinson, managing director of Jones Lang LaSalle's Indianapolis office. "It's got great floor plates and a parking garage that makes it attractive to large users."
The five-building complex has quite a storied history, with the oldest building dating to 1913. Two others were built in the 1940s and the two connected seven-story structures in the 1970s.
American States Insurance occupied the complex for decades before Safeco bought the company in 1997. Safeco had 580 employees there when Liberty Mutual acquired it in 2008 and opted to consolidate the Safeco office with two existing Liberty Mutual properties along 96th Street and Interstate 465.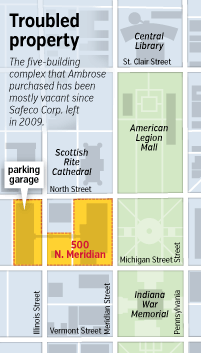 Safeco's departure marked the end of an era for an insurance operation founded more than 100 years ago on the same block. Brothers Edward and Dudley Gallahue started what would become American States Insurance in rented space in the early 1900s.
The group of Michigan investors bought the complex in 2006 and defaulted on its $42 million loan in 2011 following Safeco's departure. Cassidy Turley had served as the court-appointed receiver until Ambrose bought the complex.
Mixed-use project possible
The success of second-tier buildings such as the Gibson and Century at 36 S. Pennsylvania St. helped convince Ambrose to pull the trigger on 500 N. Meridian, Bade said.
Chicago-based Zeller Realty Group Inc. purchased the historic Century Building in December, about the time Steak n Shake moved its headquarters to the Ober Building on the opposite corner of Pennsylvania and Maryland streets.
The space didn't stay empty for long; ExactTarget took it.
Bade said there could be a branding opportunity for the 500 N. Meridian complex if a large user were to follow in Safeco's footsteps and take most of the space.
Ambrose also is considering some sort of mixed-use redevelopment on the property, which could push the firm's total investment to more than $30 million, excluding the purchase price, Bade said.
Pressed for additional details, Bade said, "We haven't evaluated it enough to even talk about it."
Bade, who worked in industrial leasing and development for Duke Realty Corp., struck out on his own at what would seem like the worst time, during the height of the recession. He now co-owns the firm with Patrick Chittenden.
Ambrose has grown steadily since. Besides its three downtown office holdings, Ambrose owns a 12,100-square-foot retail center at the northeast corner of 49th and Pennsylvania streets in the Meridian-Kessler neighborhood that it bought in October, and a 100,000-square-foot retail center next to the Tippecanoe Mall in Lafayette that is fully leased.
It's developing a 403,200-square-foot distribution facility in Plainfield for Plainfield-based Hanzo Logistics that is expected to be finished in September and owns a 545,000-square-foot distribution center in Hendricks County occupied by Gordmans Inc. Ambrose also controls 200 acres for future development in Plainfield and Hendricks County.
And with TWG Development, Ambrose co-owns apartment projects at 333 N. Pennsylvania St. and 800 N. Capitol Ave., and the Consolidated Building under development at 115 N. Pennsylvania St.•
Please enable JavaScript to view this content.