Real estate developers have bigger ideas than state officials are ready to execute when it comes to a downtown parking lot near the Statehouse.
Three locally based firms responded to a state request for private-sector parking management, plus the construction of new spaces, by proposing mixed-use buildings for a 3.2-acre lot north of the Statehouse, according to response documents made public late last month.

Flaherty & Collins' Jim Crossin says the state's thoughtful pace allows for creative ideas.
The responses by Flaherty & Collins, Keystone Realty Group and Browning demonstrate the potential of the land, which is an entire city block bounded by Ohio Street, Senate Avenue, New York Street and Capitol Avenue.
Although the Indiana Finance Authority's request for information sought "creative solutions" for the state's employee-parking needs, Public Finance Director Kendra York said the state needs more time to weigh its options.
That could include having some experts evaluate the Ohio Street lot for its best use, York said. "We understand this is a big deal, a big thing to endeavor on."
Jim Crossin, vice president of development at Flaherty, said he's not disappointed by the lack of action on the request for information, or RFI, which was issued last fall. The RFI process is more open-ended than a request for proposals; the issuer is under no obligation to follow through.
"While they may be moving slow, that's not dissimilar to what we see in other markets as government entities try to get their hands around something they're not doing every day," he said. "We think good ideas in the long run get put into place."
Under a proposal estimated to cost $75 million, Flaherty & Collins would build 330 luxury apartments and 24,000 square feet of retail in a five-story building facing Ohio Street and overlooking the north side of the Statehouse.
Another parking lot sits between the Statehouse and the proposed mixed-use development, but Flaherty & Collins proposed replacing it with a park celebrating the state's 2016 bicentennial.
Flaherty would put 140 semi-climate-controlled parking spaces below ground to make up for those lost to the new green space and build 330 parking spaces for apartment dwellers and 550 spaces for state employees in the mixed-use building.
Management of the state's other parking garages was clearly secondary for Flaherty & Collins. The firm said it could come up with an expansion of the West Washington Street state parking garage, if that would provide an advantage in securing the surface-lot development.
Keystone's proposal for the Ohio Street parking lot was not specific but mentioned a possible mix of retail, multi-family residential and office space. Such a project would be an "occasion that requires imagination and an ability to capitalize on a once-in-a-lifetime opportunity."
Browning's response called for a garage with a new office building and a small retail component. Other details were redacted.
Representatives of Keystone and Browning did not respond to requests for comment.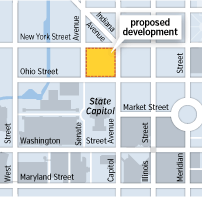 Dennis Dye, principal at TWG Development LLC, said he is glad to see the state take a cautious approach. Downtown is in the midst of a luxury-apartment-building boom, and he said he wouldn't want to see another parcel developed along those lines until renters have taken up more of the hundreds of units set to become available, including in TWG's Pulliam Square on Pennsylvania Street.
"We want to make sure there's not too many units coming on at the same time," Dye said.
The Indiana Finance Authority's primary focus of the RFI issued last fall was to address parking needs in all or one of three state-owned facilities: the West Washington Street garage, the Senate Avenue garage and the parking lot north of the Statehouse.
The two garages and parking lot contain 6,096 spaces and generate $1 million a year from special events. Employee parking is free.
In addition to the surface lot, the state said it would make available 0.6 acre adjacent to the West Washington garage for new construction and that developers could build above the current sixth floor.
"There are no preconceived notions as to what additional structures or uses may be added to the basic garage expansion, and respondents are free to be creative," the RFI stated.
The RFI contemplated both a "basic" and "enhanced" expansion of the West Washington garage.
Keystone said it could expand the Washington Street garage by 625 spaces and add a street-level commercial space that would complement the nearby JW Marriott hotel. Keystone also could go a step further and add a "mid-rise structure," either multi-family residential or a hotel, on the north side of the garage.
Keystone said it would partner with Schmidt Associates, Walker Parking Consultants, American Structurepoint, Global Parking System of Indiana and LAZ Parking.
Browning lined up Denison Parking, Arsee Engineers Inc., CSO Architects and F.A. Wilhelm Construction Co. Inc.
Denison also submitted a stand-alone response for parking management. The Indianapolis-based firm, which owns or manages 30,000 spaces, said the state could save $200,000 to $300,000 a year on labor with the installation of new technology. Denison noted that the state is paying three cashiers to work the exit lanes in the Washington Street garage during the day, when there's little traffic.
A fifth proposal came from Indianapolis-based Glenroy Construction, which would serve as a construction manager or owner's representative.
York said that if the agency were to proceed with real estate development, it would likely issue a request for proposals.•
 
Please enable JavaScript to view this content.