The owners of the 19-building Precedent Office Park are poised to unload the massive property, but at a price much cheaper than what they gave nine years ago during the height of the real estate boom.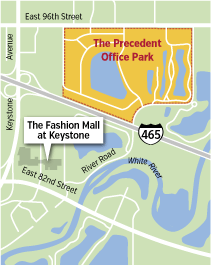 Brokers say Chicago-based LaSalle Investment Management is paying about $100 a square foot, or a total of around $100 million—far shy of the $143 million that Cayman Islands-based Global Property Investment Fund shelled out in 2005.

"It's a significant difference and obviously not something that they had planned on," said Sam Smith, chairman of Colliers International's Indiana region. "Some of that was just the timing."

LaSalle Investment Management also is buying two buildings within The Precedent not owned by Global Property but by St. Louis-based Pace Properties. Brokers say LaSalle is paying $20 million for those, bringing its total investment in the office park to roughly $120 million.

The Precedent—developed in the 1980s by Howard Peterson, the father of former Indianapolis Mayor Bart Peterson—sits southeast of East 96th Street and Keystone Avenue. It is the second-largest office park in the area, behind only Park 100 on the northwest side.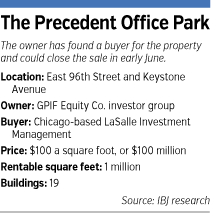 The sale is set to close in June and brings to the Indianapolis office market a large institutional investor with an international presence. LaSalle Investment Management has 700 employees in 16 countries managing an asset portfolio topping $47 billion, according to its website.

The Precedent became available following a bitter legal dispute between Global Property that owned it and locally based HDG Mansur, which served as the group's adviser when it bought the park.

The investors won a $5.8 million judgment against HDG Mansur in August in a federal suit charging that the company misappropriated funds as it dealt with severe financial problems. The judge has yet to rule on HDG Mansur's countersuit.

Neither HDG Mansur nor LaSalle Investment Management returned calls seeking comment on the sale.

Sam Smith
Mark Vollbrecht, a senior vice president who manages Indianapolis operations for Zeller Realty Group, also based in Chicago, thinks LaSalle's entrance bodes well for the city.

"They invest all over the world," he said. "For them to choose Indianapolis as a place they want to invest is a very good sign for the health of Indianapolis' economy."

HDG Mansur and Global Property have parted ways, but HDG Mansur's legal woes continue.

In December, California-based Union Bank sued HDG Mansur affiliate MT Acquisitions LLC for failing to pay off a $60 million balance on its mortgage for the 30-story Market Tower downtown at 10 W. Market St. A hearing in Marion Superior Court has been set for May 20 to rule on the bank's motion for a judgment.

Despite the legal rift between HDG Mansur and Global Property, The Precedent is performing well, with occupancy at about 90 percent. The office park attracted heavy interest from investors hoping to snatch up a solid property at a discount, brokers said.

Podell
Local developer PK Partners took a look at the property but is more focused on developing the last two vacant parcels in nearby Keystone at the Crossing, said Wes Podell, PK Partners' vice president of leasing and development. The company in February announced its intent to invest up to $80 million to build a hotel, apartments, offices and retail space there.

"You look at the most attractive offers and who provides the least amount of risk," he said. "For a deal that size, you don't want to pick a buyer who will say they're going to close, but then they'll have a bunch of contingencies."

Despite its relatively cheap selling price, the property still represents one of the area's largest commercial real estate transactions in the past few years. On the north side, Equus Capital Partners Ltd. in December paid $43 million for Meridian Corporate Plaza at Meridian Street and Interstate 465.

The price is less than what The Precedent will fetch. But the three-building Meridian plaza brought more—$130—on a square-foot basis because it's considered a Class A office building while the Precedent offers a wide range of space, Vollbrecht at Zeller said.

Still, The Precedent is "a good product and it's very well-located," he said.

Global Property bought The Precedent in 2005 from Philadelphia-based BPG Properties, now Equus Capital Partners Ltd. Equus, which also owns Keystone at the Crossing office buildings, bought the park from its original developer, Peterson, in 1998 for an estimated $95 million.

LaSalle Investment Management is an independent subsidiary of real estate brokerage Jones Lang LaSalle.

Following the completion of the sale, Jones Lang LaSalle likely will assume leasing duties from CBRE, brokers said. Jones Lang LaSalle also leases Keystone at the Crossing and Woodfield Crossing II and Woodfield Crossing III on the west side of North Keystone Avenue.

One of The Precedent's largest tenants, BSA LifeStructures, the city's biggest architectural firm in terms of billings, had considered leaving the office park before signing a 10-year lease in December.

Keith Smith, BSA LifeStructures managing partner, is unfamiliar with LaSalle but chose to stay despite a pending change in ownership.

"Historically, the owner and the local property manager have been very responsive," he said. "I think we've gotten better-than-average service."

Cassidy Turley is property manager for The Precedent.•