WellPoint Inc.'s stock price has soared this year to heights the company has never seen.

But the 30-percent run-up has just managed to bring the giant health insurer back into the pack of its peers.

Indianapolis-based WellPoint saw its shares close July 9 at $110.87 per share, compared with less than $85 just five months ago.

Its rise during that period has been roughly three times faster than the Standard & Poor's 500 index and faster than all other major health insurers other than Louisville-based Humana, which has enjoyed a 32-percent bump in its stock price.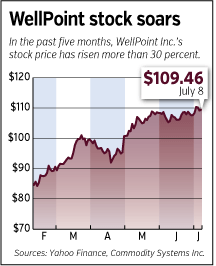 But even with that surge, investors are paying less for WellPoint's stock—measured against its expected profits—than for its peers'. A share of WellPoint stock costs 12 times the earnings per share Wall Street analysts expect the company to generate in 2015, compared with a range of 13.5 to 17 for most other major health insurers.

"WellPoint shares trade at a discount to long-term sustainable earnings power," wrote Brian Wright, an analyst at Sterne Agee, in a June 26 note to investors. He expects WellPoint's stock, which trades under the ticker symbol WLP, to rise to $130. "We believe WLP is likely to deliver the most near-term EPS upside in '14 of the large-cap health plans."

The reason? Obamacare is proving to be a boon to the company, not the bust that many investors feared.

WellPoint's business is concentrated in the small-employer and individual-insurance markets—far more so than its big insurer peers. Many investors feared Obamacare would lure many of those customers to buy on exchanges, where the company must compete with numerous other health plans for business.

But things have gone well so far. WellPoint CEO Joe Swedish told an investor conference on June 10 that the company could end up with 700,000 exchange enrollees.

"Enrollment has been, I think, a very strong success story for us," Swedish said.

Wright, the Sterne Agee analyst, expects WellPoint's individual health insurance plans to enroll 2.3 million this year versus 1.8 million last year. He expects individual enrollment to rise to nearly 4 million in 2016.

That growth has been fueled by the generous tax credits Obamacare makes available to buyers in the exchanges. According to data released by the Obama administration, 87 percent of enrollees in the federally run exchanges qualified for tax credits, which averaged nearly $3,200 per person.

DeVeydt
All WellPoint has to do to capitalize on this "new pipeline of growth" is to hold on to the market share it had before Obamacare, WellPoint Chief Financial Officer Wayne DeVeydt told investors in a June 4 presentation.

"That would translate into 3 million new lives in the next five years and $16 billion in new revenue from the public exchanges," DeVeydt said.

It has worked out that way in Indiana, where WellPoint operates Anthem Blue Cross and Blue Shield. Anthem attracted two-thirds of the enrollees in the Obamacare exchange—identical to its share of the individual insurance market in Indiana before Obamacare.

The federal government is also paying to expand coverage under the Medicaid program for low-income residents as well as to allow a growing number of seniors to purchase privately managed Medicare Advantage programs. Including gains from those programs, WellPoint expects its revenue to increase $24 billion over the next five years.

Profits margins on publicly subsidized coverage are smaller than traditional commercial health insurance. Sterne Agee's Wright estimates profits under Obamacare will run about 3 percent.

Even so, Wright expects WellPoint's income from operations to surge from less than $3.7 billion last year to nearly $4.3 billion in 2016.

WellPoint executives have been bullish on Obamacare for at least a year. But the company's performance in the first quarter finally convinced some skeptics. WellPoint's health plans signed up 962,000 new members among employers and 121,000 new Medicaid members.

Kim Purvis, an analyst at Cross Currents Research LLC, wrote a sharply critical research note in late March titled "Optimism is not a Strategy." But a month later, she changed her tune, with a report titled "Strong Trends All Around."•