Arguably the biggest impact of the Cultural Trail thus far has been the evolution of Fletcher Place, where a strip of restaurants has turned a previously anonymous stretch of real estate into a culinary destination. And that neighborhood now has a new neighbor—Chilly Water Brewing Co. (719 E. Virginia Ave., 964-0518).
Get past the unappealing name ("chilly" is about as dynamic and inviting as "lukewarm" and "tepid") and you'll find a quirky space roomy enough for music—hinted at in Chilly Water's "drink-eat-listen" logo line—but small enough to not feel too alone if you are sitting solo at the bar. Some sloppy elements (i.e. cleaning supplies displayed more prominently than the brewing tanks) and inconsistent décor (Johnny Cash and Madonna giving the finger might have been cool ways to identify the men's and women's rest rooms—in 1989) don't detract much from the newcomer's many pleasures, starting with the beverages brewed by Dan Krzywicki, formerly of Alcatraz and Fountain Square Brewing Co., under the eye of owners Skip and McKee DuVall.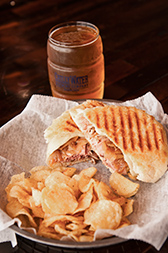 Paninis dominate the menu at Chilly Water Brewing Co.—and house-brewed beer is the ideal accompaniment. (IBJ Photo/ Eric Learned)
It would take a devout teetotaler to not include the four-coaster (out of five choices) Beer Flight ($7) as part of a lunch. Our favorite was the Harmonika Hefeweizen, but there wasn't a dud in the bunch, which also included 5-String E.S.B. Sweet Revenge Pale Ale, Built to Last Pilsner and After Midnight Mild Ale.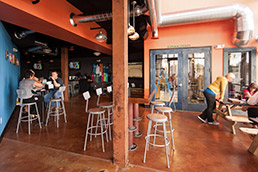 Chilly Water's eclectic interior—including picnic benches—allows room for live music. (IBJ Photo/ Eric Learned)
The food menu concentrates on Paninis (each $9) and on two visits we tried nearly all of them. Like the beer, each had its own personality. The Ring of Fire layers sliced salami, tasso ham, capicola and pepperoncini melted together with provolone cheese and dressed with an adobo aioli. Roast beef and tasso ham are fused with Swiss cheese in the Cuban Slide, which includes pickle and yellow mustard. You can go heavy with the Ain't Life Grand Cheese Steak (not shabby even to this former Philadelphian) or take it easier with the Travelin' Light, which packs in hummus and spinach.
Speaking of hummus, variations of it are the only appetizer offered ($5 each). Here Comes the Sun mixes hummus with roasted red peppers and sun dried tomatoes. Fire on the Mountain fuses it with tomatoes, green onions and feta. The Toni Basil works in pesto and garlic. I'd be happy to go back for just that and its accompanying pita bread.
Desserts are, surprise, limited as well. Skip's Balls ($1.50 each) are playfully mixed cookies and cream cheese rolled into balls and dipped in a changing range of flavors, offering a sweet treat that doesn't require a major commitment. If that doesn't appeal, you'll have to grab your treat elsewhere. But with Fletcher Place continuing to grow businesses at this rate, there will soon be even more options.•
—Lou Harry
Please enable JavaScript to view this content.