If everything goes as planned this year, the Carmel Redevelopment Commission's 2014 revenue will exceed expenses by less than $100,000—a narrow margin for an agency with annual debt payments totaling $17.5 million.

Spending is likely to be even more restricted next year, when taxes generated by new construction are expected to fall more than $1 million short of obligations.

By 2037, debt expenditures could outpace general tax proceeds by a total of $43 million, according to projections released this month by a consultant. The CRC expects to cover the payments using other revenue and more than $34 million being set aside in a special reserve fund.

To keep up on its bills, Carmel has to keep drawing new development—but negotiate project agreements that do a better job sharing risks and rewards.

Snyder
"It used to be, developers knew they could come cut a good deal in Carmel and not have to use much, if any, of their own money," said City Council member Luci Snyder, who chairs the panel's finance committee. "We're no longer pushovers. … We have to err on the side of prudence."

Expect to see more deals like the one in the works with Edward Rose Development Group, which is seeking $11.5 million in tax-increment financing, or TIF, to build roads and a parking garage in its planned The District mixed-use development near Old Meridian and Main streets.

Rose has offered to buy the bonds, reducing risk for the cash-strapped CRC, and agreed to give the commission 25 percent of the so-called tax increment.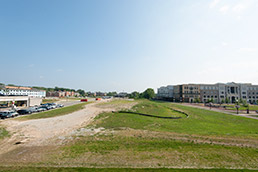 Filling in the gaps in Carmel's ambitious downtown City Center development could cost another $100 million. (IBJ photo/Eric Learned)
The consultant, H.J. Umbaugh & Associates, estimates the project will produce $1.2 million in additional taxes each year starting in 2019, Barnes & Thornburg attorney Bruce Donaldson told the council July 21. Of that, $312,000 would flow into the city's "big TIF" pot to help pay off $486 million in existing debt.

Some past CRC deals pledged all the new revenue from development to specific projects, but Snyder said the days of giving private developers "carte blanche" are over.

Her committee will weigh the Rose proposal before making a recommendation to the full council, but she said the arrangement is appealing.

"It is a business deal that works for both sides," Snyder said. "We don't need to give the shirts off our backs to build our brand anymore."

The redevelopment commission accumulated most of its debt without approval from the council, which gained some oversight of CRC spending after helping the appointed panel refinance more than a third of its debt in 2012.

A four-member council majority—Snyder, along with fellow fiscal hawks Rick Sharp, Eric Seidensticker and Carol Schleif—has kept a tight grip on the checkbook ever since.

This month, the council unanimously passed an ordinance establishing a special reserve fund that will be tapped if CRC revenue falls short. Money will flow into the savings account from an existing TIF district that is about to pay off its debt. The first $870,000 should be deposited in December, and the balance is expected to reach $27 million before withdrawals begin.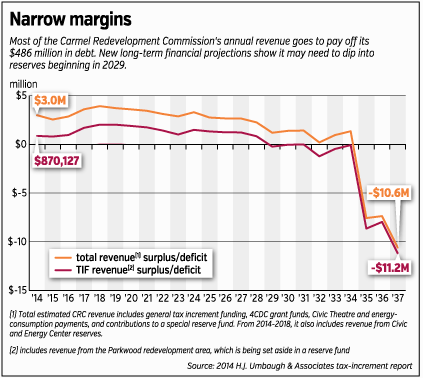 Although property taxes make up the bulk of commission revenue, it also counts on other, much-smaller annual revenue streams: grants from the not-for-profit Carmel City Center Community Development Corp., rent from the Booth Tarkington Civic Theatre and energy-consumption payments. This year's budget includes $1 million from what's listed as the "sale of buildings"—likely the vacant Shapiro's Delicatessen building in City Center, which is on the market for $2.1 million.

"The supplemental income right now is totally speculative and the actual income is inadequate," Snyder said.

"It's a narrow path the CRC is walking," agreed Sharp.

Mayor Jim Brainard said the council's concerns over CRC finances "are more about politics than substance," but he admitted the recession took its toll on redevelopment efforts. With the economy improving, he's confident future TIF deals will get the commission on solid financial footing.

"The CRC has done beautiful work and should continue to do so," he told IBJ.
Umbaugh's revenue projections are very conservative, the mayor and others said, assuming no growth in current assessed values.

But development in Carmel's tax-increment financing districts must carry on for the commission to meet its obligations.

Umbaugh's TIF-revenue estimate includes the taxes expected from nearly $188 million in projects on the drawing board for 2017 through 2026, plus a bevy of others already in the construction pipeline.

Meyer
"That's why we have to stay in business," said Corrie Meyer, an urban planner hired in March as the CRC's executive director (and only full-time employee). "We need to continue to encourage development."

Indeed, despite the progress made toward fulfilling Brainard's vision for a dense, walkable downtown, significant gaps remain.

The ambitious, 88-acre Carmel City Center project is only about half done, for example, and developers are still drafting plans for Midtown, a blighted industrial area between the Center for the Performing Arts and a reinvigorated Main Street.

As IBJ reported in May, developer Pedcor Cos. has started making the case for $16 million in TIF funding for a parking structure planned as part of City Center's $100 million second phase, and CRC's Meyer acknowledged some form of public support likely will be necessary in Midtown, too.

Then there's the former Party Time Rental building near the corner of Rangeline Road and Carmel Drive. CRC acquired the property years ago with redevelopment in mind, but in 2013 rejected a plan from Indianapolis-based Flaherty & Collins Properties.

Meyer said she has had some informal discussions with other developers about the site, but the commission is still seeking the right partner.

"We are being extremely diligent in moving forward with future development," she said, citing efforts to build trust between the council and CRC. "The plans have been laid out. Now it's a matter of, 'Can we implement this successfully?'"

She agreed that future deals are more likely to resemble Edward Rose's proposal than the more generous subsidies common in the past. A 75/25 split is good, Meyer said, but 50/50 is even better.

And although money will be tight for the foreseeable future, she is confident CRC can adjust to the resources it has available.

"We are focused on our mission: redeveloping and enhancing the city's core," she said. "Our mission is not to hold cash. … If we have millions left at the end of the month, we're not doing our jobs."•