The Indiana University School of Medicine plans to hire 100 research professors over the next five years in a bid to vault into the top 25 medical schools.
If successful, that recruitment drive could boost by 15 percent the number of research-oriented faculty at IU and bring in an extra $35 million to $40 million in annual research funding—since each new researcher is expected to win government grants or contracts from the life sciences industry.
Medical school research can create the intellectual property and startup companies necessary for a vibrant life sciences business cluster, which local leaders have been trying to stimulate for years.

Hess
If the plan plays out as Dean Dr. Jay L. Hess hopes, the IU medical school could become a closer partner with drugmaker Eli Lilly and Co., medical-device maker Cook Group Inc. and other major companies in the life sciences industry.
Hess said the medical school's leaders have discussed ways to collaborate with Bloomington-based Cook. And on July 24, as IBJ went to press, he and his team were scheduled to spend the day at Lilly's Indianapolis headquarters to figure out better ways to collaborate.
"We're really looking at how we can maximize what's in the state of Indiana," said Hess, sitting at the end of a conference table in the IU medical school administrative building, which overlooks the head of the Central Canal. "Philosophically, I am very open and supportive of public-private partnerships."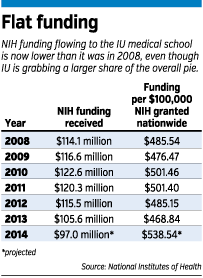 Hess' plans are actually a bit more modest than those advanced by his predecessor, Dr. Craig Brater, who retired last year. Brater wanted IU to become one of the 10 most richly funded medical schools for research, up from about 40th now. To get there, he estimated, the school needed to recruit 400 researchers, on top of the 700 it employs today.
But Hess noted that IU would need hundreds of millions of dollars more per year in funding from the National Institutes of Health—IU receives about $100 million per year—to reach that level.
"We need to be realistic," Hess said. However, IU must move into the top 25, he said, because only that many schools will continue to be competitive for research funding in the future.
Hess also intends to focus investments more narrowly than before, so IU can build up nation-leading centers of research. For example, IU has a highly regarded research team focused on bone biology. Hess would like to add researchers focused on cartilage and other areas related to bones.
He'd also like to build up complementary research teams around genetically induced cardiovascular failure, brain injuries, dementia and cancer. In that last area, IU intends to open a Center for Chemical Biology and Drug Discovery in the former Wishard Hospital site, as a place IU researchers could collaborate with industry scientists.
Hess' challenges in realizing his vision will be cash and culture.
It will cost roughly $150 million to recruit 100 new researchers. Hess said he would look primarily to philanthropic sources to cover those expenses.
In the past, Indianapolis-based Lilly Endowment Inc. has funded similar recruitment drives. Since 2000, the endowment has given the medical school $215 million to recruit researchers.
While Hess didn't name specific funders he would seek out, he said of philanthropy, "That's an area that makes a lot possible for us."
But it's far harder for researchers to obtain research funding. Awards handed out by the National Institutes of Health have declined 25 percent in constant dollars since 2003, and the agency rejects roughly nine of every 10 applications it receives.
"We've reached the stage where the pursuit of funding is overtaking the pursuit of doing science," wrote Purdue University chemistry professor and life sciences entrepreneur Pete Kissinger in a column published in June by Drug Discovery News, a trade journal. He called the situation a crisis, noting that even veteran researchers have had to halt research projects because they couldn't get funding to continue them.
The IU medical school received $105.6 million from the NIH in the federal government's 2013 fiscal year, down more than 7 percent from its level in 2008. In fiscal year 2014, which ends Sept. 30, IU is on pace to receive $97 million, a decrease of another 8 percent.
And IU is actually doing better than most. Overall NIH funding is on pace to fall this year 20 percent, according to data from the first three quarters of the government's fiscal year.
That's why Hess is turning to work more closely with drug and device companies, something many other medical schools—such as Harvard, Washington University and the University of California, San Francisco—have already embraced.
But at IU, the culture has kept industry funding at arm's length.

Tierney
"It's been harder to get promoted if all your funding is from the private sector," said Dr. Bill Tierney, a longtime IU medical school professor who is now CEO of the affiliated Regenstrief Institute. "Federal money pays more overhead [costs for research staff and equipment]. There's just more prestige about it."
But now that federal funding is so hard to get, the university is trying to change that culture, Tierney said, and instead take an attitude that "all money is green."
That could mean IU competes for more grants like Regenstrief gets, which are aimed not at discovering new therapies but at creating innovative ways to deliver care to patients in more efficient and effective ways.
Hess also said he wants IU to streamline its processes so it can do more clinical trials for drug companies.
Dr. Phillip Toth, president of the Midwest Institute for Clinical Research, said that's a good strategy—one IU should have tried long ago. But, he added, IU will need to add dedicated resources—staff, physicians and perhaps even an institutional review board focused exclusively on clinical trials—if the school hopes to respond to drug companies' needs with the speed they need.
"They want you up and running in weeks, not months," Toth said.•
Please enable JavaScript to view this content.