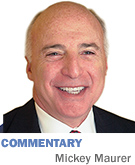 The house I live in, a plot of earth, a street
The grocer and the butcher, and the people that I meet
The children in the playground, the faces that I see
All races and religions, that's America to me.
—Earl Robinson & Lewis Allan
Last week, overcome by nostalgia, I moseyed in for a shine at Cento Shoes on South Meridian Street.
Years ago I had enjoyed conversations with Snake, the proprietor of the Cento shoeshine stand, who said he could "make your shoes shine like new money every time." Snake's shines were administered with hustle and jive. He was a downtown historian and authority on the local scene, but due to a variety of ailments, particularly arthritis, he was forced into retirement.
Snake's brush has been idle for the greater part of a decade, and Cento's shoeshine stand hasn't been the same. Cento made numerous attempts to restore that ambience, but no one seemed to "shine" like Snake. When Snake died last week, Indianapolis lost one of its grand raconteurs.
So I expected the usual fare when clambering up into the big chair in the corner. What I found was a fresh-faced young lad who was adept at the craft, including a bit of that old conversational luster.
It was Paul Cento, who had entered the family business where the "rubber meets the road." Paul, representing the third Cento generation, is a recent graduate of Roncalli High School. He is working part-time while enrolled at Ivy Tech with plans to finish his degree at IUPUI majoring in finance. His long-term goal is to manage the store.
Cento was opened in 1971 by Paul's grandfather Paul Cento, an Italian immigrant whose claim to fame was making shoes for Pope Pius XII and Sophia Loren. Later, Paul's two children, Mike and Tony, made Cento a family operation. Mike manages the repair shop in the back, and Tony presides over the front desk and deals with customer relations and sales. Cento is reputed to be the best shoe-repair shop in the city. The store also sells men's dress shoes and accessories.
In the economic development game, "big kills" are vitally important. The recent news that home-improvement giant Lowe's plans to open a massive call center in Indianapolis—employing as many as 1,000 workers—is further confirmation of the Indiana Economic Development Corp.'s expertise in improving the Indiana economy. But the backbone of America is its many thousands of small, family-owned businesses. They need to be nurtured as well.
The neighborhood around Wrecks Inc., my father's junkyard at Ninth and Senate, included Swancy's Auto Laundry, Chamber's Standard Station, Stewart's Moving & Storage and Cooper's Diner. The possessive "S" in each name connoted proud, hard-working businessmen as is the case for the Cento family. (Swancy's is still there.)
Like Paul, I started in the family business at entry level—picking up Coke bottles strewn among the wrecked cars. I graduated to removing parts, negotiating with customers and purchasing junk automobiles. I had little aptitude for the job. I couldn't tell a Ford from a Chevrolet. My brother and cousin ended up representing the next generation at Wrecks. My father often said he had a truck with my name on it. That kept me in law school, though many might agree I would have been a better junk man than lawyer.
In an attempt to perpetuate the generations at the IBJ, I once asked our daughter Jill if she would like to work with me. She replied, "No, Dad, but I'll take you over."
Paul is not ready to take over, but lucky for Cento Shoes and its legions of satisfied customers, his addition should ensure survival for another generation. Drop by and congratulate Tony and Mike. Provide encouragement to Paul. You'll get a good shine in the process.•
__________
Maurer is a shareholder in IBJ Corp., which owns Indianapolis Business Journal. His column appears every other week. To comment on this column, send e-mail to mmaurer@ibj.com.
 
Please enable JavaScript to view this content.