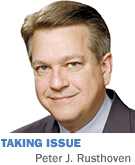 Wonder why conservatives think many in the media tilt left? Look at coverage of Gov. Mike Pence and the gay marriage litigation.
As all know, a federal court held Indiana's traditional marriage statute unconstitutional. Before an appellate court stayed that ruling, many Hoosier gay couples married.
The stay means the lower court ruling has no impact unless ultimately affirmed. Until then, Indiana law reverts to pre-ruling status. Pence's counsel therefore sent a memo to state agencies, unsure how to deal with benefit issues, etc., saying they should comply with the stay, under which the statute remains in effect.
Indiana Democratic Chairman John Zody twisted this into gay bashing, saying Pence was "embarrassing our state," finding "legal loopholes" for "shutting the door on equality." No surprise there. Zody press releases have high entertainment value, inversely proportional to their accuracy.
But many media outlets took a similar line. Evansville's WTVW headlined its story "Same-Sex Marriage Benefits Stripped from Hoosier Couples," saying Pence's action means "marriage benefits are now being stripped from those who wed in the Hoosier state."
The Fort Wayne Journal Gazette castigated the "Pence ruling," saying the governor, in a step "heartbreaking for same-sex couples," had "ruled" that "hundreds of marriages performed last month won't be recognized by the state." But "take heart"—"Pence might be able to delay the inevitable, but he can't stop it."
The notion that Pence (quoting another outlet) put gay marriage in "legal limbo" is fanciful. The limbo is due to the legal situation, with one court striking down the law, gay couples getting married before the stay, and no one knowing how the case will come out.
A reversed ruling is "without validity, force, or effect," and "ought never to have existed." That's the Supreme Court, describing an overturned decision. Meanwhile, the more who wed under a ruling that may disappear, the bigger the mess sorting things out later.
That's why it's wise to put things on hold until the dispute is resolved. So thought the U.S. Supreme Court when—without dissent —it just stayed a decision striking down Utah's similar law.
And a governor who honors his oath must enforce the law as it stands while the appeal proceeds. That's all Pence is doing.
Ask yourself this: Suppose that, before the stay, Pence's counsel had issued a directive telling state agencies they "must recognize" gay marriages and "immediately" obey the ruling.
Think we'd have seen headlines like "Pence Orders Agencies To Recognize Gay Marriages"? Or that the Journal Gazette would have editorialized about Pence obeying the law, despite his disagreement?
My guess is that the media response would have been silence (or, as my kids say, "crickets").
Disagree? Time for me to come clean. That wasn't a guess. It was a report. Pence's counsel issued that directive the day after the district court ruling. If someone reported this, I couldn't find it. I also didn't see it in stories about the later, post-stay directive.
In each instance, Pence was telling agencies to obey the law as then in force. That's what a responsible governor does.
Not a racy storyline. Nothing to excite readers or drive ratings. Not as tempting as a preconceived narrative about a social conservative supposedly fighting tolerance.
No, the virtue of reporting that Pence was ensuring agencies follow the law is that it's true. It's a pity that's not what counts.•
__________
Rusthoven, an Indianapolis attorney and graduate of Harvard College and Harvard Law School, was associate counsel to President Reagan. Send comments on this column to ibjedit@ibj.com.
Please enable JavaScript to view this content.