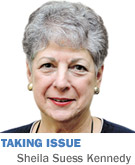 Can we talk?

No matter how nostalgically we think of Indiana as a patchwork of small, quaint towns and family farms, those days are gone. Indiana's workforce and population are increasingly metropolitan, and our growth will continue to be in our urban centers.

Projections are that a majority of Indiana's population growth between now and 2040 will occur in the Indianapolis metropolitan region.

The entire state depends upon a strong, thriving Indianapolis. Much as our legislators like to ignore fiscal reality, Marion County, along with the state's other metropolitan counties, is—and has long been—a donor county, supporting more rural areas. (A report published by the Indiana Fiscal Policy Institute in 2010 identified Marion, Lake, Allen and Vanderburgh counties, among others, as the donors.)

Indiana's tax structure has historically disadvantaged the very areas that generate Hoosier jobs, and the politically motivated decision to constitutionalize property tax caps has only made matters worse.

Here in Marion County, we are further disadvantaged by the large number of government and not-for-profit institutions that pay no property tax. Add the tax caps and the exempt properties together, and we have a revenue crunch of massive proportions—one that cannot be relieved by reliance on the local income tax, or by naïve demands to "cut fat and waste."

We can all argue about the wisdom of certain expenditures (cricket, anyone?), but the amounts involved are—in the larger scheme of things—a drop in the bucket. We've cut fat, we've cut muscle, and we're now into bone.

The foregoing are simply facts. Here's the sermon: Government is not an irrelevant luxury. Businesses as well as individual citizens depend upon the services provided by municipalities—infrastructure, public safety, transportation, garbage collection and myriad other services that make up a city's quality of life.

If we want to continue receiving those services—if we don't want to be Detroit—we have to pay for them. Taxes are not theft; they are the dues we pay for civilization. We cannot survive without them; the best we can do is ensure that government operates responsibly and that the "dues" we must pay are fairly assessed.

That fairness is what has motivated the Indianapolis chamber's proposal for a commuter tax.

More than 200,000 workers commute into Indianapolis each day. They use our streets, are protected by our police and firefighters, flush toilets into our sewers, and enjoy the other elements of the quality of life our taxes have provided, but they pay their taxes to the places where they live.

Paying taxes to the county where your income is generated is hardly a new and oppressive idea. A good number of Indianapolis' peer cities around the country have adapted to the realities of regional economies and regional workforces. The chamber has studied commuter taxes extensively, issuing reports in 2002, 2006 and 2007.

Its current advocacy is informed by those studies and by the experience of other cities. (It also bears emphasis that the chamber is not engaged in special pleading for Indianapolis and Marion County; the current proposal is a plea for equity in funding for all Indiana counties.)

Every economic analysis of the Hoosier state confirms that the health of Indiana is inextricably bound up with the health of the Indianapolis metropolitan region. Starving Indianapolis—making it impossible for even the most creative public servants to deliver the services we all depend upon—is simply not an option.•

__________

Kennedy is a professor of law and public policy at the School of Public and Environmental Affairs at IUPUI. She blogs regularly at www.sheilakennedy.net. She can be reached at skennedy@ibj.com. Send comments on this column to ibjedit@ibj.com.