Steak n Shake's been slinging steakburgers at its restaurants ever since the first one opened in Normal, Illinois, back in 1934.

Now the Indianapolis-based chain is about to forego history and take a giant leap by bringing the popular patty and a few melts and appetizers to the frozen-food aisle of select supermarkets.

By taking its iconic steakburger from the grill to the grocery next month, Steak n

Shake hopes to build on the chain's brand recognition, said Bill Jachthuber, the company's vice president of brand licensing.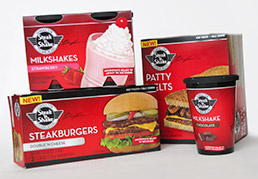 The Indianapolis-based burger chain is just getting started on the frozen foods it's planning to roll out. (IBJ photo/Susan Bertocci)
"We want to take that equity and extend it beyond the four walls of a restaurant," he said. "The brand has been around for years, and the idea is to make that more available to folks."

But by doing so, does Steak n Shake run the risk of diluting its brand? Supermarket analyst David J. Livingston doesn't think so. Restaurants such as White Castle, PF Chang's and TGI Friday's have been selling in supermarkets for years, he said.

"A lot of times it's just complementary," Livingston said. "How well they'll do, I have no idea. But they're better off doing it in a market where they have name recognition."

Indeed, the frozen entrees will be available in Meijer and Walmart stores in 21 of the 29 states in which Steak n Shake has a presence.

Steak n Shake's foray into the retail sector isn't totally new. The chain's been selling its chili in cans and microwavable containers at Walmart, Marsh, Super Valu and Kroger groceries since the late 1980s.

The latest move, however, represents a bolder attempt by Steak n Shake's parent, San Antonio-based Biglari Holdings Inc., which assumed ownership in 2008, to add more revenue. Company sales have increased 17 percent and customer traffic 35 percent since the introduction of a $4 value menu five years ago and other promotions, such as happy hours and children eating free at certain times.

Executives declined to divulge how much of a sales bump they're expecting but said it's enough to justify the investment.

Steak n Shake brought on Jachthuber, a veteran brand marketer with stops at The Coca-Cola Co. and Cinnabon, in December to lead the effort already underway within the company.

Its signature strawberry, chocolate and vanilla milkshakes hit Marsh, Kroger and some independent stores in March in a trial run that should be expanded by the end of the year. The two-container packages retail for $2.99 to $3.49 and are ready for consumption after just 30 seconds in the microwave and a quick stir.

Pleased with the sales results, Steak n Shake is expanding on the frozen-food concept by unveiling a microwavable double steakburger and bacon double steakburger, in addition to a Frisco melt and patty melt. Cheese fries, chili cheese fries and chicken bites accompanied by frisco or buffalo sauce also will be available in early October.

Suggested retail for two double steakburgers with cheese is $5.99 to $6.49 and $6.49 to $6.99 for two melts. The burgers contain the same amount of beef as their restaurant brethren, sans accompaniments such as lettuce, tomato and condiments, which the consumer needs to provide.

In a restaurant, a double with cheese costs $3.99 and includes fries.

Slumping industry

The store-bought burgers may not be much cheaper, and the taste might not be as savory. Company executives acknowledge that it's nearly impossible to replicate restaurant quality by microwaving burgers for 75 seconds. But they think there's demand for the products nonetheless.

"For whatever reason, people may not be able to go to the restaurant," company spokesman Jim Flaniken said. "This is another channel for providing the Steak n Shake product."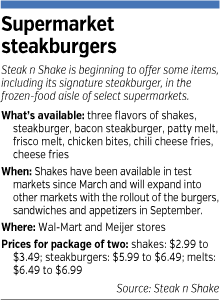 Product development occurs at Steak n Shake's headquarters at Pennsylvania and Maryland streets downtown, but the company farms out production to licensed manufacturers.

Overall, frozen foods are a $28 billion industry, according to Los Angeles-based market researcher IBISWorld. But signs of a thawing are beginning to emerge. Since 2009, sales of freezer-aisle items have fallen 3 percent, as consumers increasingly are seeking out more nutritional, fresh foods.

"While growth is expected to be marginal over the next five years to 2019, producers will stress convenience and nutrition to attract more customers," IBISWorld wrote in a May report.

Not only game in town

Steak n Shake is following another Indianapolis-based restaurant chain into supermarket aisles.

Noble Roman's Inc. September 2009 decision to offer take-and-bake pizzas in grocery and convenience stores has provided a bright spot for the company. It expanded its grocery line the following year with cheesy bread sticks, deep-dish lasagna, Parmesan cheese, pasta sauce and cheese dip.

That's quite a stretch for a company that started in 1972 as a chain of sit-down family restaurants that has evolved from a franchisor of pizza and sub shops to one that's now more focused on the take-n-bake concept, both in the supermarket and at stand-alone stores similar to industry leader Papa Murphy's.

Noble Roman's now sells its pizzas in more than 1,700 grocery stores, including Marsh. Earlier this year the company introduced three 14-inch "mega-topped' pizzas in new packaging priced at $9.99.

"Interest in the grocery store take-n-bake locations has increased significantly after displaying the new packaging and new products at the National Grocers Association show in February and at distributor food shows during the first quarter," Noble Roman's CEO Paul Mobley said in a May quarterly earnings report.

Steak n Shake also plans to expand its grocery offerings and should introduce additional product early next year.

"There will be more to come," Jachthuber said. "We're not near completion."•