A rush of new office, residential and retail projects suggest real estate developers in Broad Ripple Village remain optimistic in the midst of high-profile incidents of crime.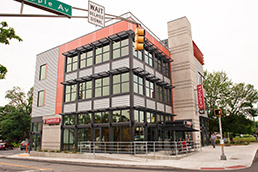 Broad Ripple developers move forward with their respective projects despite crime. Lor Corp. is finishing a three-story building north of Broad Ripple Avenue. (IBJ photo/Eric Learned)
The unprecedented building boom—which is poised to transform the neighborhood's character—in some respects has been lost in all the hand-wringing over a July shooting involving seven victims on Broad Ripple Avenue.
Some developers said they believe more housing and retail options are just the remedy the village needs. More daytime foot traffic could mean restoring the balance between the day and nighttime life.
"Broad Ripple is a district that has gotten out of balance and is trying to balance itself out with more retail," said John Byrne, owner of Radar Commercial Real Estate.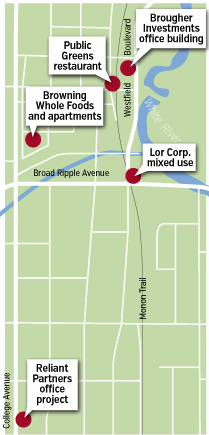 Several commercial and retail projects are under construction or set to begin construction this year.
Among recent projects: Brougher Investments bought property at 6440 Westfield Blvd in March to build a five-story office building on the site of a closed American Legion Post; Reliant Partners received city approval the same month to demolish two homes along North College Avenue just north of Kessler Boulevard to build a two-story office building; and Lor Corp. is finishing construction on a three-story building north of Broad Ripple Avenue between Winthrop Avenue and the Monon Trail, with Chipotle occupying the first floor.
Patachou Inc. is slated to open its Public Greens restaurant mid-September in an 1,800 square-foot single-story building just west of the closed American Legion Post; and the restaurant and beer bar HopCat is building out a massive 9,000 square feet on the first floor of Keystone Group's new Broad Ripple parking garage and retail project.
Of course, the largest project is the $30 million apartment-and-retail development Browning Investments plans for 1.9 acres along College Avenue near the Central Canal. Plans call for a 35,000-square-foot Whole Foods store, 119 apartments and a four-story parking garage.
Finding a balance
Despite its reputation as a nightlife haven, Broad Ripple's art galleries and apparel stores outnumber its bars, according to the Broad Ripple Village Association website. The Broad Ripple Village Association's Envision Broad Ripple master plan calls for "ways to develop key projects" and "increase density," which translates as more housing, retail and office space.
Jamie Browning, a restaurant owner and vice president of real estate development of Browning Investments, said when he first started doing business in Broad Ripple nearly a decade ago, there were fewer bars and restaurants and more of a balance between the day and nighttime life.
"Residents have been complaining about the abundance of bars in Broad Ripple for quite some time," added BRVA President Justin McKeand. "Even the Broad Ripple Village Association has raised concerns about the concentration of liquor licenses in this one square mile area."
The BRVA remonstrated against a new Kilroy's Bar n' Grill before it opened in Broad Ripple three years ago. Developers like Browning suggest there's been a shift from daytime business to a focus on night life because store owners are not engaged enough with the community.
For some, store vacancies on Broad Ripple Avenue are evidence of this shift.
McKeand, the BMO Harris Bank branch manager, said he has been staring at the same vacant storefront across the street from the bank for eight years.
In between the Broad Ripple Tavern and Wild Beaver Saloon sits the "unsightly" silver-metal building with five storefronts. Two vacant storefronts are nestled between Sasha's Jewelry and a shoe repair store.
"I do think that we as a community need to take a long hard look at our priorities when it comes to the future of this cultural district," said Rudy Nehrling, who owns the 44-year-old Good Earth Natural Foods and was a high-profile opponent of the Browning project that includes a Whole Foods. "The shooting incident hopefully magnifies the importance of community involvement."
Scott Lindenberg of Reliant Partners Commercial Reality said the solution lies with getting more people to shop in the area.
"We are bringing daytime residents that support all the retail amenities," Lindenberg said. "That's just what Broad Ripple needs. There will be more people to spend money and shop and counterbalance the abundance of bars."
The demographics aren't shabby: About 217,572 people live within a five-mile radius around the center of Broad Ripple and earn a median household income of $50,933, according to locally based Sitehawk Retail Real Estate. That compares to a median household income closer to $40,000 for Indianapolis as a whole.
Overcoming obstacles
Some challenges developers are overcoming in the area are public perception of Broad Ripple, land availability and zoning hurdles.
"There's not a major surplus of land to look at so developers are forced to redevelop existing properties," said David Kosene, partner with Indianapolis-based Kosene & Kosene developers. "If you're going to redevelop a property with higher density it's going to require different zonings for the project."
Getting city approval can be a costly part of any development project, especially if residents in the area are not on board. Browning Investments lost its bid last month to make its most vocal opponents pay nearly $1 million in construction delays for its $30 million apartment-and-retail development on College Avenue.
"There are always negative and positive aspects to any development," said Byrne, the real estate broker. "It's a matter of perspective."
One perspective is that Broad Ripple has been short-changed in the way it's been portrayed in the news.
"Broad Ripple has been broad-brushed with its image," Kosene said. "I think that's a little bit unfair."
The former Shell gas station just northeast of College Avenue and the Central Canal has been repeatedly referred to as "blighted," Byrne said, as if the property wouldn't ever be redeveloped.
"There's always going to be successes and failures in any district no matter how robust it is," he said, citing examples such as Firehouse Subs which closed shortly after opening in the village's parking garage retail space on College Avenue across from the Vogue.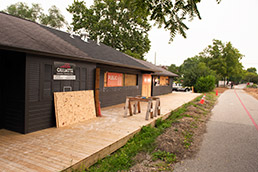 Patachou Inc. is renovating a single-story building for a new Public Greens restaurant. (IBJ photo/Eric Learned)
On the upside, Byrne pointed to the development of the Public Greens restaurant, near the closed American Legion Post property that Brougher Investments bought in March to build its five-story office building.
"Martha Hoover is an extremely shrewd restaurateur," he said. "She has doubled down on Broad Ripple by expanding Petite Chou and now getting ready to open Public Greens on the Monon Trail. Would she be continuing to invest in Broad Ripple if she didn't think it was a great place to do business?"
Hoover is the owner of Patachou Inc. which operates Cafés Patachou, Napolese Artisana Pizzeria and Wine Bar, GELO Dolce Bar, Petite Chou Bistro and Champagne Bar with locations in Broad Ripple and Carmel.
"The short answer is Broad Ripple is surrounded by some of the best demographics and density in the city," Byrne said. "People are already there, but it's difficult to develop."•
Please enable JavaScript to view this content.