Hendricks County is diversifying its manufacturing base by using existing motorsports operations to attract medical-device makers and other life sciences firms.
The strategy doesn't entail offering rides in a two-seater or meet-and-greets with drivers as an enticement.
Instead, it's built on production commonalities—engineering and design, metal cutting and fabrication, welding, powder coating, and assembly, to name a few.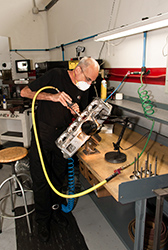 Steve Tartaglia grinds metal on an engine cylinder head at Don Schumacher Racing in Brownsburg. Medical manufacturers are attracted to the precision and speed necessary to compete in motorsports. (IBJ Photo/Eric Learned)
Since launching its strategy in 2011, Hendricks County Economic Development Partnership has attracted six life sciences companies with a combined 230 employees.
Six companies in three years might not sound all that impressive, but Justin Thompson, CEO of Texas-based Site Location Partnership, said the jobs are some of the most sought after in the country.
Life sciences companies attract highly educated people and pay above-average wages—usually $60,000 or more a year. Hendricks County has focused much of its efforts on startups and small and midsize companies looking to expand.
"There are thousands of economic development organization and thousands of communities going after these companies," said Thompson, who was hired to help Hendricks County recruit life sciences companies. "It's extremely cutthroat."
Attracting an average of two such companies a year is "amazing," he added.
So what's the secret to Hendricks County's success?
It's centrally located; has a low tax rate, manageable regulatory environment and affordable cost of living; and is "extremely business-friendly and willing to consider tax incentives," Thompson said.
Many Midwest and Indiana cities have the same profile, but Hendricks County has two other attractions.
First, "the access to [an international] airport and UPS and FedEx hubs there are key," said Cinda Kelley-Hutchings, Hendricks County Economic Development Partnership executive director.
And second, the county has a motor-sports focus.
"We're finding that synergies between the two industries are a real eye-opener for those in the biomedical field," Thompson said.
In the 1990s, National Hot Road Association drag racing teams started flocking to the area to be close to Indianapolis Raceway Park, on U.S. 136 in eastern Hendricks County, and to do business in a more affordable part of the country. The NHRA's biggest race is held at the racetrack, now known as Lucas Oil Raceway, each Labor Day weekend.
It wasn't long before parts suppliers and motorsports-oriented manufacturers followed, along with race teams from other series.
Now, more than three dozen racing-related companies are based in Brownsburg and nearby, including operations run by some of the biggest names in racing—Tony Stewart, Don Schumacher, Chip Ganassi, John Force and Honda Performance Development.
Precision moves
The trend caught the eye of executives of Biologics Modular LLC, which makes modular clean-room facilities and laboratories. After talking to Hendricks County economic development officials and managers from area race shops, Biologics Modular launched in Brownsburg in 2011.
"The guys in auto racing are the most precise, highest quality in metal fabrication that you can get," said CEO Clark Byrum. "Motorsports companies have an extremely good sense of design and detail. They're working in a highly engineered industry, where millimeters can make the difference between winning and losing.
"Our industry is one of the most regulated industries in the world, so that kind of precision is important to us."
Biologics Modular has used several Hendricks County racing parts suppliers and manufacturers to help it solve difficult problems, said Bynum, whose customers include some of the world's largest pharmaceutical and life sciences companies. For competitive and confidentiality reasons, he declined to name companies his firm partners with.
Another way racing teams can help medical manufacturers is, naturally, speed.
"With a race almost every week during the season, these guys have had to become quick-turnaround specialists," said Tom Weisenbach, executive director of the Indiana Motorsports Association. "In the era of just-in-time lean manufacturing, that's a trait that's very sought after."
Mike Lewis, senior vice president at Don Schumacher Racing, one of the biggest teams on the NHRA circuit and one of the biggest motorsports operations in Brownsburg, isn't surprised by the synergies. With 115 employees, the company can make 250 intricate parts.
"The type of manufacturing techniques we employ—including the cleanliness of the facility, the equipment and material we use—is very similar to what's being done in medical manufacturing," Lewis said. "This workforce has the ability to adapt well to the medical manufacturing field."
A pipeline of students from Rose Hulman Institute of Technology, Purdue University, Ivy Tech Community College and IUPUI—which has a motorsports curriculum—has kept Hendricks County's motorsports manufacturing sector humming, Kelley-Hutchings said.
"We've found that same pipeline has been attractive to biomedical manufacturing companies," she said.
Material needs
The two industries also work with many of the same materials.
ContainMed Inc., which makes high-tech containers and transport units for keeping surgical instruments sterile, parked itself in Brownsburg's Eagle Point Park shortly after Hendricks County began its recruitment efforts.
Racing companies use the same types of sheet metal ContainMed does, and the expertise with the vendors crosses over well into both industries, said Tyler Deal, ContainMed chief operating officer.
ContainMed also has been able to draw most of its workers locally.
"With all the racing teams and manufacturing here, there's a good pipeline of talent," Deal said. "We're looking to expand in the next year and we don't worry about being able to find qualified people here."
Deal admitted, too, that working side-by-side with NHRA and other race teams is fun. "We cohabitate really well."
Racing industry workers in Hendricks County have no fear that medical-company workers will be turned off by the small-town, semi-rural feel.
"A lot of my workers have come here from California, Las Vegas and other parts of the country … and they love it," said John Force, who runs an NHRA team out of Brownsburg. "It's actually been easier for us to retain workers here than at our other locations."
Schumacher employees are drawn to Hendricks County by the affordable cost of living, quality schools and laid-back lifestyle, Lewis said. In fact, 80 percent of its employees have come from out of state.
Casting a wider net
Racing companies welcome the ability to diversify, said Weisenbach of the motorsports association. The companies delved into aerospace and defense when the economy soured in the early 2000s.
A scattering of them in central Indiana, including Indianapolis-based AED Motorsports and Lafayette-based McKinney Corp., make parts for the aerospace industry as well as racing. The Dallara chassis manufacturing plant in Speedway does work for the U.S. Navy.
And when military budgets were slashed, the motorsports companies looked to spread out again, this time to biomedical.
Indianapolis-based Bo-Mar Industries does metal fabrication for NHRA's John Force Racing and Don Schumacher Racing as well as for medical-device makers Roche Diagnostics and Biomet Instruments.
Hendricks County is the first area to market its preponderance of motorsports-related manufacturing operations to life sciences companies, Weisenbach said.
"It's a genius move," he said, "because the synergies are tremendous and just starting to be realized. I think with a bit of discovery, those synergies will only become greater."
Thompson gives a lot of credit to Kelley-Hutchings for fueling the strategy.
"Cinda is one of the most innovative, aggressive economic-development people I've ever met," he said. "She identified a unique strength her community had and ran with it."
Kelley-Hutchings is confident Hendricks County will net "hundreds" more life sciences jobs in the next three to four years.
"We have a lot going on right now and a lot of good prospects," she said. "We know there are at least 25 life science and medical-device companies from across the country that now have Hendricks County on their radar."•
Please enable JavaScript to view this content.