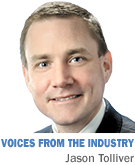 As consumers, our need for instant gratification has never been greater, as evidenced by the rise of e-commerce. Shopping online and receiving an order that same day or the next is replacing the expectations of old, when we received our orders in a week or so.
This relatively new delivery experience is driving a sea change in how the global distribution chain works as the lines between retail and industrial blur. Indianapolis is riding the wave of this transformation with some of the largest e-commerce industrial real estate deals in the United States this year.
Online and traditional brick-and-mortar retailers alike are pursing the holy grail of e-commerce sales: same-day delivery. The concept is quite simple: Use the entire supply-chain infrastructure of warehouses and retail storefronts to fulfill e-commerce sales and deliver purchases to consumers the day they place the order. While this concept might be simple, achieving the objective is a Herculean challenge for supply chains.
But while same-day delivery is a tall order, it's not an impossible one. Amazon, which operates five distribution centers in central Indiana, is a leader in same-day delivery. The online retail titan recently announced that it would soon begin offering same-day service to Indianapolis; this will undoubtedly cause its competitors to focus even more intently on supply chain management.
Distribution centers are increasingly tasked with not only keeping shopping center shelves stocked, but also directly interacting with the rising e-commerce consumer class. As a result, more retailers are shifting capital budgets away from new-store development and focusing on their e-commerce platforms.
For example, this will be the first year Target is expected to spend as much on its supply chain and technology infrastructure as it does on new-store and remodel investment. Similarly, Macy's, Nordstrom and Walmart are focused on logistics and distribution as they integrate their online platforms with their stores for inventory management and order fulfillment.
Over the next few years, the overwhelming majority of new retail development will, in fact, be industrial, and the overwhelming majority of new industrial development will, in fact, be retail. The commercial real estate marketplace has never seen anything approaching what is taking place in terms of the merger of two major property types.
A recent study by IMS Worldwide shows just how transformational these changes are for global supply chains. It found that, in 2013, more than 44 million shipping containers full of goods were delivered to the United States, destined for American retail outlets. This equates to roughly 2.2 billion square feet of warehousing need along the distribution chain.
The trend is clear: Go big or go home.
Older, traditional warehouses, which typically started at 128,000 square feet, or slightly larger than two football fields, are making way for modern bulk warehouses that can be larger than 1 million square feet, or the size of up to 26 football fields.
A traditional distribution center for a major retail chain would handle the daily supply of 25 stores throughout a geographic area. These new, larger facilities not only support stores in their regions but also directly interact with thousands of consumers on a daily basis.
While these new buildings might appear similar to existing warehouses from the outside, the inner structures house new technology to handle the demands of e-commerce, such as larger amounts of product stored in modern racking systems and more workers to process orders. Modern warehouses are designed to meet new building requirements, such as clear heights of 36 feet or more (compared to the traditional 32 feet), floors that can accommodate heavier loads for stacking, and more docking bays with cross-docking capabilities to accommodate more traffic.
As most hard-goods retailers continue to focus the lion's share of their growth efforts on building e-commerce platforms and distribution chains in pursuit of increased online sales, we expect the greater Indianapolis industrial real estate market to benefit.•
__________
Tolliver is regional vice president of research at Cassidy Turley. Views expressed here are the writer's.
Please enable JavaScript to view this content.