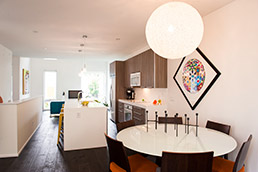 David is living in her house while marketing the prefabricated houses on nearby infill lots. (IBJ Photo/Eric Learned)
Commuters who passed through the near-downtown Cottage Home Neighborhood on the morning of June 25, 2013, could be forgiven for doing a spit-take when they returned home that evening. While they were at the office, a vacant lot on East 10th Street sprouted a finished, Space-Age-looking abode.
"It got a lot of attention," said its owner, Ursula David. "People went to work and nothing was there, and when they came home there was a house."
The prefab structure was trucked to the site from a northern Indiana factory and bolted together in hours. Today, it houses David herself, a longtime custom homebuilder, founder of Ursula David Homes and, most recently, creator of Indy Mod Homes. Her company offers deluxe prefabricated houses that look nothing like the low-rent, vinyl-clad shotgun shacks dotting trailer parks and ultra-low-end housing developments nationwide.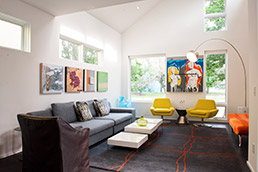 The house features an open floor plan and plenty of natural light. (IBJ Photo/Eric Learned)
David's residence, which occupies one of the 10 Cottage Home lots she purchased for what she dubs her Prefabulous prefabs, was assembled from four large pieces. The eclectic exterior paint scheme actually delineates them. The two spiky roof nodes, which provide high ceilings and skylights, are aquamarine; one living section is orange, and the other green.
The structure, the first in the development to be completed, features the sorts of lux touches anathema to the typical double-wide. The floors are reclaimed barn wood. The open floor plan features a living room, furnished with stylish modern furniture, that flows seamlessly into a dining area, kitchen and living room.
The home's other section features a guest bedroom and bath, a home office, and a master suite with bath and walk-in closet. There's also a detached two-car garage and, in a nod to tradition, a picket fence surrounding the property. There's even a basement.
"After I dug out all the junk in the ground to put in the foundation, it made sense to just go a little deeper and add that," David said.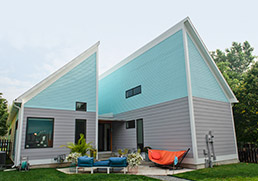 Materials in David's first prefabricated project rival those of conventionally constructed housing. (IBJ Photo/Eric Learned)
The result is some 1,800 square feet of above-ground living space, plus 1,600 feet of basement.
David always intended to live in the first Prefabulous home, which she shares with a Pekingese named Riley and a Cavalier King Charles Spaniel named Rose. Not that she lacks for human companionship. A second prefab has risen beside her, and a third, on a double lot, arrives this fall.
She got into this small but trendy niche after the Great Recession cratered the real estate business and left her, to put it diplomatically, with lots of free time. She spent it deciding what sort of strategy she'd pursue when the market recovered.
"I thought, 'When things come back, and they will come back, what am I going to do differently?'" David recalled.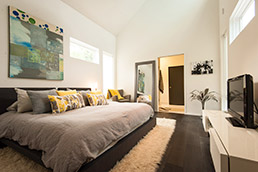 The house was built in sections by manufacturers in northern Indiana specializing in the craft. (IBJ Photo/Eric Learned)
She decided to exploit a small but growing national interest in high-end prefabs. Bringing the concept to Indiana seemed like a slam dunk, because the state contains several big-time traditional modular home manufacturers. But it took a while to locate one that shared her vision. Indy Mod Homes are built indoors and in sections, then trucked to Indianapolis and assembled on-site. The owners move in a couple of weeks thereafter.
Finding someone to build the houses was hard, but educating the buying public about her product is also a chore. Most folks, it seems, take a decidedly dim view of houses that arrive on flatbed trucks.
"I had somebody email me just last week and say, 'I was appalled at the prices you're charging. I'd think you could buy a prefab for $100,000,'" David said. "Well, if I was building it with vinyl siding and vinyl windows and it looked like a trailer, I could do that. But that's not what I'm doing."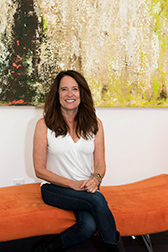 David hopes the lower costs of manufactured housing attract buyers spooked by the recession. (IBJ Photo/Eric Learned)
For the record, the exterior siding is cement board. And the homes, which run about $200,000, are actually more heavily constructed than conventional stick-built domiciles in order to survive the journey from factory to foundation. The walls use two-by-sixes instead of two-by-fours, and the drywall is backed by plywood.
David would like to keep building high-end prefabs, even after her Cottage Home lots are filled. And she doesn't plan to move out of hers anytime soon, either.
"This first one was always planned for me," she said. "And I love this neighborhood. I feel like we fit in here."•
Please enable JavaScript to view this content.