Indianapolis attorney Tim Caress' desire to combine his after-work passions with helping people whose "lives have been turned upside down" resulted in his rolling—and running—into a new and growing line of business.
Caress Law Group might be the only central Indiana law firm specializing in personal injury accidents involving cyclists, runners and fitness walkers.
"It's not uncommon for a personal injury firm to become uniquely attuned to certain injuries because of the intensive and detailed advocacy they do," said Julie Armstrong, Indianapolis Bar Association executive director. "[But] I'm not personally aware of any others focusing on cycling and runners."
Caress has a personal perspective on the needs of his clients.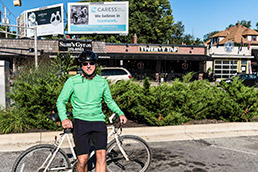 One in five cases handled by lawyer Tim Caress now involves a cyclist or pedestrian, and he's watched that line of business grow 20 percent a year. (IBJ photo/ Eric Learned)
Not a day goes by that the lifelong Indianapolis resident isn't running or biking on the Monon Trail—which runs from downtown Indianapolis to Carmel—with his wife, Megan, and one or more of their four children.
His law practice sits at 54th Street and College Avenue, spitting distance from the busiest part of the Monon in Broad Ripple. He's found a midday stroll on the converted abandoned railway a great way to unwind—at least for a few minutes.
The 45-year-old marathon runner and triathlete has watched two-wheeled and two-legged traffic increase exponentially on the Monon—and beyond. That burst of outdoor activity has been fueled by Indianapolis Mayor Greg Ballard's push for city-wide bicycle lanes and trails for cyclists and pedestrians.
Unfortunately, Caress also has seen an increase in accidents involving cyclists, walkers and runners. No place is that more evident than at his law practice.
Growing specialty
About one in five of Caress' cases now features an accident involving a cyclist, fitness walker or runner. In some cases, a cyclist and a runner or walker are involved.
"We do see cases, especially on the Monon, where a cyclist clips a walker or runner," he said.
Of course, the accidents can involve motorists tangling with a cyclist or pedestrian—and that's when things can get even more serious.
"The same accident between two cars can be nothing more than a fender bender, but when a cyclist or [pedestrian] is involved, it can involve serious personal injury," he said.
Given the rise of outdoor offerings like downtown's Cultural Trail and the Indiana Pacers Bike Share program, Armstrong said, Caress has identified a viable niche.
"Societal trends tend to impact legal needs, so to make the decision to dedicate time and resources to this focus absolutely appears to be a logical choice," she said.
Caress Law Group is seeing its caseload involving cyclists and pedestrians grow at a 20-percent year-over-year clip, Caress said.
Veteran cyclist Mark Bettinger said the demand for the services Caress offers is set to accelerate considerably.
"While there are a lot more cyclists on the central Indiana roads these days, awareness of the law concerning non-motorized traffic hasn't increased," said Bettinger, a Westfield resident and past president of the Central Indiana Bicycling Association.
Caress said cyclists, pedestrians and motorists all need to become better educated about how to handle encounters with one another and how the laws apply to each.
Bettinger agreed, noting motorists and cyclists seem equally confused about legalities such as proper hand-turn signals, rights-of-way at trail/road intersections, and roadway lane usage for cyclists and pedestrians.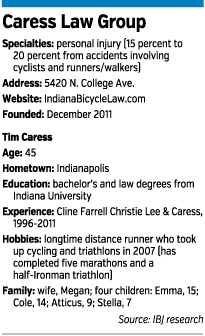 "I'm seeing a lot more commuters these days," noted Bettinger, who has been a long-distance cyclist for more than 40 years. "As we're getting more people out riding, we're getting more people out there not experienced riding in traffic and not familiar with the laws that apply to them."
Knowing the rules
The demand for legal representation for cyclists and pedestrians injured in accidents has become so strong that, 18 months ago, Caress launched IndianaBicycleLaw.com to address common concerns among non-motorized users of central Indiana roads. The website especially caters to cyclists.
"We wanted to get out in front of this and create a resource," said Caress, who spent more than 16 years focusing on personal injury cases at Cline Farrell Christie Lee and Caress before setting out on his own in 2011.
On the website, Caress and his associate, Lance Worland, address such topics as how to avoid accidents with motor vehicles, rules of the road, updates on new cyclist and pedestrian laws, and news about cycling and pedestrian accidents.
The website is getting 10 times the traffic it got a year ago, Caress said. "I think by word of mouth, people are beginning to learn what we offer."
A handful of high-profile accidents involving cyclists in the last year—including the death of 23-year-old Indianapolis resident Neil Kelty, who was hit by a bus in April—also have raised the profile of Caress Law Group's offering.
And Caress is honing his expertise.
For instance, he has learned how to proceed without a police report, which is often nonexistent when two cyclists or a pedestrian and a cyclist have an accident. Establishments like the Monon Center in Carmel often write accident reports and keep them on file, to be used in the absence of a police report. Caress also has learned to tap a cyclist's homeowner's insurance when a bike rider has caused damage.
He and Worland also spend a significant amount of time studying the law pertaining to cyclists and runners, including how and when motorists are supposed to yield.
Caress got into personal-injury law after graduating from law school at Indiana University in 1994, he said, because he "definitely wanted to help individuals instead of corporate clients."
"I like the idea of helping people whose lives have been turned upside down," he said. "That's where I thought I could make the biggest positive impact."
Caress, who has completed five marathons and a half-Ironman triathlon, combined his love for helping the injured with his passion for cycling and running when he saw a segment he said has "been underserved."
He often tells cyclists, "Assume no one sees you." But, he said, that's only a rule of the road.
"I saw law firms doing work for a lot of other [special interest] groups, but I didn't see anyone focusing on the unique needs of cyclists," Caress said. "It's my job to make sure that, within the legal system, they are seen and heard."•
Please enable JavaScript to view this content.