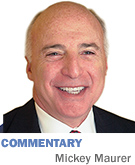 Gov. Mike Pence labeled as a total fabrication a statement I attributed to him in this column. While I presented it as a paraphrase of the governor's position, I understand that one could have drawn the conclusion that the words constituted a direct quote, and for that I apologize.
Here is the quote excerpted from a letter from Pence to President Obama: "Those who have crossed our border illegally should be treated humanely and with decency and respect, but they should be returned expeditiously to their home countries to be reunited with their families rather than being dispersed around the United States in sponsored placement or long-term detention facilities." The column in question can be found at bit.ly/IBJmaurer.
On the subject of illegal immigration and related matters, please note the following update of a column I wrote in 2011:
My fellow Tea Party Republicans, I have an idea: Let's enact legislation requiring immigrants and homosexuals to wear purple hats. If we are going to treat them differently, we need to know who they are—on sight. Then we can confront someone wearing a purple hat, and if he doesn't speak English, boom, back to Honduras. Likewise homosexuals—we do not want them here, either.
There are legal challenges to Indiana's current law banning same-sex marriages, but either way the law does not sufficiently set apart and condemn homosexuality. Neither does the now-watered-down marriage amendment. We need to compel gays to wear purple hats so we can identify them and encourage them to live in San Francisco or Key West, anywhere but our God-protected sacred land.
I confess—this idea is not original. Remember armbands? They have been used to identify the people who are not like us for hundreds of years—before even the Spanish Inquisition or the Aryan Society of Germany. This kind of designation and identification of the objects of righteous wrath has been seen many times before in many variations, and it works.
The purple hat legislation will go to the core, to the heart, of who we are as Hoosiers. Hoosiers are white, heterosexual, English-speaking, Christian men and women. The purple hat legislation will tell the world that we will not abide anybody that is not just like us. That seems fair. Anybody that does not meet our definition of Hoosier must be penalized and encouraged to leave. Live and let live—but not on the banks of the Wabash.
We have to carefully teach our children. They are not born with the same fine-tuned understanding that we have about what God wants. They are too pure and accepting of their fellow man. That is why you must continue your good work in suppressing attempts to enact school bullying legislation. Our children must be encouraged to harass their undesirable classmates, the kids wearing the little purple beanies.
We could take the time to overcome our ignorance and learn that those with the purple hats are more similar to us than we like to think. Though some have problems with our language or have a different sexual orientation, we may learn that they have ambitions, goals and ideals—that they are human beings who love our country and this state. But why bother? Better to treat them like toxic waste and ship them out.
Why stop with immigrants and homosexuals? With this good idea we can double back and pick up the gypsies and the Jews and the blacks and the Catholics. Well, not the blacks, they do not need a purple hat—after all, they are black.
What difference does it make if we precipitate an economic disaster? Who cares that we will lose opportunity for businesses that may have otherwise considered moving to Indiana and for conventioneers who will undoubtedly revel elsewhere? We may not be as economically viable, but at least Indiana will be ours.
Your legislative representatives are going to love this idea. Soon we will have the Indiana we have all been hoping and praying for.•
__________
Maurer is a shareholder in IBJ Corp., which owns Indianapolis Business Journal. His column appears every other week. To comment on this column, send e-mail to [email protected].
Please enable JavaScript to view this content.