The widow of real estate developer Mel Simon has placed their immense Carmel estate—complete with a 50,000-square-foot mansion and its own private golf course—on the market with an asking price of $25 million.
The 106-acre property known as Asherwood was listed on Tuesday through Carpenter Realtors in Fishers, according to the Metropolitan Indianapolis Board of Realtors. It has an address of 10110 Ditch Road, but it sprawls well beyond a traditional street grid with its 18-hole golf course.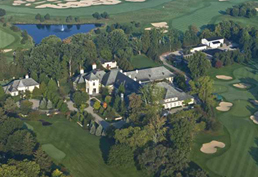 The mansion was rumored to have been built for $55 million in 1999. (Image courtesy Carpenter Realtors)
Built in 1999, the main house consists of 36 rooms, including seven bedrooms and 24 full or partial baths. The property also includes a 6,000-square-foot guest house, a 7,000-square-foot clubhouse, and three maintenance buildings for the golf course totaling 20,000 square feet.
Listing agent Natasha Radovich did not immediately return a call from IBJ on Tuesday afternoon.
Simon and his wife, Bren, had been working on disposing of the home even before the billionaire's death in September 2009. IBJ reported in 2008 that they were laying the groundwork to donate Asherwood to the Indiana University Foundation, potentially to house a new think tank.
At the time, the couple planned to downsize into a home just outside the town square in the nearby Village of WestClay, where the two had recently paid about $2.5 million for a three-story, Beaux Arts-style home.
The donation to IU Foundation never came to fruition.
At its current size and asking price, Asherwood is something of a white elephant for the central Indiana market. It was rumored to have been built for $55 million. Its current value might be in its available acreage for new residential development. The estate is surrounded by luxury single-family-home communities such as Deerfield, Windemere and Coppergate.
Married in 1972, Mel and Bren Simon frequently bought and sold major residential properties. 
One of the most prominent properties the Simons have owned is Villa de Venezia, a 52-room home near Palm Beach, Fla., built by Harold K. Vanderbilt in 1929. They bought Villa de Venezia for $6 million in 1986, and sold it in 2000 for almost $30 million—a single-home record for Florida at the time—to Veronica and Randolph Hearst.
After Mel's death, Bren sold a 12th-floor condo in New York City's Plaza Hotel for $48 million in March 2011. The same year she listed a mansion in Bel Air, California, for $44 million.
 
Please enable JavaScript to view this content.