Two signature downtown office towers are close to getting new owners, with one set to change hands this month.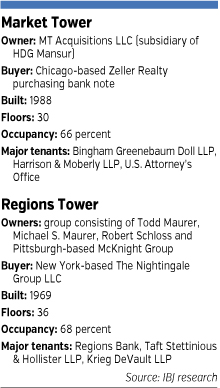 The 36-story Regions Tower is selling in a negotiated transaction, and the 30-story Market Tower is getting a new owner via a loan default. They are among downtown's largest office complexes, ranking third and sixth, respectively, in terms of square footage.
Regions Tower, also known as One Indiana Square, hit the market in December after the ownership group completed a lengthy renovation of its exterior in 2012.
New York City-based The Nightingale Group LLC is buying the 662,000-square-foot building for about $100 a square foot, or $65 million, and will close on the sale by Sept. 10, real estate sources said.
The price suggests a tidy profit for the ownership group, which bought the building at the northeast corner of Pennsylvania and Ohio streets for about $25 million in 2001. Its occupancy is about 69 percent, up from 33 percent at the time of the group's purchase.
The group consists of Todd Maurer, a principal at Newmark Knight Frank Halakar, which manages the property, and his father, Michael S. Maurer, along with local businessman Robert Schloss and Pittsburgh-based McKnight Group. Michael Maurer and Schloss also are shareholders in IBJ Media, publisher of IBJ.
"It's under contract, and I expect it to close this month," said Todd Maurer, who declined to confirm the buyer because the deal isn't final. "I've met the new owner, and I think they'll do a good job stewarding this building into the future."
Founded in 2005, Nightingale is a privately owned real estate investment firm whose portfolio includes 8 million square feet of office and retail space in 12 states, none of which is in Indiana.

Maurer
The potential ownership change for Market Tower is more complex. A Marion Superior Court judge in May ordered the owner, an affiliate of embattled Indianapolis developer HDG Mansur, to sell the building after defaulting on loans totaling $60 million.
Real estate sources say Chicago-based Zeller Realty is buying the note, likely at a discount from the actual amount owed, from Union Bank and will complete the transaction before the tower goes to sheriff's sale Oct. 15.
Zeller could assume ownership of the building from the HDG Mansur affiliate or sell the note at the sale, the sources said.
HDG Mansur and an unidentified investor paid $80 million for the building in 2004, buying it from Washington, D.C.-based The Carlyle Group and locally based Mansur Real Estate Services. (HDG Mansur is led by Harold Garrison, a former principal in Mansur Real Estate Services.)
Garrison developed the 517,500-square-foot Market Tower at the northeast corner of Market and Illinois streets at a cost of $92 million in the late 1980s, with former business partner Lee Alig, who retains no ownership in the building. Its current occupancy rate is about 66 percent.
Zeller entered the central Indiana real estate market in 1999. Its suburban office holdings include Carmel's Meridian Mark I and II, at Meridian and 116th streets, and Meridian Plaza, on the east side of Meridian between 103rd and 106th streets.
 

Harris
Market strength
If Zeller completes the sale of Market Tower, it will be the firm's second downtown acquisition in the past year. It bought the historic Century Building at 36 S. Pennsylvania St. in December, also out of receivership.
The building sales come at a time downtown office buildings are struggling. Occupancy in both Regions and Market towers is below 70 percent, according to Cassidy Turley's August Class A Downtown Skyline Report, which provides statistics on 14 of downtown's largest office buildings.
Overall occupancy for the 14 buildings is 77.4 percent, the report said. The stagnant rate suggests Class A space has fallen out of favor with smaller firms and startups that prefer more unique digs as a way to attract younger workers.
That doesn't mean the downtown office market is unattractive to investors.
"I think it speaks more to the amount of people out there looking to invest in real estate than it does about the leasing market downtown," said Jeff Harris, managing director of NAI Meridian. "There's still a lot of capital out there wanting to be placed."
Much of the buying is occurring on the coasts and in larger cities, driving prices up in those markets. So investors instead are looking to second- and third-tier markets for cheaper real estate, Harris said.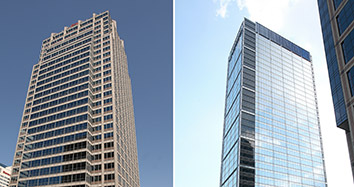 Market Tower, left, is for sale by court order because of a loan default. Regions Tower, however, was sold voluntarily through a negotiated transaction. (IBJ file photos)
What's attractive about the two buildings is that neither needs much renovation work, said Sam Smith, chairman of Colliers International's Indiana region.
"Good properties in good locations that are well managed with adequate parking will still do very well, especially if you can get them at a basis that makes sense," he said.
The major renovations to Regions Tower followed a 2006 storm that blew out dozens of windows. The painstaking installation of the glass-covered curtain wall hamstrung efforts to fill the building, Todd Maurer said.
Yet even after the group put the tower on the market, it's still receiving interest from prospective tenants, he said.
Most downtown tenants seeking to move, however, simply leap from one building to another, which continues to hinder overall occupancy.
Meanwhile, Market Tower isn't the only downtown building in foreclosure. Within the past month, Market Square Center at 151 N. Delaware St. and Two Market Square at 251 E. Ohio St. were placed in receivership after the owner, Santa Monica, California-based Hertz Investment Group, defaulted on a $28.5 million loan.•
Please enable JavaScript to view this content.